SAW Publishing's Book Review Format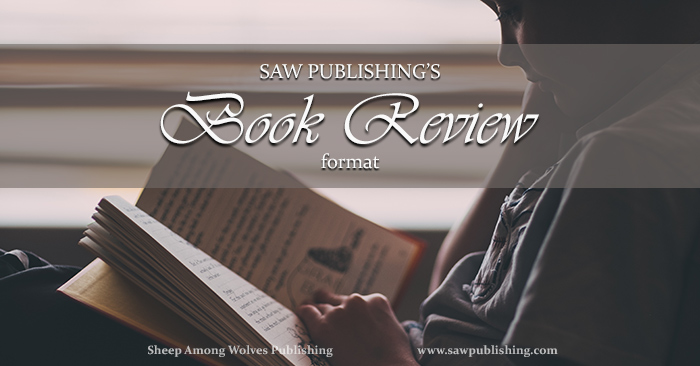 It is our desire at Sheep Among Wolves Publishing to earn the trust of our readers so that we can be counted on to uphold a certain, reliable, consistent standard in literature.  We are aiming to build that trust, in part, through the review of books published by other publishers.  My post today is intended to outline the format which we will take in reviewing books, and to expand upon some of the sections covered in our reviews.
Every book we review will contain a section on the details of the book including the title, author, publisher, genre, theme, etc.  It will look like the sample found below and is intended as a quick outline for the reader to be able to locate the book if desired.
   Book Details
Title: The House with Two Grandmothers
Author: Rebecca Martin
Publisher: Christian Light Publications, Inc.
Genre: Fiction
Number of Pages: 125
Theme: Small town life during the Depression
Age Range: 9-13
Following these particulars each book review will summarize the plot of the book and give a short paragraph on our general reflections about the book.  You will find an example below from the book we reviewed last week: The House With Two Grandmothers.
Summary
The realities of the Depression creep into the life of the Burky family, spurring them on to good deeds as they help those less fortunate than themselves.  Mabel is sure that God will protect them  from the effects of the Depression just as the Israelites were protected in the land of Goshen.  See how God provides for their needs and teaches valuable lessons in an unexpected way in this charming story.
This look at the Depression years from the perspective of a Mennonite teen in small town America would be a good book to add to your history studies of modern times.  It covers such topics as job-loss, homelessness, bank failures, and soup kitchens in an authentic, yet gentle way, making it a great book for young teens or a read-aloud for the whole family.
The final division of all of our reviews will include our rating system.  It is our hope to be as clear as possible in rating each book, so that you will find it easy to assess whether it might be a good fit for your family.  We will be identifying good qualities, and great qualities.  For a greater understanding of our use of these terms, please see our post on Good and Great Books.
As a way to alert our readers to possible concerns in each book we are reviewing, the SAW Publishing rating system will include a segment on Items of Note.  The headings under Items of Note can be seen below in our example of our rating system.  This area will not only touch on topics that may be distressing to our readers, but will also clarify such things as denominational biases and how mature subject matter is handled.
SAW Rating System
Good Qualities – 4/5
Great Qualities – 4/5
Items of Note
Romance and morality
Disturbing content
Language
Alcohol and drug use
Spiritual content
Family roles and Behavior
Mature subject matter
We hope that we will be able to provide a valuable resource to our readers by reviewing books that are available through some of the sources that we have suggested to you in previous posts. If you have a favorite book you would like us to review, please let us know and we will add it to our list.