Tabby's White Hyacinth—Book Review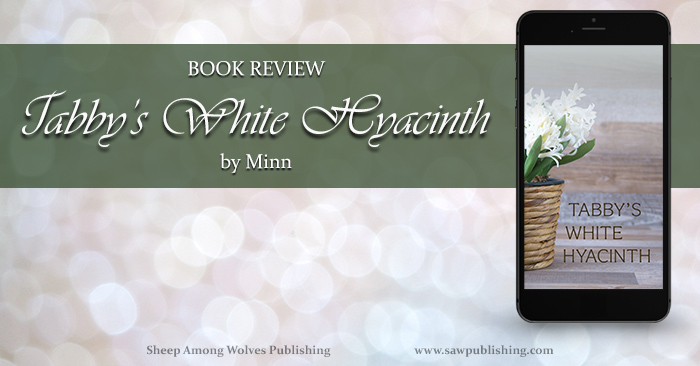 Of all 30 books we've selected for the Five Fall Favorites blog party, Tabby's White Hyacinth has to be the one with the most unusual backstory. As we were trying to come up with a list of five holiday stories that were NOT about Christmas, we found ourselves with a tight deadline, a couple of books that might possibly have worked but which we didn't know well—and one spot still to fill.
A little before this juncture, Chelsea happened to need something out of someone else's Google Play folder. She loaded the page, and there, staring up at her, was a book called Tabby's White Hyacinth; or, Easter Offerings. To this day, we have no idea how the book got there. Several different family members occasionally save books to that folder, but no one remembered where they had found this one, or why they had saved it. The publisher was familiar to me, but I am absolutely certain I never searched them on Google Books. The author was completely new to all of us.
So here is our review of the book that "just showed up"—Tabby's White Hyacinth by a Victorian author who published under the pseudonym "Minn".
Book Details
Title: Tabby's White Hyacinth
Author: Minn
Publisher: Joseph Masters and Co.
Genre: Vintage Children's Fiction
Number of Pages: 57
Theme: Lent and Easter
Age Range: 10-13 (see notes below)
Source: Google Books
Summary
Tabitha Holmes came to church on Ash Wednesday for a very simple reason: it offered a little shelter from the bitter wind and a chance to warm her chilled body before heading back to her miserable home. But Tabby's shivering figure attracts the attention of another little girl—and together they become involved in a quest to bring a special offering to church on Easter Sunday.
For those who already observe, or are thinking of observing, the season of Lent, this story gives a glimpse of many ways in which both children and adults can practice self-sacrifice—sometimes in ordinary, sometimes in unexpected, ways.
SAW Rating System
We have recently altered our reviewing system using the model of our poetry grading worksheet. For an explanation of the new system, see our introductory post. 
Total Score—65/100
Great Qualities—32/50
Plot Development—7/10
Character Development—5/10
Quality of Writing—7/10
Impact of the book—6/10
Originality—7/10
Good Qualities—33/50
Innocence regarding evil—6/10
Active promotion of good—8/10
Level of spiritual challenge—7/10
Healthy view of life—6/10
Honouring God—6/10
Items of Note
Romance and morality
No issues.
Disturbing content
A poor family is represented struggling with cold and starvation.
A sickly baby's suffering and death, as well as its family's grief, are depicted with vividness that would be disturbing to most readers of the age for which the book is intended. The family's struggle to afford funeral expenses rather than allow the parish to pay for the funeral plays a significant role in the plot. This story is probably best suited to readers who are old enough not to mind a fairly bittersweet ending.
Comment is made that twins are less likely to grow up than single children.
Language
In my opinion, the author is not careful enough in her use of the Lord's Name. It occurs in some places where we may suppose it was meant sincerely, but also in a couple of where it seems inappropriate. One of these instances makes use of the British exclamation "lor"—the fact that it is spelled without capitalization makes me wonder whether the author did not consider it a contraction of the Lord's Name, but I still feel it offensive. I have taken this into consideration in assigning a score 6/10 for "Honouring to God" despite the fact that the rest of the story does a good job of honouring Him.
A little girl is described as being "accustomed to nurse babies"—meaning to care for them.
Alcohol and drug use (includes tobacco)
Brandy is given to an infant as medicine.
Spiritual content
This story is written from a very "high" Church of England (Episcopal) perspective. The concept of fasting during Lent (including various forms of self-denial) plays a significant role in the story. Fasting is portrayed as helping one to be sorry for one's sins and testing the sincerity of one's repentance.
Church restoration and decoration play a role in the story.
Infant baptism is depicted as making a child an inheritor of the Kingdom of Heaven.
Comment is made that "perhaps" a dying baby heard the wish that people on earth could send a message with it to heaven, and smiled in consequence.
A poem by Longfellow is quoted, in which the both the desire for pleasure and the aspiration for something higher are attributed to "the influence of some unseen star."
Family roles and behavior
Elder sister scolds, threatens, or otherwise manages younger children at several points in the story—largely because she is used to being responsible for their welfare. We are told she would have slapped them when they were being noisy, but refrains because it would only make them louder.
Poor woman wishes some of her children had died as babies, or that all the family was dead, because she cannot care for them all properly. When the baby eventually does die, the woman struggles with remorse for having ever said such a thing.
Child is repeatedly described in the narrative voice as being ugly.
Mature subject matter
A raffle, with a doll for a prize, tempts the heroine to spend pocket-money she has decided to save for another purpose. The heroine's parents have no issue with her participating in a raffle, but in the end she decides to abstain, because the money is already pledged to something else.
Reading Tabby's White Hyacinth
Tabby's White Hyacinth is a story about self-denial. Self-denial is essentially about setting our own wishes and desires aside for the good of God and man. Sometimes that means making the offering we have picked out for ourselves. Sometimes it means setting that offering aside for the good of someone else. Tabby's White Hyacinth is a good reminder that when we give up our own will, we present the most precious Easter tribute in our power.
For another Victorian holiday story see our review: