Timeless Tips From Homemakers of the Past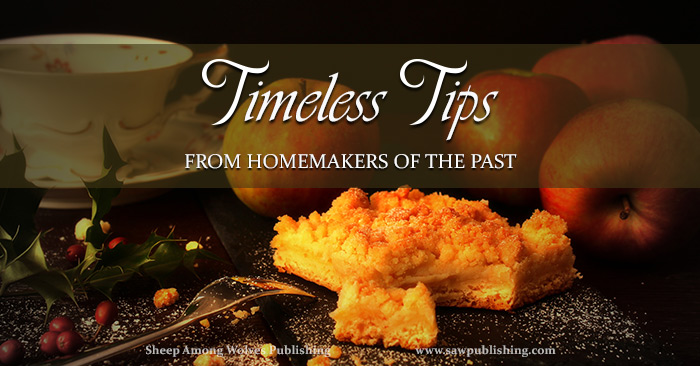 Don't you wish there was someone who could teach you everything you need to know about homemaking?  Some older Christian lady, who had done it all before, and who could pass on her legacy to modern generations?
Some of us are blessed to have this sort of woman in our church, among our friends, or as members of our families.  But for many homeschooling moms, the world of homemaking is completely new, and godly examples are few and far between.
Teachers of Good Things
Titus 2:3-5 instructs:
"The aged women likewise, that they be in behaviour as becometh holiness… teachers of good things;

That they may teach the young women to be sober, to love their husbands, to love their children,

To be discreet, chaste, keepers at home, good, obedient to their own husbands, that the word of God be not blasphemed."
But what if this kind of teacher doesn't exist in your church family?  Ideally, our young women should be able to find their role models in their own community—but practically speaking, there are still many ladies who are in need of advice and teaching, without having first hand access to "aged women" who can teach them to be "keepers at home."
Homemakers of the Past
What if you could talk to a homemaker from a hundred years ago?  One of those people who really knew how to look after a house – who had devoted her life to being a keeper at home.
Would you ask her how she managed all the details?
Would you find out what she taught her children?
Would you want to know how she kept her house clean without modern dishwashers, and laundry detergents, and plastic products?
How could you ever cram everything you want to know into one conversation?  Or would there be a better way?  What if you could live with a homemaker of the past?  Could follow her around, and watch the details of her home in action.  Could consult her about each little problem as it came up.  Wouldn't that be wonderful?
But sadly, you can't.  Or can you?
Homemakers Manuals
The women of the past did not all have these advantages either.  The numerous homemaking manuals from the 1700's, 1800's, and 1900's attest to the fact than many ladies of every era have needed to be taught how to manage the daily details of a homemaking life.
The ladies of today have a wonderful benefit in the wide range of resources which have been left to us by the homemakers of past eras.  We cannot follow them around in person, but we can follow their knowledge of daily details through the books which they have left behind.  The homemaking manuals of the past offer an incredible resource to the homeschooling moms of today.
Are They Good and Great?
Obviously, not all of these homemaking books were written by Christians.  Their perspective is not always that of "behaviour which becometh holiness."  They are, in general, far from bad books, but they do not rank particularly high on the good scale.  Their underlying worldview is not always influenced by a godly outlook.
At the same time, there is a vast quantity of useful, valuable information within the pages of these books.  Just as you would need to exercise caution in searching the internet for a housecleaning tip, so you must exercise wisdom in your choice of homemaking manuals.
But all of these authors do have an appreciation for the art of homemaking, and they possess many fabulous pointers for us today.
You will find these homemaking books generally well-written, with an excellent vocabulary.  Although old-fashioned terminology and an expectation that certain steps are self-evident, can make some instructions an adventure, the advice in these books is often surprisingly relevant today.
Timeless Tips from Homemakers of the Past
So welcome to Timeless Tips from Homemakers of the Past, an ongoing series of posts highlighting expert advice from women who learned to be keepers at home in years gone by, and who are ready to pass on their knowledge to you today.
Please note that we are not reviewing or necessarily recommending the entirety of the historical homemaking books covered in these posts.  (And while I am not censuring the explanation of how to truss a chicken, or cut up a fish, I do add a warning that these "necessary tasks" are explained in most of these volumes.)
Our goal at Sheep Among Wolves is to provide a forum for good and great literature, and to help you in your quest for godly, high-quality resources.  It is our hope that our Timeless Tips from Homemakers of the Past will be an aid and encouragement to you as you strive to follow the example of Titus 2, and become a keeper at home.
To get started on our first Timeless Tip, How to Choose Toys That Will Change Your Child's Life, click below.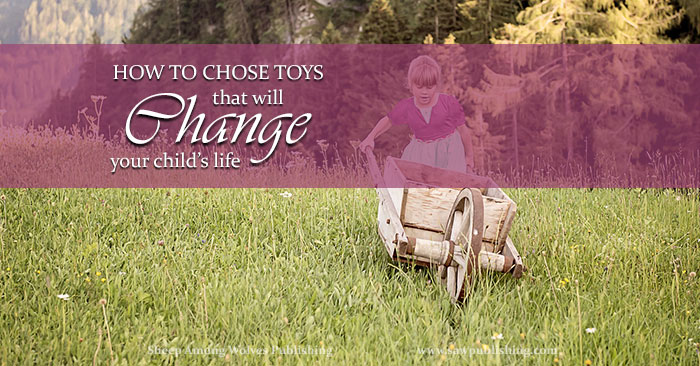 This post has been shared on The Art of Homemaking Mondays linkup.
Explore our ongoing collection of Timeless Tips from Homemakers of the Past:
How to Choose Toys that will Change Your Child's Life
How to Use 100-Year-Old Stain Removers
Are You Looking for Safe Stain Removers?
How to Sew on a Button with the Help of a Pin
Homemade Cure for Mosquito Bites
How to Create the Perfect Sewing Box
How Can We Teach Our Daughters to be Godly, Virtuous Women
How to Thread a Needle With Yarn
Can You Teach a Love for Cooking?
How to Include Children in Thanksgiving Preparations
How to Make Cranberry Sauce Part of Your History Course
Finding Blessing by Using What You Have
Are Organized Records Just Too Overwhelming?
How to Memorize When You Don't Have Time
How to Replace Geography Quizzes with Geography Games
26 Ways to Serve Plain Old Vegetables
Where Do You Find a Homemaking Role Model?