How to Memorize When You Don't Have Time
Timeless Tips from Homemakers of the Past is an ongoing series highlighting useful and thought provoking tidbits from the generations of homemakers who have gone before us. Our goal at Sheep Among Wolves is to provide a forum for Good and Great literature, and to help you in your quest for godly, high-quality resources. It is our hope that these Timeless Tips will be an aid and encouragement to you as you strive to follow the example of Titus 2, and become a keeper of the home.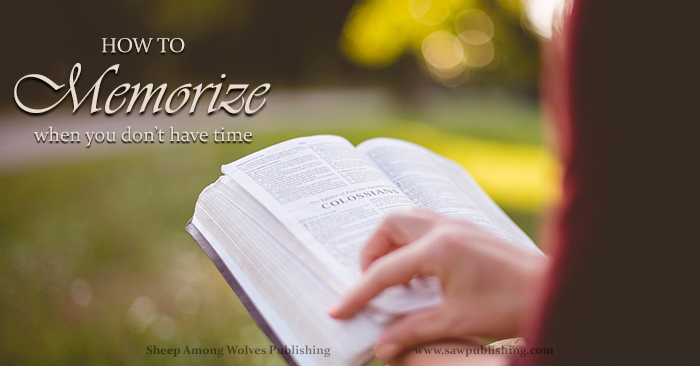 How many times have you looked at someone else's life, and all the interesting and exciting things they enjoy, and thought how much you would love to follow their example, if only you had time?
It's very easy as busy women caught in a seemingly never-ending spiral of daily checklists, weekly tasks, and monthly appointments, to think we don't have time for this or that, and waste as many sighs and frowns over our "rat-race" as we waste hours in our day.
Wait a minute. Weren't we too busy to waste hours? Or are we missing something? Are there actually many idle minutes in our stressfully busy schedules which could easily be turned into the excitement, stimulation and fulfillment we envy in others?
This week's Timeless Tip uncovers the "wasted" moments in our daily routines, and provides a chance for turning these moments into a legacy of memorization which can in turn bless many other moments and hours week after week, and year after year.
Reciting Poetry While Your Hands are Busy
There are lots of times in even the busiest schedules when our hands or feet are busy, but our minds are astonishingly idle.
Elizabeth Stansbury Kirkland, in her novel, Dora's Housekeeping, suggested that these times are excellent opportunities for thought. Talking specifically about sewing and mending, she went on to state,
"It's a good time to keep up your poetry, too. Some times I repeat poetry to myself for an hour at a time while I'm sewing."
Moments like these are otherwise, in a sense, wasted. And because the mind lies idle, it naturally reverts to the bewildering sequence of tasks yet to be accomplished in an amount of time often proved inadequate, and becomes frustrated with the conclusion that there won't be any hours left at the end of the day for the enjoyment and refreshment we need so much.
And meanwhile it is missing the opportunity for enjoyment and refreshment found in the many elevating, encouraging and spiritually nourishing poems which can tremendously lighten our hearts in a moment.
Learning Poetry While Your Hands are Busy
I know what you are going to say. You're going to observe that you would love to recite poetry but you don't know any. And you can't learn any while you live such a busy life and have so many other commitments which rank higher on the priority scale. Dora, the heroine of Elizabeth Kirkland's book, brought forward exactly this objection when she said that a busy schoolgirl didn't have time to memorize. But her aunt had a simple solution.
"The best way is to have a book always propped open on your bureau while you are dressing. Then you can look at a line or two and learn it while you are walking around or combing your hair; then look again and pick up another. You can learn two or three hundred lines in a week in that way, and never miss the time."
Two or three hundred lines a week is maybe a bit much to expect when we consider how little time we take for dressing nowadays, but just as a point of reference, I spend about five minutes every morning doing my hair, and this last week I learned fifty-five lines during hair brushing, even though I missed memorizing on Sunday!
And when I think of all the other times in my day when my busy hands leave me with an idle mind, perhaps the lady in this story wasn't so far off after all!
Look for the Time You Already Have
Mending and dressing are only two examples of time we use but don't maximize. Everyday occupations that leave our minds free include such common tasks as:
folding laundry
washing dishes
cooking
sweeping
dusting
rocking the baby
gardening
waiting at appointments
taking the bus
showering
walking the dog
Quite possibly you can think of other time-slots in your daily routine that would be just as appropriate for memorizing or reciting poetry as the ones listed here. The key is to look for activities that allow your mind the freedom necessary to learn poetry by heart, or recite verses you already know. The results can be astonishing.
How to Memorize When You Don't Have Time
So, next time you see or hear of wonderfully exciting things which other ladies in the world are doing, and you think to yourself, "I don't have time for that," stifle the sigh halfway up your throat, force yourself to smile, and remember the things which you can do, when you don't waste the time you are already using.
Why don't you try Elizabeth Kirkland's strategy, even for a week? I know there are moments in your life, just like there are in mine, that could easily be reused in memorizing poetry.
And I really think you'll find that when you use the moments you have to the full, you'll be far less inclined to think of the things you can't do, and far more inclined to praise God and encourage yourself by reciting some of the noblest, truest poems the world has to offer.
If you're looking for some poems to begin with, try one of the following posts:
September by Helen Hunt Jackson
The Daffodils by William Wordsworth
The Oak Tree by Cecil Frances Alexander
The Poplar Field by William Cowper
My Chickadee by Chelsea Burden
All quotations in this article were taken from Dora's Housekeeping, by Elizabeth Kirkland. As with all Timeless Tips, we cannot guarantee that the source document upholds our standards in all areas. This post is not necessarily a recommendation of Dora's Housekeeping.
You might also enjoy: