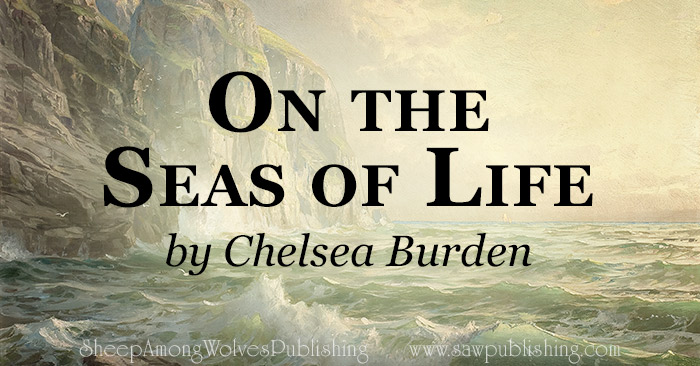 Are you feeling uncertain which way to go?  Do you have a choice to make that you know will have important consequences, but you cannot see a clear leading?  Many times in life we feel a certain degree of blindness and uncertainty about our future way, and in those times it is helpful to feel that God can see everything that we cannot, and will lead us if we ask Him.  This poem was written during a time when I needed to make a decision about what to do next in my life.  The answer has since been made clear, but probably many more times in my life, and in yours, there will be occasions of equal uncertainty.  In those times, let us be encouraged to trust in the God Who guides His children safely through the storms of life, and into the harbour of Heaven.
On the Seas of Life
by Chelsea Burden
My vessel on the seas of life
Embarks afresh today,
'Tis bright and fair yet gleam and glare
Have quite obscured my way;
The sea is vast on which I'm cast,
O! help me, Lord, I pray.
The many ports across the sea
Distract my wistful view,
So much to choose, and much to lose,
And all so very new!
I hardly know which way to go,
And what am I to do?
The bay I've left was safe and snug,
And gave me all I sought;
I leave behind its shelter kind
For seas with tempests wrought;
And never know what winds may blow,
What waves direct my lot.
There is no pathway clear to see,
On which my boat to set,
But here and there a glimmer fair,
That draws me on, and yet—
I fear to make a grave mistake,
That I shall ne'er forget.
The dazzling light upon the waves
Confuses all I see,
While fear and doubt within, without,
Perplex and baffle me;
The very light that marks the sight,
Seems but an enemy!
I should be filled with hope and joy
At all these vistas fair,
To view the sight in pure delight
Without a single care!
The tossing stern but cause to yearn
For sea and salty air!
I almost feel my spirit rise
At wind and sky and sea,
At all the bright and fresh delight,
And all the ports for me,
But that I know the way I go,
Shall fix my destiny!
If I had not a care or fear,
To weigh and sadden me,
With dancing eye and joyful cry,
I'd start upon my sea;
And crashing wave, and tempest brave
Would but afford me glee.
'Tis not how I had thought to start,
On life's exciting main,
With heavy sigh, and downcast eye,
And little else than pain;
The joy I miss should be my bliss,
And hope my sweet refrain
What shame that dread and fear and doubt
Have come to mar the scene,
Distress and woe to bring me low,
And care to come between;
And strangely not the joy I sought,
The way it should have been!
I wish I had my chance again
To start upon my way;
That care and fear were never near,
Nor clouds to dim the day;
Then joy would spring, and heart would sing,
And doubt would melt away!
I feel ashamed and vexed as well,
For every foolish fear,
And wonder why I cannot try
To find more pleasure here;
But yet I know that fear and woe
Would make such pleasure drear.
Yet even as I hang my head,
And heave a heavy sigh,
I hear in mind an echo kind,
To set my compass by;
And hope anew, and comfort true,
Arise in mem'ry's eye.
I am not set upon this sea
To find my way alone,
I have a Guide to keep beside,
A Captain for my own;
And He will steer through doubt and fear,
And chart my course unknown.
The ports I saw across the wave,
That sparkled bright for me,
Were never mine, though fair and fine,
And pleasant all to see;
I need not know the way to go
To fix my destiny!
I have a port to journey to,
A pathway clear to see;
And all the rest are poor at best,
For they are not for me!
Their joys are not the aim I sought,
The place I wish to be!
The One who keeps a better port
For all who persevere,
Whose word and hand the waves command,
Can also guide me here;
His compass sure will still endure
Despite the tides of fear.
And as I felt this sweet relief,
In words forever true,
My way was clear, though misty here,
My heav'nly port in view;
For He will guide through wave and tide
And bear me safely through.
And with this trust my heart may rise
To start upon my sea;
To view the sight in pure delight,
Since God will choose for me!
And crashing wave, and tempest brave
Shall but afford me glee!
I have my chance to start again,
And set upon my way,
With care and fear no longer near,
In bright and perfect day;
And joy shall spring, and heart shall sing,
And doubt shall melt away!
Then bring the waves and storms of life!
I have no need to fear;
The day is bright, and fair the sight,
For sky and heart are clear!
And hope may rise in glad surprise
That God Himself is near!
© Chelsea Burden and www.sawpublishing.com, 2016. Unauthorized use and/or duplication of this material without express and written permission this site's author and/or owner is strictly prohibited.