Finding Blessing by Using What You Have – Timeless Tip #13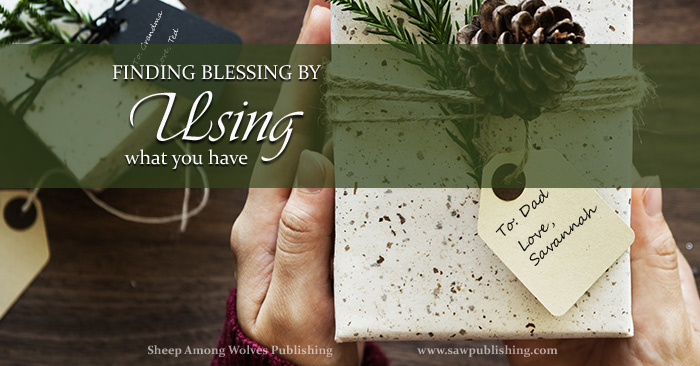 Can you find blessing this Christmas, even if your budget is tight?
In 1909, Olive Hyde Foster, author of Housekeeping for Little Girls, devoted an entire chapter to teaching children how to prepare for Christmas.
Her advice gives a vivid picture of how easily odds and ends can be converted into useful and enjoyable Christmas projects.  We've all heard the adage that "money doesn't grow on trees" – but a lot of other things do!
Today's Timeless Tip is an encouragement to examine your resources, and make the most of the blessings God has already given you.
1) Use What You Have!
As Olive Hyde Foster begins: "Don't forget that it takes away from the joyousness of the day to feel that you have spent more than you ought, or used for gifts money really needed for other things.  Start in a month beforehand, make a list of all the people you wish to remember, and set down the sum you can spend."
"If you only have one dollar, that is all the more reason for seeing how far you can make it go."
"Many little remembrances you can easily and quickly make yourself, if only a card tied on a blotter, with 'A Merry Christmas' in fancy letters across the top, or a small calendar on a novel mounting."
Some modern examples might include a decorated pencil holder, a box of Christmas baking, or even a candy cane with a name tag tied on.  If you buy the candy canes at a bulk or dollar store, you will be surprised at how far a few dollars can go.  This type of gift is especially nice for children who want to give something to a long list of friends, but don't have much money to spend on presents.  It is also a great way to say thank you to people like librarians, music teachers and neighbours.

2) Give Growing Gifts
"Did you ever think, by the way, what a nice present a growing plant makes?  While everyone loves cut flowers, they are very expensive at this season, and soon wither; a plant, however, with ordinary care, keeps getting prettier.  So, if you are in doubt about what to give mother or sister, suppose you decide on a dainty fern or a small palm."
"Yet better and cheaper still are the flowers you have grown yourself.  Bulbs cost only a few cents apiece, but the narcissus or hyacinth that you have tenderly cared for and brought to fragrant perfection will prove a most delicate and acceptable offering."
This kind of gift does need some advanced planning!  But don't be discouraged if you weren't thinking about gifts when you finished up gardening in the fall.  Starting houseplants from cuttings is a possibility at any time of the year.  Cuttings from herbs, planted in a little pot with a ribbon tied around it, would make an excellent hostess gift.  Depending on where you live, a Christmas gift of garden seeds might not be out of place—many avid gardeners start their earliest plants indoors while the snow is still on the ground.
3) Give Photo Gifts
"If you have a camera, try to get a few pretty pictures of familiar landscapes or woodland scenes, some beautiful trees or cattle in the fields, a good snap-shot of a member of the family, or even your favourite pet."
"A photograph of this kind mounted on a card above a tiny calendar, or a collection of pictures for one you know cares for such things, is far more acceptable often than many articles costing a large amount of money."
"It is the thoughtfulness evidenced in the selections of a gift that makes us feel the love which accompanies it and gives it the real value."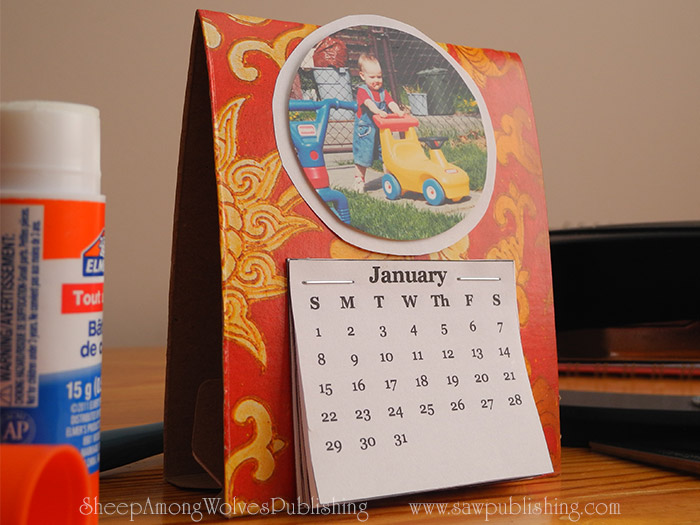 See our step by step tutorial for an easy to make desk calendar using a tissue box and printable yearly calendar from calendarlabs.com.  Grandparents would love to receive a hand made, personalized calendar for Christmas.
Or, if you aren't a photographer yourself, consider finding a copyright free image online, and having it printed like a photo.  Mounted in a dollar store frame, it will make a gift which is both inexpensive and beautiful.
4) Five Gifts Made from Old Magazines
"Then one more hint on presents.  Collect all your old magazines and family papers and cut them to pieces . . ."
"Put recipes in one pile for your newly married aunty;"
"Sewing and embroidery hints in another for the cousin that likes to make her own clothes;"
"Cut out the short stories for the invalid friend that likes to read;"
"Give the puzzles and answers to some playmate;"
"Paste the pretty pictures on sheets of wrapping paper to make a scrap-book for the little children."
"There are innumerable things of this kind that you can do.  Just think how many presents you can make this way without costing you a penny!"
If you don't subscribe to any paper magazines, you can still make a wide range of gifts from online sources.  It is important to be careful of copyright restrictions, but one simple way to create a valuable gift is to put together a sheet of hyperlinks.  A list of favorite recipes, craft ideas, short stories, cross-word puzzles, etc., will give hours of pleasure to the person who receives it, while it will only cost you the time spent in finding the links.
Also, remember that the public domain contains a host of free material which it is legal to cut, paste, and create gifts out of, just as Olive Hyde Foster described above.  Paintings, magazines, cookbooks, sewing books, games, paper dolls, and many, many more publications from the past, are available from this source.  If you haven't explored it yet, check out our post on finding books through digital archives.
5) Making Your Own Decorations
"Some of my little city girls, though, may want to trim their homes, and yet not be able to buy the necessary quantity of evergreens.  This calls to mind one year when two sisters, of ten and twelve, thought it would be great fun to make yards and yards of paper chains (like the wee tots do in kindergarten) to trim their dining-room and the bay-window holding the tree."
"Green French tissue-paper costs only one cent a sheet [in 1909], and they cut that in strips four inches long by half an inch wide, and using a paste of flour and water, pasted one ring inside another, until they had a great quantity of chains, each ten to fifteen feet long.  Some chains they made of red and yellow papers, too.  Then, the night before Christmas, father was called to tie them to the chandelier, and festoon them around the room. These decorations pleased them immensely and cost scarcely anything."
This is just one example of the many craft projects which can be transformed into Christmas decorations.  After all, what isn't it possible to make out of craft supplies?  Even if you have nothing but ordinary white printer paper, you have the resources to make an endless supply of snowflakes, in every shape and size imaginable.  And the wonderful thing about these decorations is that they give you so much fun while you're making them!
Finding Blessing by Using What You Have
This Christmas, as we launch Chelsea Burden's FREE holiday e-book, Finding Blessing, (available only for the month of December, 2016) SAW Publishing is also challenging you to find God's mercies wherever He has placed you.  Each of us is surrounded by different circumstances.  Each of us is facing different opportunities.  But God is calling all of us to rejoice in His bountiful gifts.
Let's make it a priority to use the time, resources, and ideas which the Lord has given us, to bless others, and find blessing ourselves.
For more information on Finding Blessing, check out our previous post: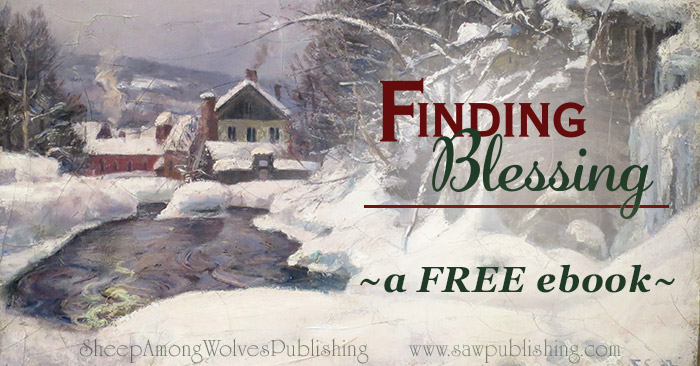 If you have any other Timeless Tips for using what you have, I would love to hear from you in the comments section!
This post may have been shared with the following linkups: The Art of Homemaking Mondays, What Joy is Mine, The Modest Mom, Homemaking Wednesdays, Wise Woman Linkup.
You might also enjoy: