Christmas Hymns Through the Ages
Close your eyes for a moment.  Alright, open them again so you can read this post.  But imagine yourself closing your eyes.  Picture a crisp, snowy night, with stars shining brightly in the clear, dark sky.  Picture the warm glow of candlelight against the frosted windows, the crackle of the glowing fire—and a sweet, reverent hush as the strains of "The First Noel" rise in the air.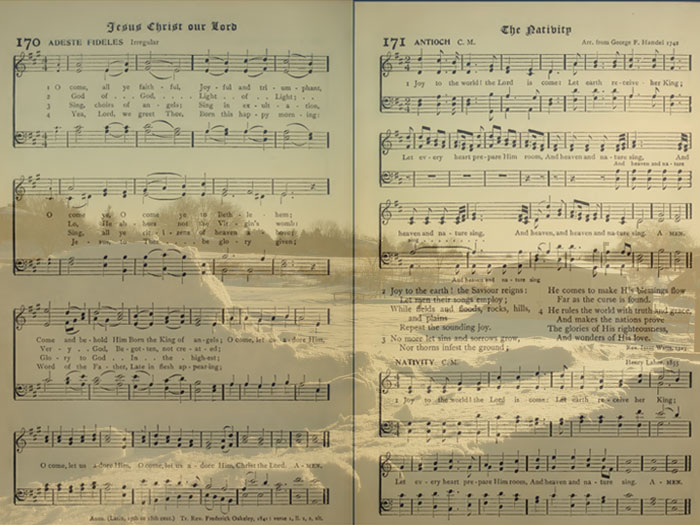 Are you standing in a medieval hall, with a great log blazing in the giant hearth?  Or in a rough cabin, beneath the vast heavens of the New World?  Does the cold, bracing wind fly over the chimneys of a Victorian town house, or sweep across the snowy pastures of a turn-of-the-century farm?  Or are you sitting in your living room, with a two-year-old snuggled in your lap, singing—as generations, and generations have sung before, of that very first Noel, which the angles did say:
…to certain poor shepherds in fields as they lay;
In fields where they lay keeping their sheep,
On a cold winter's night that was so deep.
"The First Noel" is one of the oldest of English Christmas hymns.  Like many traditional songs, it's exact origin is uncertain, but it may date from somewhere around the 1200's.  A few of the verses contain poetic licence (several are omitted from most versions), but the keynote of the piece rings as true today as it did 800 years ago:
Noel, Noel, Noel, Noel,
Born is the King of Israel.
Using Hymns in History Courses
Christmas hymns from past ages add a great touch to historical unit studies at this time of year.  The language of poetry changes more slowly than that of prose.  We can read and relate to hymns of the sixteenth and seventeen centuries with ease, where we would be bogged down in an essay, or even a story.
Sheep Among Wolves aims at highlighting literature that is both good and great.  And what can represent these qualities so well as the hymns of past years?  Whether they are familiar favorites, or "new" old songs, hymns are a perfect way to add flavour to any chapter of history.
Lists of hymns by date are an easy way to locate pieces, but they can be difficult to find.  I've compiled a free PDF, which you can download below, showing a selection of our family's Christmas favorites, divided by historical era, and arranged in the order in which they were written.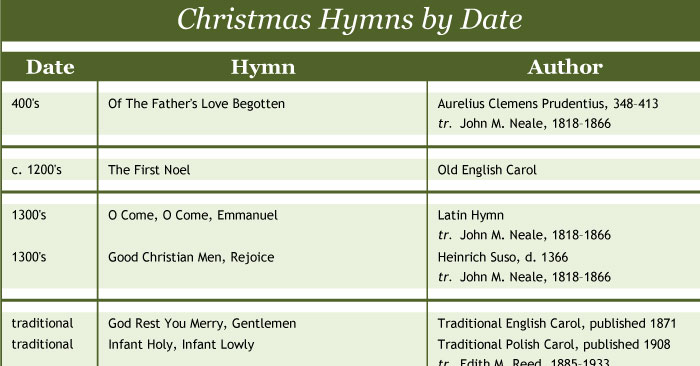 Note Regarding Placement of Traditional Carols
As I discussed in my post on Hymns of the 1400's, there is a certain historical gap which divides the small selection of early hymns from the burst of church poetry in the comparatively recent centuries.  You will see in the Christmas Hymns chart that there are no entries with a concrete date during the 1400's to 1600's.  Considering the fact that Cyber Hymnal includes 755 Christmas hymns, I am not willing to say confidently that there were none written during these years—just that they aren't among the more familiar ones.
I have chosen to place two "traditional" hymns in the gap.  The exact dates of "God Rest You Merry, Gentlemen" and "Infant Holy, Infant Lowly" are uncertain.  The former was first published in 1871, but the source was a traditional English carol, while the latter was translated in the early 1900's from a traditional Polish source.  Whether these pieces were first penned in the 1400's to 1600's, I cannot say, but they give us something to bridge the gap.  The Christians of those eras might well have had access to the Christmas hymns written in previous centuries, as well.
Where Information Was Unclear
I was also forced to make a judgement call with regards to "Away In A Manger", one of the most classic of Christmas hymns today.  It was first published in 1885, by an anonymous source, but this version only included the first and second verses.  The third was written in the early years of the 1900's, by John T. McFarland.  We have placed the hymn by its earlier date in the chart.
The information for "All Poor Men and Humble" was difficult to obtain, possibly because the hymn is still under copyright.  It appeared in hymnals somewhere around the year 1960, and consequently we have used that as our date.  Conceivably, the author might have written, or even published it, some years before it found its way into contemporary hymn books.  Anyone who can shed further light on the topic is encouraged to comment below.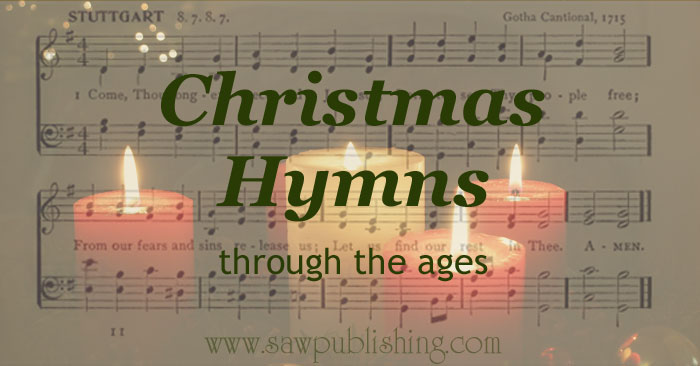 The Christmas Hymns of Tomorrow
My chart carries us only as far as the 1900's.  It is true that fewer hymns are being written today than in the past.  But it is also true that of the wonderful collection of hymns from the 1700's, almost 7000 were written by three individuals—Charles Wesley, Isaac Watts, and John Newton.
We cannot expect that the world will get better before Christ returns.  We can't count on thousands or millions of hymn writers in the coming century.  But three?  Surely, we might find three.
So make the study of hymns a part of your study of history.  It is one of the most helpful, educational, and godly topics you can find.  And as you read these great hymns, encourage your students to make their own attempts—feeble, perhaps, at first, but growing stronger with each effort.  Encourage them to write.  Because the children of today, reading the Christmas hymns of yesterday, will write the Christmas hymns of tomorrow.