Word of the Week Lesson #17 – MULTITUDE
SAW Publishing's Word of the Week (WOW) program is a vocabulary supplement built around hymns and Bible verses.  Each lesson contains a Webster's 1828 Dictionary definition, Scripture reference, and examples that encourage students to use new vocabulary in daily life.  To find out more about the program, see our post entitled Boost Your Student's Vocabulary with our FREE Word of the Week. To receive the FREE Word of the Week lesson the Monday before it is posted, sign up for the WOW email below.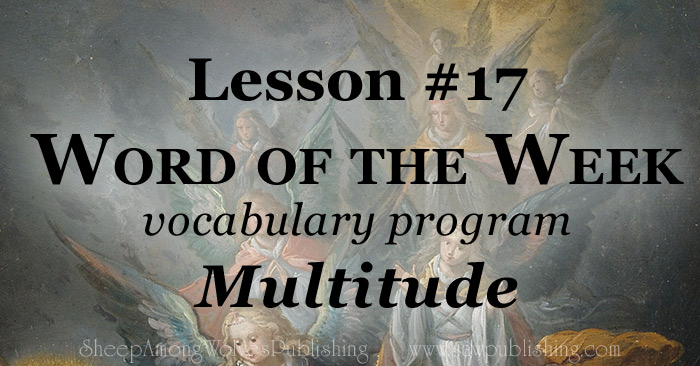 Word of the Week Lesson #17
**Click here for a downloadable PDF of the full lesson.
multitude
Short Definition
Abridged from Webster's 1828 Dictionary
MUL'TITUDE noun
the state of being many; a great number
Webster's 1828 Full Definition
MUL'TITUDE noun
[Fr. from L. multitudo, from multus, many.]
1. The state of being many; a great number.
2. A number collectively; the sum of many. Hale.
3. A great number, indefinitely.
It is a fault in a multitude of preachers, that they utterly neglect method in their harangues.  Watts.
4. A crowd or throng; the populace; applied to the populace when assembled in great numbers, and to the mass of men without reference to an assemblage.
He the vast hissing multitude admires.  Addison.
The multitude have always been credulous, and the few artful.  J. Adams.
All definitions are taken from the Webster's 1828 Dictionary from Archive.org Volume 1 and Volume 2 and can also be found on Webster's 1828 Dictionary online
Memory Verse
"And suddenly there was with the angel a multitude of the heavenly host praising God, and saying, Glory to God in the highest, and on earth peace, good will toward men."  ~ Luke 2:13, 14 (KJV)
All scripture references are taken from the King James Bible
Hymn
"Glory to God! the multitude singeth,
Glory to God! let men reply;
Glory to God! the echo still ringeth,
Ringeth aloud thro' earth and sky,
Nations shall sit no longer in darkness,
Tell the good news o'er earth afar!
Seated in glory now behold Him,
Jesus the bright and morning star."
– William A. Ogden (1841–1897), Birth of Christ the Lord 
All hymn texts are taken from Cyber Hymnal
Examples from Daily Life
"By the way," Aunt Elizabeth remarked, "we want to have your whole family over for dinner some time while Mrs. Barrett is in town.  I know her visit is still a few weeks away, but she always has a multitude of things to do while she's here, so we thought it would be a good idea to make our plans as soon as possible."
"Multitude is a good word," said Philip.  "I hope you have room in your house for a multitude of people!  Because there will be a lot of children if our whole family comes over."
"I suppose you do have a multitude of children," said Aunt Elizabeth.  "But I don't find them confusing, because I was introduced to them one at a time."
"Well, it's time we head back home," said Mr. Gravesend, picking up his keys.  "I happen to know that there is a multitude of baked potatoes waiting for our dinner.  And I, for one, am getting hungry!"
Please Note:  This is the last WOW lesson for December.  We will be taking a three week break over Christmas, and starting back up again, Lord willing, the second week of January.
Printable Image with Short Definition and Memory Verse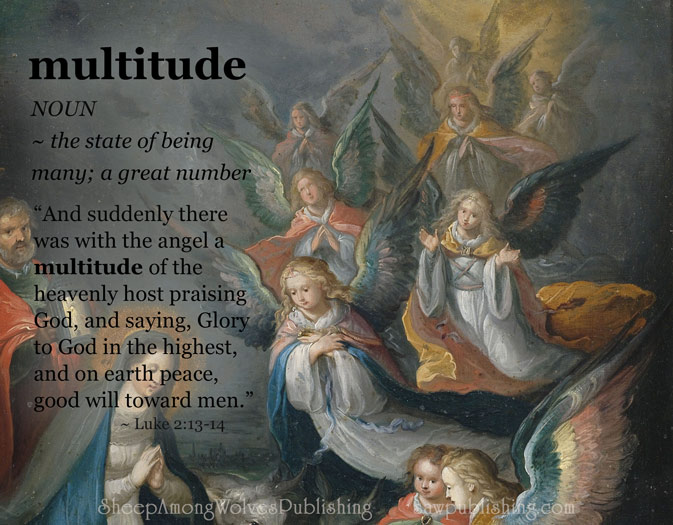 Bonus Activity
Vocabulary Memory Game
To help reinforce the first 17 words of our WOW program, SAW Publishing has created a memory matching game using the public domain images which have featured in each week's post. Click here or on the picture below to download a printable copy.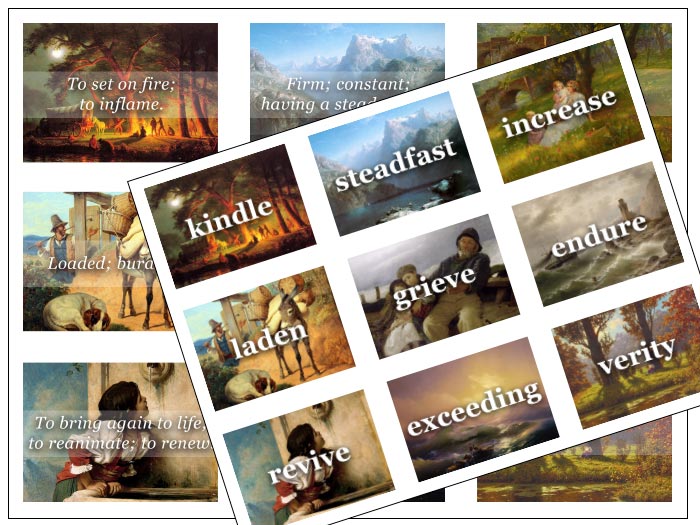 Print out the sheets, and cut along the lines to separate the 34 cards.  You will notice that half of these cards have one of our WOW words printed on them, while the other half have the short definitions which match the words.
Shuffle the cards, and place them in rows, face down on the table.
Each player takes a turn to flip over two cards.  If the cards match, the player keeps them, and takes another turn.  If they do not match, he flips them back over, and the turn passes to the next player.  Whoever has the most matches at the end of the game is the winner.
Note:  When playing with younger children, or with a wide mix of ages, the rules can be adapted so that each person takes one turn, and the play then passes to the next player, even if the cards were a match.
Answer to Last Week's Bonus Activity 
The term Alpha and Omega is found in Revelation 1:8; 1:11; 21:6 and 22:13.
The phrase which follows in each case, ("the first and last," or "the beginning and end(ing),") is echoed in the forth line of the hymn: "He the source, the ending He."
How To Sign Up
Each week's WOW lesson will be available on the Sheep Among Wolves blog on Friday morning.
If you would prefer to receive the lessons by email, you can sign up below to have each new lesson delivered on the Monday before it's posted.  This gives you time to print out the sheet, and have it ready for the next week, as well as making sure you don't miss any posts.  Email signup will include a high resolution copy of the image for those who wish to print it out in poster form.  Concerned that you have missed the start of our program?  Don't worry, all emails contain links to previous lessons.  No matter when you sign up, you will receive access to all lessons from the Word of the Week program.
This post may have been shared with the following linkups: The Art of Homemaking Mondays, What Joy is Mine, The Modest Mom, Homemaking Wednesdays, Wise Woman Linkup.
You might also like: