Finding Blessing by Serving Others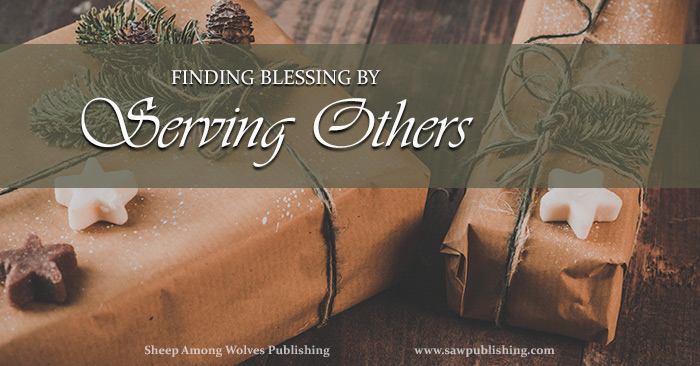 Is Christmas a chaotic time for you?  Or is it an oasis of peace?
Do you look forward to the excitement of the year? Or do you see only the unending round of activities, preparations and obligations?
I love Christmas.  I love the sights and sounds, the smells and tastes.  I love getting and giving presents.  I love candle-lit church services and singing hymns.  I love seeing family that I haven't seen since last year.
I'll let you in on a little secret—I used to dread Christmas!  My children would be counting down the days with great anticipation and I would be cringing at the unfinished work looming ahead of me.  I even caught myself muttering how much I hated Christmas.
Who hates Christmas?  As a Christian, it should be the most wonderful time of the year, shouldn't it?  The celebration of the birth of our Saviour.
In desperation, I began examining the reasons for my dislike and I came up with four simple steps to change my perspective.  After all, I did not want my children to look back on their childhood and see only a gloomy-faced mother, begrudgingly labouring through every December.
Cut Back on Your Obligations
The first and most important step is to cut back on your obligations.  That might not help you this year, but jot down a list of what you loved and what was too much, or perhaps too little, to bother doing again next year.
We plan in the fall what Christmas activities we will take part in.  For our family that means only one major event every weekend in December.  That way we can spend some time serving others without feeling overwhelmed.
Which leads us naturally to . . .
Take Your Eyes Off of Yourself
I don't know about you, but when I am worrying about getting my own needs met, I am less likely to see the blessings of the season and more likely to grumble about the areas where my expectations are not being fulfilled.
This year I decided to pray that God would allow me to be a blessing to others in each activity that I participated in.  At one point, I was starting to feel that familiar overwhelm of 'How will I ever get all of this done?'  Remembering my prayer, I gave it all to God.  I prayed that God would give me the strength to bless my extended family and not worry about anything else.  And He answered my prayer marvellously.  We have had two family get-togethers so far and they have both been a huge blessing—to me!  And hopefully to others as well.
Seek to Bless Others
By seeking to bless others we focus on what is really important.  We begin to enjoy the festivities because we are bringing pleasure to someone else.  And that is a wonderful feeling.
I know, I know, who needs one more thing to be responsible for?
Won't spending time on others just add to the length of responsibilities already piling up?
No, actually, it won't.  It changes the entire perspective of each event.  Tidying up to bless someone else lifts your own spirits and allows you to do the job cheerfully and willingly.  Cooking a meal for others while chatting and enjoying your company, will pass the time in a pleasant way, and make a dull chore like potato peeling an opportunity to ask about Aunt Jane's new job.
Little items of thoughtfulness like cooking someone's favorite vegetable, or placing a chocolate on someone's pillow take virtually no time at all, but can bring cheer to another.
Random Acts of Christmas Kindness
I have always loved giving to others at Christmas, but found that my time and money ran short of my desires.  I stumbled across a wonderful post by Kim Sorgius of Not Consumed about random acts of kindness.
"Since that first year, we have "bombed" cars in parking lots with candy canes and treated random strangers to vending machine snacks in the ER waiting room. We've snuck gas cards into friends' purses at church and we've bought hot chocolate for the Salvation Army bell ringers."
You MUST go over to Not Consumed and read her entire post.  What a great way to get the focus off of ourselves and onto others.  I'll warn you ahead of time, it can become addictive!  You will start to see unlimited opportunities for blessing others and find yourself giggling like a small child when you successfully complete each act.
Finding Blessing by Serving Others
This Christmas, I challenge you to find blessing by serving others.  Cut back on your activities, take your eyes off of yourself, seek to bless others in all that you do, and fit in a few acts of random kindness.  You will find the Spirit of God working in your heart to change your perspective as well.
For a wonderful story of Christmas cheer, check out Chelsea Burden's FREE holiday e-book, Finding Blessing (available only for the month of December, 2016), and see one family's attempts to bless others by taking their focus off of themselves.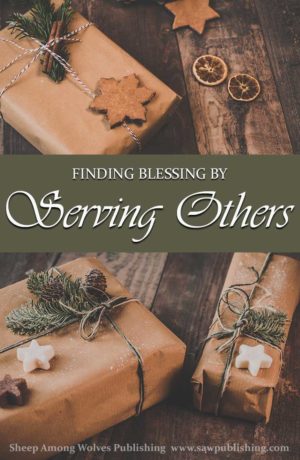 The snowflakes swirled in mesmerizing sequence, and the wind howled as it pressed against the side of the vehicle.  Sidney Matthews, along with his twin brother and younger sister, sat in tense silence within.  If only they could reach their destination safely!
Other winds than the present snow-laden blast had blown contrary to their plans during the week-and-a-half before Christmas.  As the twins and their sister prepared a holiday performance of "Good King Wenceslas" they had certainly run into difficulties similar to the "cold wind's wild lament" which had assailed the good king and his faithful page.  Not all their energy and enthusiasm had prevented the confusion and inconvenience which swirled around them like the eddying winds of the snowstorm.  And when catastrophe threatened to bring all their plans crashing down, and a change of perspective gave them a new idea of the important things in life, they were left with a decision.  Could they choose to follow in the steps of the noble king, or would the real lesson behind the story of Wenceslas be lost?
If you would like to share your tips for serving others at Christmas, or any other time, please leave us a note in the comments section below.
This post may have been shared with the following linkups: The Art of Homemaking Mondays, What Joy is Mine, The Modest Mom, Homemaking Wednesdays, Wise Woman Linkup.
You might also enjoy: