How To Include Children in Thanksgiving Preparations – Timeless Tip #11
Timeless Tips from Homemakers of the Past is an ongoing series highlighting useful and thought provoking tidbits from the generations of homemakers who have gone before us.  Our goal at Sheep Among Wolves is to provide a forum for Good and Great literature, and to help you in your quest for godly, high-quality resources.  It is our hope that these Timeless Tips will be an aid and encouragement to you as you strive to follow the example of Titus 2, and become a keeper of the home.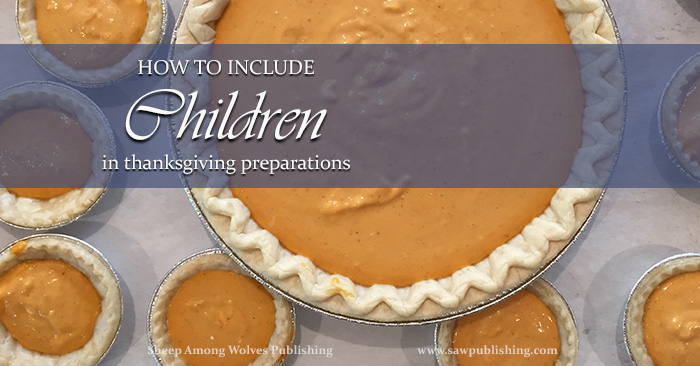 There's no time like a holiday for teaching your children!  One of the best things about homeschooling is that it gives you the opportunity to teach your children all the time.  You have the precious task of training them in the many skills which can only be learned by example.
The art of hospitality is one of these skills.
Hospitality can be a daunting topic.  It is an art that feels very chaotic unless you've had a lot of practice—and of course, the only way to get practice is to persevere despite the chaos!  Teaching hospitality by including children in the process sometimes seems like more than a busy mom can handle.
Why Include Children in Thanksgiving Preparations?
Today's Timeless Tip comes from Cookery for Little Girls by Olive Hyde Foster.  Chapter twelve gives us an experienced homemaker's step-by-step guide to including children in Thanksgiving preparations—in a way that reduces stress, and creates a positive experience for everyone involved.
Olive Hyde Foster had a firm belief in the importance of teaching homemaking skills to children.  One of the most encouraging aspects of her writing is the clear conviction that little girls are able to master a wide range of household arts.  As the author observes:
"All children are deeply interested in preparations for company, and in getting ready for the Thanksgiving dinner every mother will find good opportunity to teach her little daughter many valuable lessons."
"There is so much to be thought of at this time, and so much to be done that the wise woman will take the child into consultation, and by freely discussing plans get help and at the same time train her into the right way to prepare for guests."
1) How To Include Children in Thanksgiving PLANNING.
Involve your child in the decision-making process.  "In the first place, talk over with her and decide about the number to be entertained, and then settle on the menu."
Train your child by talking through her ideas. "Get her to express her opinions, and if they are good let her see that you approve them by following her suggestions.  If they are not good, point out wherein they are at fault . . ."
Give your child the job of writing out the menu.  ". . . after deciding what dishes are to be served, show her how to write out the bill of fare in proper form.  This should then be hung up in the kitchen for reference, as otherwise it would be an easy matter to overlook something or make a mistake."
Sample Menu
"If, for instance, a simple dinner of the usual good things is desired, it should be written out in this way—and the child herself can do the writing:
DINNER
Consommé
Roast Turkey, with Dressing
Cranberry Sauce       Pickles       Celery
Mashed Potatoes       Creamed Onions
Mince Pie       Cream Cheese
Coffee      Nuts      Raisins"
Your Thanksgiving dinner may or may not look exactly like the one above, but the principle can easily be adapted for whatever kind of meal you are going to serve.
2) How To Include Children in Thanksgiving SHOPPING.
Take your little ones with you while you shop. "The day before let the child help in the marketing." (Or the grocery shopping, or trip to the supermarket, as we would say today!)
Let the child check the menu to decide what you need to buy. "Have her consult the list made before starting out, to be sure she gets everything needed before beginning her cooking."
Teach your child how to choose good items. "When you go to buy the turkey, vegetables and fruits, show her the right kind to select.  Explain that the celery should be crisp and white, not wilted and discolored; the cranberries hard and red, not soft and brown in spots; the oranges solid and heavy, not pithy and light."
3) How To Include Children in Thanksgiving COOKING.
Let your child watch the process. "Returning home [from shopping], as soon as the turkey is delivered show her how to dress it.  This is always an interesting process, and while few mothers like to see their girls really do this work, they ought to explain it fully."
Believe it or not, I have known of multiple cases where children actually find this kind of thing fascinating!  And it certainly has its educational value.  But whether you carry the theory quite that far or not, let your child watch and be a part of Thanksgiving preparations, even if there are certain tasks you perform without their active help.
And finally, make sure your child does some cooking!  "Every mother should begin to instruct her little daughter at an early age in the different branches of housekeeping, and if taught in the right way, none will prove more attractive than cooking."
Since the main purpose of Cookery for Little Girls was as a cookbook, the author included a number of recipes for common Thanksgiving dishes.  If you are interested in Olive Hyde Foster's recipe for turn-of-the-century mincemeat pie, click here.
4) How To Include Children in the FINAL PREPARATIONS for Thanksgiving.
Start working early.  "Then, on Thursday morning begin the dinner in plenty of time, so there will be no hurry or confusion at the last moment. The table can be set early, the little maid being shown the silver required . . ."
Let your children make a Thanksgiving centrepiece.  This can be something very simple, but it will keep littles ones busy, and give them a useful, rewarding job on Thanksgiving morning.  As Olive Hyde Foster suggests: "If no flowers are available for table decorations, pile the fruit up attractively for a centerpiece, using the small dishes of nuts and raisins at each end to balance."
Have your children set the table themselves.   "At the right of each plate put the knife, soup spoon, and necessary teaspoons; at the left the forks, three if a salad is served.  The glass for water is placed to the right of the center, in line with the knife, and the napkin either directly in the center on the service plate or to the left of the forks."
"Every family has its own way as regards details, but a mother can very quickly get a child into the habit of being neat, careful and quiet about handling dishes."
My Thanksgiving Challenge to You
It is so easy to let a holiday fly by in a rush of activity.  Letting your children be involved in the Thanksgiving process takes time, and sometimes it feels a lot simpler just to send the little ones outside to play in the leaves, while you do all the work yourself.
But if our Thanksgiving celebration makes us too busy for our families, then is it really leaving us time to give thanks?
This year, take the time to include your children in Thanksgiving.  Give them the opportunity to see that your priorities reflect your convictions.  It's true that your Thanksgiving dinner may not run quite as smoothly as if you were the only cook.  Your pie shells may be a little tough because your ten-year-old kept mixing after all the ingredients were combined. Your center piece may have all the yellow squashes sitting together, and all the orange ones in a circle by themselves, because your four-year-old has recently learned how to match colours.
But I can guarantee that if you choose to give thanks for your wonderful children, and the unique place God has put you right now, your Thanksgiving preparations will be a blessing to everyone.
If you are looking for inspiration to approach Thanksgiving with a Biblical focus, take a look at this encouraging hymn: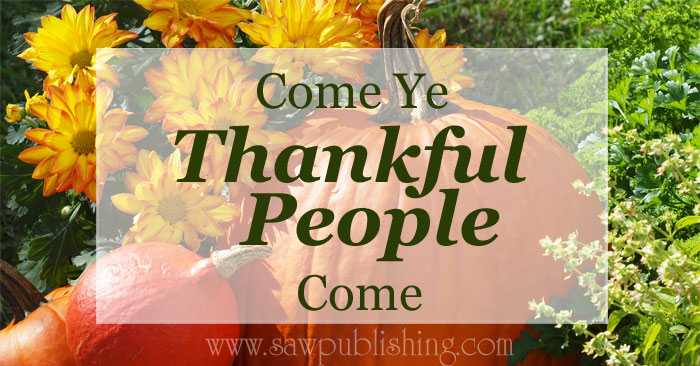 You might also enjoy:
This post may have been shared with the following linkups: The Art of Homemaking Mondays, Monday's Musings, The Modest Mom, Homemaking Wednesdays, Wise Woman Linkup.