Hetty's Thanksgiving—Book Review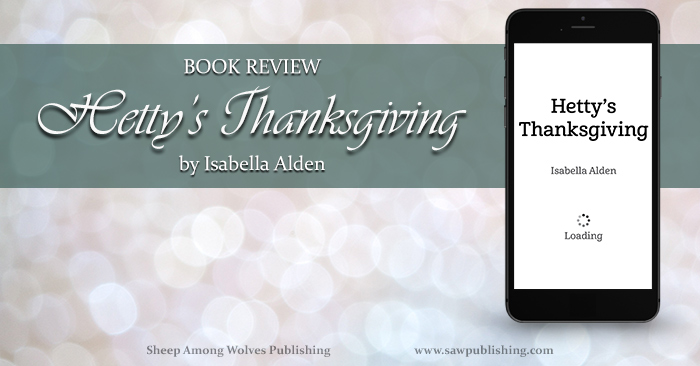 What kind of story do children actually enjoy? Hetty's Thanksgiving by Isabella Alden is a story that got me thinking about this question recently. As adults, we place a lot of value on structure and plot. We perceive successful stories as having plenty of conflict—mainly as a device for holding our attention from beginning to end.
But is that actually the kind of tale a child loves?
Hetty's Thanksgiving is a story where things mostly go right. It starts off with a problem—a fairly big problem, really—but it is essentially a story about how the problem got fixed and how happy people were made along the way. And I am venturing to suggest that this is a weakness that doesn't bother children much at all!
Book Details
Title: Hetty's Thanksgiving
Author: Isabella Alden
Publisher: Anglocentria, Inc.
Genre: Thanksgiving fiction
Number of Pages: 10
Theme: Bringing holiday cheer to the less fortunate
Age Range: 6-10 (content would be appropriate for younger children as well)
Source: Isabella Alden site
Summary
Little lame Hetty doesn't expect very many blessings at Thanksgiving. Her precious cat, Muff, is the only companion she has to cheer her discouraging life. When Aunt Jane banishes Muff out into the snowy street, Hetty feels that her "cup of unhappiness is full." She could never have imagined that Muff is about to bring her the most wonderful Thanksgiving of her life.
This little tale, originally included in Isabella Alden's 1894 collection New Year's Tangles and Other Stories, now republished on its own by Anglocentria, Inc., is a cheerful reminder of how kindness, generosity, and the prompting of God can transform a child's holiday beyond their wildest dreams.
SAW Rating System
We have recently altered our reviewing system using the model of our poetry grading worksheet. For an explanation of the new system, see our introductory post. 
Total Score—65/100
Great Qualities—27/50
Plot development—7/10
Character development—5/10
Command of language—7/10
Impact of the book—4/10
Originality—4/10
Good Qualities—38/50
Innocence regarding evil—9/10
Active promotion of good—8/10
Level of spiritual challenge— 6/10
Healthy view of life—8/10
Honouring God—7/10
Items of Note
Romance and morality
No issues.
Disturbing content
No issues.
Language
The exclamation "land!" is used.
"Gay" used in the sense of "festive."
Alcohol and drug use (includes tobacco)
No issues.
Spiritual content
Written from a Christian perspective without strong doctrinal bias.
Direct spiritual teaching only appears in the final paragraph, but the characters' actions do a good job of reflecting Christian love to the suffering throughout the story.
Family roles and behavior
Child's aunt and guardian is represented as being nearly always cross. She grumbles at having spent four and a half dollars on a doctor for her niece and complains about the child's inability to do anything useful due to an injured knee. She ultimately shows that she does care about her niece's welfare by thankfully accepting help when it is offered.
Aunt allows her niece to visit, and later stay with, a family that she has only just met, without taking any precautions to find out whether they are safe companions. The family does, however, prove trustworthy and kind.
Mature subject matter
No issues.
Reading Hetty's Thanksgiving
Do children's books need a conflict-filled plot? Maybe there isn't a short answer to that question. Probably the greatest children's plots are so skillfully woven that the reader is not even aware of their presence.
But given a choice between the two, I believe children often gravitate to the story with less plot but more pleasant experiences, rather than the one where the conflict is vivid and continuous and the characters spend most of their time unhappily in consequence.
Hetty's Thanksgiving is an agreeable story to read—and at the end of the day, that's a pretty good test!
Do you enjoy vintage stories that point you to God? See our review of Lily Gordon: