Five Fall Favorites: Holiday Stories

Hi everyone! Welcome back to the Five Fall Favorites blog party. As promised, our party room today is—blankets! If you don't believe blankets are a room, you need a large quilt, a low clothesline, four corner-weights, and a pair of twin eight-year-olds to show you what to do!
For those of you who prefer cuddling up in a quilt on the patio, that's fine, too! A warm blanket and a hot drink make the perfect combination for today's top five—holiday stories. We've got a special challenge with this category, because it is holidays stories that are NOT about Christmas. Never mind, the blanket and the hot drink will still come in handy—most of these stories do take place when there's a bit of nip in the air!
SAW Rating—56/100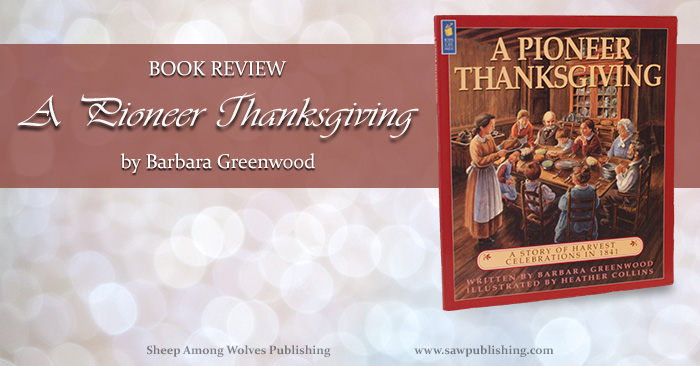 "Wheat and corn are piled in the barn and corncrib. Bushels of apples and potatoes are stored in the root cellar. All is finally read for winter. Now everyone is busy preparing for the Thanksgiving celebration . . . Thanksgiving is a special day for the Robertson family, but this year, before dinner is on the table, they will have more reasons that usual for giving thanks."
Barbara Greenwood and Heather Collins have developed a unique concept in their pioneer stories about the Robertson family. Combining soft pencil illustrations with a series of mini-stories, hands-on activities, and information blocks, they have created a resource that incorporates beautifully into historical unit studies, holiday projects, and just plain having-a-good-time.
It may be worth noting that A Pioneer Thanksgiving is a sequel to Greenwood and Collins' A Pioneer Story. In my opinion, A Pioneer Thanksgiving can be read without the background of the previous book, although the different characters are not formally introduced since it is presumed that the reader is already familiar with them.
Read Courtenay's full review here.
View the Goodreads page for this book here.
SAW Rating—63/100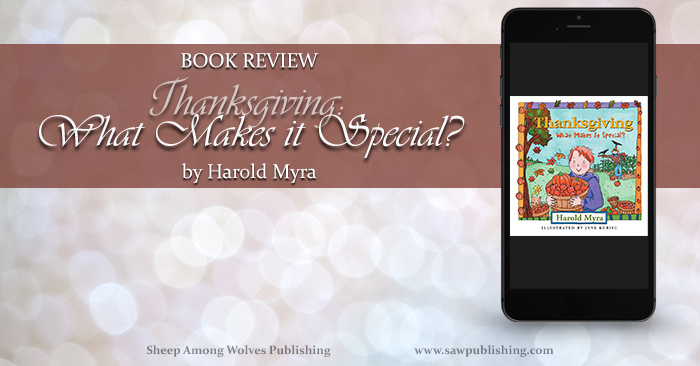 When a woman on the radio wishes everyone a happy "Turkey Day," a Christian family discusses the true meaning of Thanksgiving—and what makes it special.
A sweet picture book for very small children, Thanksgiving: What Makes It Special discusses the fundamental principles and history that make this holiday meaningful. A good introduction to the subject of giving thanks.
Read Chelsea's full review here.
View the Goodreads page for this book here.
SAW Rating—65/100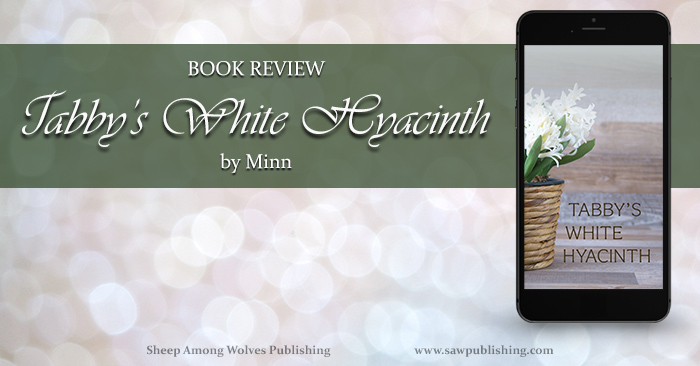 Tabitha Holmes came to church on Ash Wednesday for a very simple reason: it offered a little shelter from the bitter wind and a chance to warm her chilled body before heading back to her miserable home. But Tabby's shivering figure attracts the attention of another little girl—and together, they become involved in a quest to bring a special offering to church on Easter Sunday.
For those who already observe, or are thinking of observing, the season of Lent, this story gives a glimpse of many ways in which both children and adults can practice self-sacrifice—sometimes in ordinary, sometimes in unexpected, ways.
Read Courtenay's full review here.
View the Goodreads page for this book here.
SAW Rating—65/100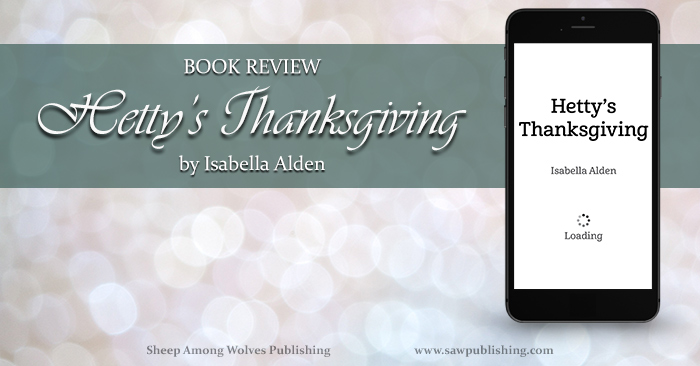 Little lame Hetty doesn't expect very many blessings at Thanksgiving. Her precious cat, Muff, is the only companion she has to cheer her discouraging life. When Aunt Jane banishes Muff out into the snowy street, Hetty feels that her "cup of unhappiness is full." She could never have imagined that Muff is about to bring her the most wonderful Thanksgiving of her life.
This little tale, originally included in Isabella Alden's 1894 collection New Year's Tangles and Other Stories, now republished on its own by Anglocentria, Inc., is a cheerful reminder of how kindness, generosity, and the prompting of God can transform a child's holiday beyond their wildest dreams.
Read Courtenay's full review here.
View the Goodreads page for this book here.
SAW Rating—73/100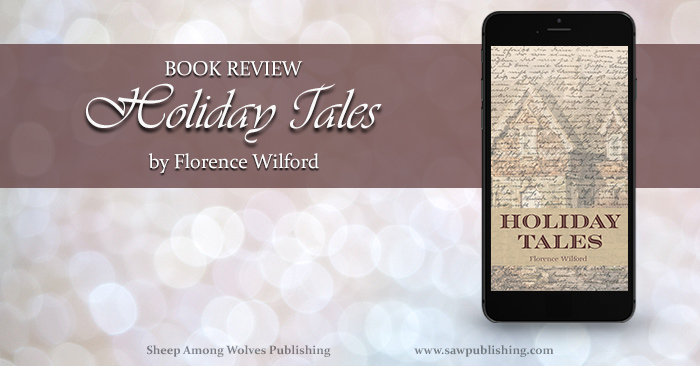 A surprise garden for an invalid mother, and a lost scholarship—what do they have in common? Perhaps not much on the surface, but through each of them a boy learns valuable lessons about submission and respect that will serve them for a lifetime.
Holiday Tales is a volume of two stories set in the Long Vacation (British summer holidays), and the lessons learned by seven Campbell brothers and the unfortunate Cecil Cunningham.
Read Chelsea's full review here.
View the Goodreads page for this book here.
What Do I Love About Holiday Stories?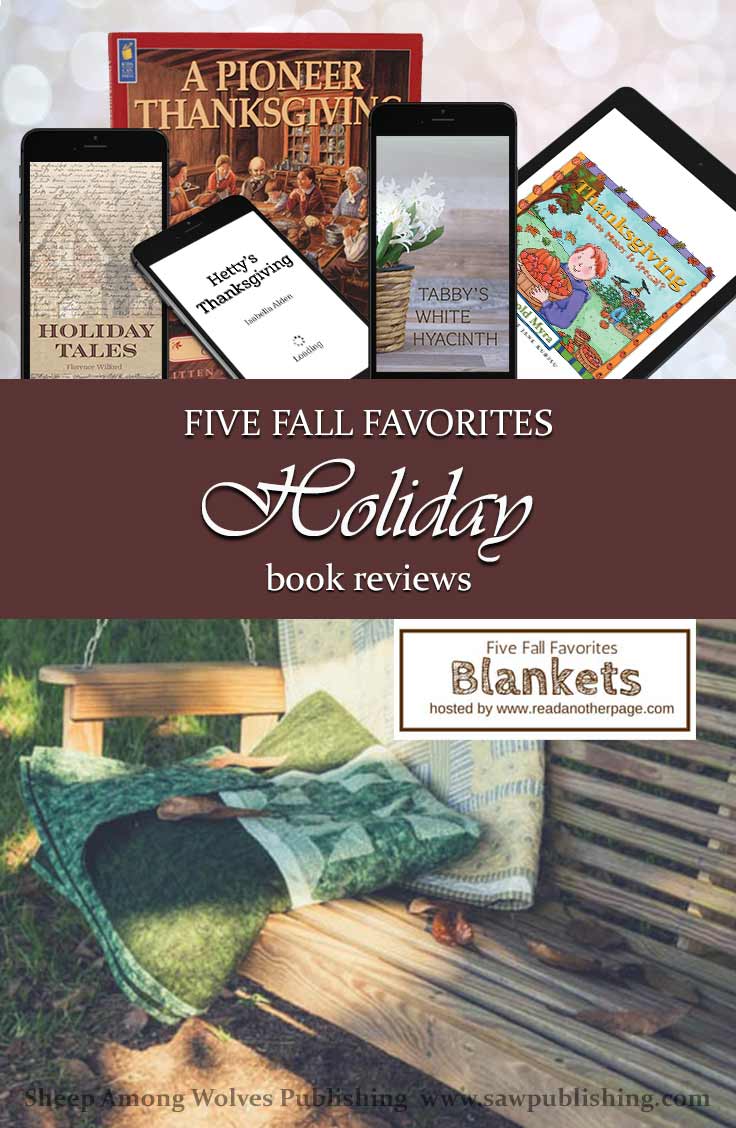 Oh, that's a little too obvious! It's the warm blanket and the hot drink, of course! Okay, maybe that's not totally true. I think what I actually enjoy most about holiday stories is the way they help to build holiday traditions.
Holiday stories have an obvious anchor-point in every year. As surely as the holiday comes around, we have another reminder to get out our favorites—old and new—and go on building our holidays traditions with every page we turn.
What are your all-time favorite holiday stories? I'd love to hear what they are, and why you love them, in the comments section below!
And as always, see you tomorrow—this time for the most useful category of books we've reviewed yet!
For more information on the Five Fall Favorites blog party, (or to see some more favorite holiday stories,) step over to Rebekah at the Literary Lodge: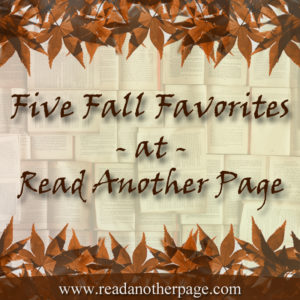 Don't miss your chance to be this year's Five Fall Favorite's giveaway winner! The 2020 fall reading collection includes 5 signed paperback books by FFF participants/alumni, a FFF book bag, and an Amazon gift card.
a Rafflecopter giveaway
 You might also enjoy: