A Pioneer Thanksgiving—Book Review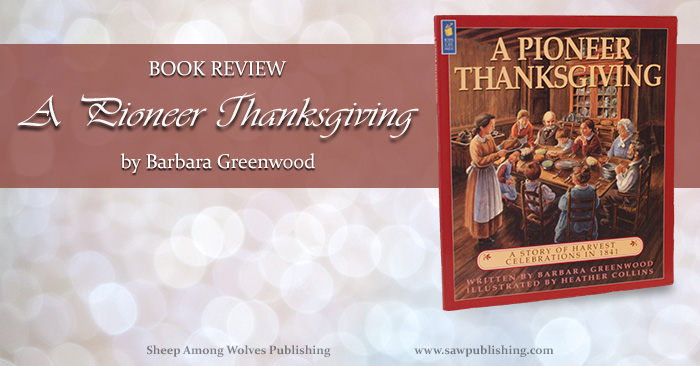 A Pioneer Thanksgiving by Barbara Greenwood is a story that has been part of my family's Thanksgiving celebration since I was a child. It was the special accompaniment to "cranberry sauce day"—a special pre-thanksgiving festivity that everybody who makes their own cranberry sauce is well familiar with!
For as long as I can remember, my mother used the recipe included in A Pioneer Thanksgiving to make her cranberry sauce. She would let us taste a raw cranberry, so we had a good idea what they tasted like before they were made into sauce! Then we would help her boil and boil the red liquid until all the berries popped (sometimes with a little help from a spoon).
Either before, after, or during this exciting process, she would read the whole story of A Pioneer Thanksgiving out loud to us. Over the years it became a integral part of the way we celebrated Thanksgiving.
Book Details
Title: A Pioneer Thanksgiving
Author: Barbara Greenwood (Illustrator: Heather Collins)
Publisher: Kids Can Press
Genre: Historical Fiction (Picture Book)
Number of Pages: 48
Theme: Canadian Thanksgiving in the 1840s
Age Range: 6-10 (With adult supervision for some activities.)
Source: Amazon
Summary
"Wheat and corn are piled in the barn and corncrib. Bushels of apples and potatoes are stored in the root cellar. All is finally ready for winter. Now everyone is busy preparing for the Thanksgiving celebration . . . Thanksgiving is a special day for the Robertson family, but this year, before dinner is on the table, they will have more reasons that usual for giving thanks."
Barbara Greenwood and Heather Collins have developed a unique concept in their pioneer stories about the Robertson family. Combining soft pencil illustrations with a series of mini-stories, hands-on activities, and information blocks, they have created a resource that incorporates beautifully into historical unit studies, holiday projects, and just plain having-a-good-time.
It may be worth noting that A Pioneer Thanksgiving is a sequel to Greenwood and Collins' A Pioneer Story. In my opinion, A Pioneer Thanksgiving can be read without the background of the previous book, although the different characters are not formally introduced since it is presumed that the reader is already familiar with them.
SAW Rating System
We have recently altered our reviewing system using the model of our poetry grading worksheet. For an explanation of the new system, see our introductory post. 
Total Score—56/100
Great Qualities—34/50
Plot development—7/10
Character development—4/10
Command of language—8/10
Impact of the book—7/10
Originality—8/10
Good Qualities—22/50
Innocence regarding evil—5/10
Active promotion of good—4/10
Level of spiritual challenge—3/10
Healthy view of life—7/10
Honouring God—3/10
Items of Note
Romance and morality
No issues.
Disturbing content
Heroine struggles with fears of her grandmother dying.
A child nearly drowns after heroine disobediently takes her to a cranberry bog. This scene is fairly vivid, but as a child I also found it informative. (In case I ever had to rescue a drowning person!)
Mention is made of slaughtering animals for food.
Hero remembers hearing stories of people lost in the woods "for days, sometimes even . . . forever."
The existence of hunger and starvation in the lives of early settlers is covered at several places.
The final section, "Thanksgiving Then and Now," mentions several natural and artificial disasters people have historically dreaded.
Language
The expressions "thank goodness" and "for heaven's sake" are used.
A squirrel is referred to as a "little rascal."
Alcohol and drug use (includes tobacco)
No issues.
Spiritual content
The story is not written from any formal religious position. In a couple of places, the narrative voice seems to hint at a humanistic worldview. On the other hand, the main characters approach Thanksgiving from a traditional Christian perspective. The twenty-third psalm is read. "Grace" is said before the Thanksgiving meal.
The heading "Giving Thanks to Mother Earth" covers First Nations harvest rituals.
The headings "The Corn Dolly" and "Harvest Superstitions" cover pagan European harvest traditions. The following activity references the corn dolly bringing "good luck."
Due to the design of the book, all of these sections can be easily skipped in reading it aloud to children.
Family roles and behavior
Child listens in on mother's conversation with a neighbour in another room.
In the first story, there is some negative sibling interaction, including an older sister slapping feathers out of a younger sister's hands and slamming door on entering house. Heroine considers pretending she doesn't hear her sister calling, but changes her mind when she remembers she'll have to face her later.
Disobedience to parents brings dangerous natural consequences and a rebuke, but is not really addressed from a moral standpoint.
Hero feels relieved that his mother does not ask questions about where he found chestnuts, because he is reluctant to admit that he got lost.
Mature subject matter
Settlers eating wild plants is discussed. Caution about poisonous plants is given, but not necessarily with enough detail to prevent adventurous children from experimenting.
A boy appears without a shirt in one illustration, but without much detail.
Peasant is depicted with fairly tight leggings in one illustration.
Reading A Pioneer Thanksgiving
As you may have noticed above, I've chosen to give this book a relatively high score on impact (7/10). A lot of the impact of A Pioneer Thanksgiving lies in its possibilities. The quality activities and the way the book fits in with a specific holiday both contribute to its potential for building memories that will last for decades.
While this book is set in Canada, it would incorporate smoothly into an American history curriculum. The historical facts include a brief account of U.S. thanksgiving traditions.
If you're looking for other ways to make Thanksgiving memories with your kids, see our previous post: