The Backwoods of Canada—Book Review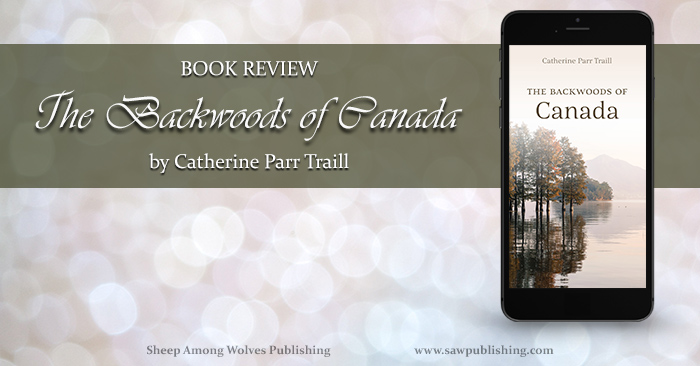 What would it be like to leave your life of modern luxury and convenience and plunge into the difficulties and dangers of a wilderness homestead? The Backwoods of Canada by Catharine Parr Traill gives us a glimpse of a world in which this kind of culture-shock was a reality.
Is the wife of a 19th century British officer really better prepared for life on the Canadian frontier than you would be today? Maybe you haven't got a clue how to make soap out of ashes and lye, bake bread in a kettle over an open fire, or eke out your household supplies with sugar made from your own maple trees. Neither did Catharine! On the other hand, you are probably used to doing housework without multiple servants—you probably already know that a chipmunk is similar to a squirrel—and you would likely not be offended if the engineer on a steam-boat considered himself your social equal.
Maybe the question really boils down to something internal. Do you—and Catharine—have the courage to meet life's challenges with cheerfulness and perseverance—even when they bring you a lot more than you bargained for?
Book Details
Title: The Backwoods of Canada
Author: Catharine Parr Strickland Traill
Publisher: Charles Knight
Genre: Firsthand Historical Accounts
Number of Pages: 351
Theme: Early Canadian Settlers
Age Range: Adult
Source: Project Gutenberg
Summary
Catharine Parr Traill was the wife of a British officer who emigrated to Canada in the 1830's. Accustomed to the refined life of upper-class English society, the Traills found themselves the possessors of a backwoods homestead boasting three acres of chopped land, an uninhabitable shanty—and whatever store of optimism they had brought with them from the land of their birth.
In this series of letters, written mostly to her mother in England, Catharine gives us a firsthand picture of the trials, perplexities, and triumphs faced by the pioneers of the early 19th century—as well as the indominable courage and hopefulness which built Canada as we know it today.
SAW Rating System
We have recently altered our reviewing system using the model of our poetry grading worksheet. For an explanation of the new system, see our introductory post.
Total Score—67/100
Great Qualities—35/50
Knowledgeability—8/10
Coverage of Topic—7/10
Quality of Writing—9/10
Impact of the book—5/10
Originality—6/10
Good Qualities—32/50
Innocence regarding evil—7/10
Active promotion of good—6/10
Level of spiritual challenge—4/10
Healthy view of life—8/10
Honouring God—7/10
Items of Note
Romance and morality
No issues.
Disturbing content
Suffering and tragedy is depicted in connection with a cholera epidemic.
Both human and animal suffering/death is mentioned in multiple places. Most references are not graphic, but a few have more vividness than some readers would appreciate.
Disturbing condition of emigrants during voyages and after landing is glimpsed, but not graphically described.
Blood/bleeding are mentioned in several places, both as the result of injury/violence and also as a medical treatment.
The story is told of a widow frightened by a First Nations man who intends to spend the night in her house. Her imagination of her children being murdered is rather graphic, but does not actually come to pass, as the man proves kind and friendly.
Military characters (including the author's husband) appear frequently in the story, but no warfare is covered during the timeframe of the book.
Language
A number of words such as "gay," "intimate," and "molested," are used in an older, broader, or more innocent sense than they convey today.
The author's contact with and descriptions of First Nations peoples contain various stereotypical conceptions and vocabulary that would be offensive in a modern context, although they would not have been regarded in that way at the time the book was written. Similar content occurs at times when the author touches on other nationalities or classes of society. Negative opinions about individuals are also freely expressed.
A young boy is referred to as a "hunchbacked dwarf" on account of "extreme deformity."
The word "fool" is used by several characters.
Several characters are mentioned as using profane language, but without examples.
Alcohol and drug use (includes tobacco)
Various types of alcohol are mentioned throughout the book. Taverns are referenced at several points. Drinking to excess is depicted and portrayed as wrong. Fairly moderate consumption of alcohol is not discouraged.
Hops are used to make yeast for both homemade bread and alcohol.
Opium, quinine, and calomel are used for medicinal purposes.
First Nations men are depicted smoking.
Mention is made of snuff.
Please note: The word "liquor" is used when discussing cooking to signify any type of liquid resulting from culinary operations—in this context it does not signify the presence of alcohol.
Spiritual content
The author writes from a Church of England (Episcopal) perspective. The liturgy and structure of this church are referenced at several points. Adoration of God is referenced repeatedly, particularly when dwelling on the beauties of nature.
A Roman Catholic cathedral is visited and admired.
Natural phenomenon similar to the northern lights is described as resembling "some bright visitor from another and better world."
Passing mention is made of such concepts as ghosts, fairies, and other entities derived from folklore, mythology, or superstition.
"Nature" is spoken of in the language of a Providential power in several places.
A number of Biblical/religious phrases are applied to secular circumstances/occurrences.
The author wonders and speculates about the history behind various geological features she comes across, many of which would be perceived by creationists as outcomes of Noah's Flood.
Family roles and behavior
First Nations boy grins at his mother's bad English, and "torments" (mercilessly teases) children and dogs.
Fond father insists on disturbing sleeping children to show them to guests, despite mother's remonstrances.
Upper-class lady declares she would see her sons dead before she would let them do common manual labour.
Government quarantine regulations for incoming ships are complained of as ineffective and absurd.
Mature subject matter
Working with a spinning-wheel is described as "calculated to show off the natural advantages of a fine figure."
On complaining about the accommodation at an inn, the author is told by the landlady that the only alternative would be sharing a room with three gentlemen.
In discussing cattle, "distention of the udder" is mentioned as harming cows that are allowed to forage for days on end.
Reference is made to an infant as a "babe at the breast," also to a child of three who is "not yet weaned."
Reading The Backwoods of Canada
Perhaps the most fascinating thing about this book, is that it is a true story. Catharine Parr Traill really did emigrate from pre-Victorian England to the Canadian backwoods in 1832. She really did face—and overcome—the host of difficulties that she describes in her letters home. Her indominable courage, cheerfulness, and hope are real-life characteristics that continue to inspire and challenge me today.
If Catharine Parr Traill could face the incredible changes and obstacles of her life with that much optimism and resilience, surely God has grace for us to meet our own futures with the same characteristics.
If you are interested in another peek into North American life in the early 1800's, see our review: