The Country Diary of an Edwardian Lady—Book Review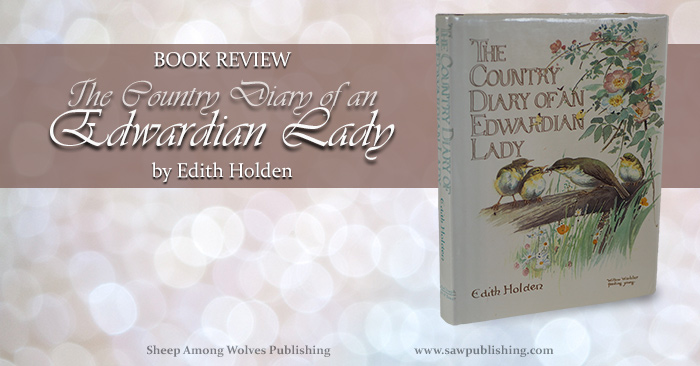 "It's a lovely book—but how on earth do you classify it?" This question pretty well captures the feeling with which I chose The Country Diary of an Edwardian Lady as a book to review for this year's Five Fall Favorites blog party.
After all, what kind of book is a "country diary"? Is it a volume of personal experiences? Is it a botanical manual? Is it a naturalist's reference-work?
Or is it maybe best described as "a resource"—nothing more or less?
In fact, it is probably in the capacity of a teacher's resource that The Country Diary of an Edwardian Lady has the biggest role to play. It's not a book you would really choose to read instead of a novel. It's not a book you would really want to read straight through in a single heroic marathon. But as a resource for introducing students to the wonders of the natural world—as a resource for opening their eyes to the plants and animals they pass without noting every day—and as a resource to give them a glimpse of the country life of a day gone by—The Country Diary of an Edwardian Lady is in it's element.
Book Details
Title: The Country Diary of an Edwardian Lady
Author: Edith Holden
Publisher: Michael Joseph/Webb and Bower
Genre: Wildlife Journal
Number of Pages: 192
Theme: Flora and Fauna of Edwardian England
Age Range: General Audience/Educational Resource (see notes below)
Source: Amazon
Summary
Edith Holden was an ordinary Edwardian lady, with an extraordinary passion for nature, poetry, and watercolour painting. Her country diary, recorded during the year 1906, combines these three hobbies into a unique journal of the out-of-doors.
Each month of Edith's diary includes notes on the plants, animals, and weather she observed in the neighbourhood of her Warwickshire home, interspersed with favourite quotations from a wide range of English poets, and illustrated by hundreds of delicate watercolour paintings. This book is an actual facsimile reproduction of Edith's entire diary—right down to the author's own handwriting on every page—lending a delightful charm to the whole volume.
SAW Rating System
We have recently altered our reviewing system using the model of our poetry grading worksheet. For an explanation of the new system, see our introductory post.
Total Score—62/100
Great Qualities—37/50
Knowledgeability—8/10
Coverage of Topic—8/10
Quality of Writing—8/10
Impact of the book—5/10
Originality—8/10
Good Qualities—25/50
Innocence regarding evil—5/10
Active promotion of good—5/10
Level of spiritual challenge—4/10
Healthy view of life—6/10
Honouring God—5/10
Items of Note
Romance and morality
Love and lovers are mentioned in several of the poems.
Disturbing content
Author bio on dust jacket states the fact that Edith Holden eventually drowned in the Thames.
The author's friend displays a viper, who rears itself up and strikes at a walking-stick.
Death of both animals and people is alluded to, but not gratuitously.
Language
Archaic spelling/heavy dialects occur in some poems—I have not researched the meanings of all such vocabulary, but assume they are fairly benign. Some words, such as "gay" are used in an older, broader, or more innocent sense than they now reflect.
The Lord's Name appears as an exclamation in the poem by Edmond Spencer on pp. 59. In my opinion this poem could be appropriately omitted in reading aloud.
There are a few passing mentions of the concept of ghosts, incantation, etc. in the poems.
The expression "threaten the profane" occurs in a poem by Wordsworth describing trees.
The expression "hey the doxy" is used in a quotation from Shakespeare.
The word "curse" is also used.
Alcohol and drug use (includes tobacco)
Reference is made to the Opium Poppy as a plant.
Alcoholic beverages are mentioned in two places as part of the good-cheer of fall/winter.
Spiritual content
The journal is not written from any particular religious perspective. Saints-days and both religious and secular holidays are listed at the beginning of each month. The poems come from a wide range of backgrounds and reflect quite a broad spectrum of Christian and non-religious viewpoints—probably no one reader would agree with all the opinions expressed in the whole collection.
Mythological characters are referenced, primarily in explaining the derivation of month names.
Fairies and personifications of the months/season appear in some of the poems. "Nature" also appears as if it were a living being.
Passing reference is made to Druids. The moon is likened to a wizard.
Various old wives fables—most of them pertaining to weather patterns—are quoted throughout the book.
Family roles and behavior
No issues.
Mature subject matter
As mentioned above, the author has compiled a large and varied collection of poems relating to nature. Many of these poems are innocent and elevating, while others contain undesirable references or convey an unhealthy mood. In my opinion, this book is a teaching resource with a lot of potential, but I would encourage teachers to use personal discretion in selecting passages for student use.
There are also two undressed, but discretely-depicted, cupids decorating the February title-page.
Creating The Country Diary of an Edwardian Lady
When I first read The Country Diary of an Edwardian Lady I was so intrigued by the idea that I decided to keep my own nature journal for a year. It was just a lined notebook—and the illustrations were just little scribbled ink drawings around the month titles. But it certainly did open my eyes to a lot of flowers that had been blooming along my path, which I had never noticed before!
The Country Diary of an Edwardian Lady is much more than a record of the English countryside a hundred years ago—it is an inspiration to readers to note down the beauty of their own "country" (or city) life today.
For a glimpse of some of the flora and fauna on the opposite side of the Atlantic—as well as many other details of an early 19th century settler's life, see our review: