Colored Pencil Portraits Step by Step—Book Review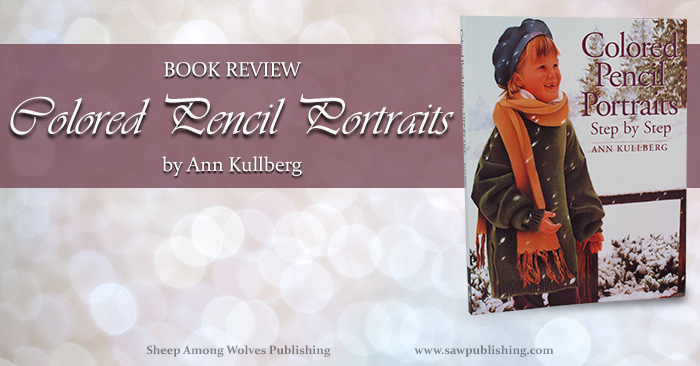 Ann Kullberg's Colored Pencil Portraits Step by Step is a book I received as a Christmas present when I was a teenager. At the time, I was already into colored pencil artwork, but I had one big problem with the medium: coloured pencil drawings always end up looking lack-luster if you compare them to painted pictures.
Or do they?
Colored Pencil Portraits Step by Step completely challenged my stereotype about colored pencil drawings. The book is lavishly illustrated with dozens of Ann Kullberg's commissioned portraits—portraits that hold their own even by the side of traditional acrylic or oil paintings. In fact, there is a smoothness and brilliancy to the skin-tones of Ann's portraits that a painter is hard pressed to equal.
If you, like me, are now crazy to know how she did it—then Color Pencil Portraits Step by Step is a book you need to read!
Book Details
Title: Colored Pencil Portraits Step by Step
Author: Ann Kullberg
Publisher: North Light Books
Genre: Art Technique/Colored Pencil
Number of Pages: 128
Theme: How to create coloured pencil portraits
Age Range: Adult/General Audience
Source: Amazon
Summary
How could it ever be possible to achieve the rich colours and exquisite details of an acrylic or oil painting, using nothing but colored pencil crayons? Ann Kullberg's beautifully illustrated manual, Colored Pencil Portraits Step by Step, offers a revolutionary perspective on the possibilities of coloured pencil artwork.
This informative handbook walks you through the different techniques and elements required to create stunning, deeply-coloured portraits using wax-based pencil crayons and a very simple set of auxiliary supplies. The demonstrations are done with widely-accessible Sanford Prismacolor pencils—allowing readers to easily procure the exact colors used in the illustrations.
I loved this book when I first read it, and I continue to love and be inspired by it today!
SAW Rating System
We have recently altered our reviewing system using the model of our poetry grading worksheet. For an explanation of the new system, see our introductory post.
Total Score—69/100
Great Qualities—42/50
Knowledgeability—9/10
Coverage of Topic—8/10
Quality of Writing—7/10
Impact of the book—9/10
Originality—9/10
Good Qualities—27/50
Innocence regarding evil—8/10
Active promotion of good—5/10
Level of spiritual challenge—3/10
Healthy view of life—8/10
Honouring God—3/10
Items of Note
Romance and morality
No issues.
Disturbing content
No issues.
Language
The expression "thank goodness" is used.
Alcohol and drug use (includes tobacco)
No issues.
Spiritual content
Not written from a particular religious perspective. The author was educated at Pacific Lutheran University, and the sweet, innocent air of her portraits is consistent with a Christian worldview.
The word "nirvana" is used to refer to a state of perfection.
"Sin of omission" is used to refer to an innocent mistake.
The idea of the subconscious mind working to solve problems is briefly touched on.
Family roles and behavior
Author declares she knows her pencils better than her children.
Discourages parents from being present at photo shoots because children's portraits tend to be more relaxed without them.
Mature subject matter
Child portraits sometimes include sleeveless tops/shorts/gaping clothing/skirts that ride up, but such subjects are quite tastefully handled.
Reference is made to a previous portrait of the author's, depicting a Japanese "geisha-in-training."
Reading Colored Pencil Portraits
I'm not sure whether it's legal to cut a page out of a textbook, frame it, and hang it on your wall. Actually, considering that Colored Pencil Portraits Step by Step is illustrated almost entirely with actual commissioned portraits, I strongly suspect it would not be legal.
But if ever a book tempted me to do it, this one does!
Colored Pencil Portraits Step by Step simply lifts my spirits every time I look inside the front cover. It is an excellent how-to manual, and excellent Christmas gift—an excellent experience for anyone who is interested in art.
If you are interested in any other hands on project books, see our review of The Running Rooster: