Little King Davie – Book Review
Have you ever visited Westminster Abbey?  If you have you will smile with understanding as you read Little King Davie and hear his experience of the music of the Abbey.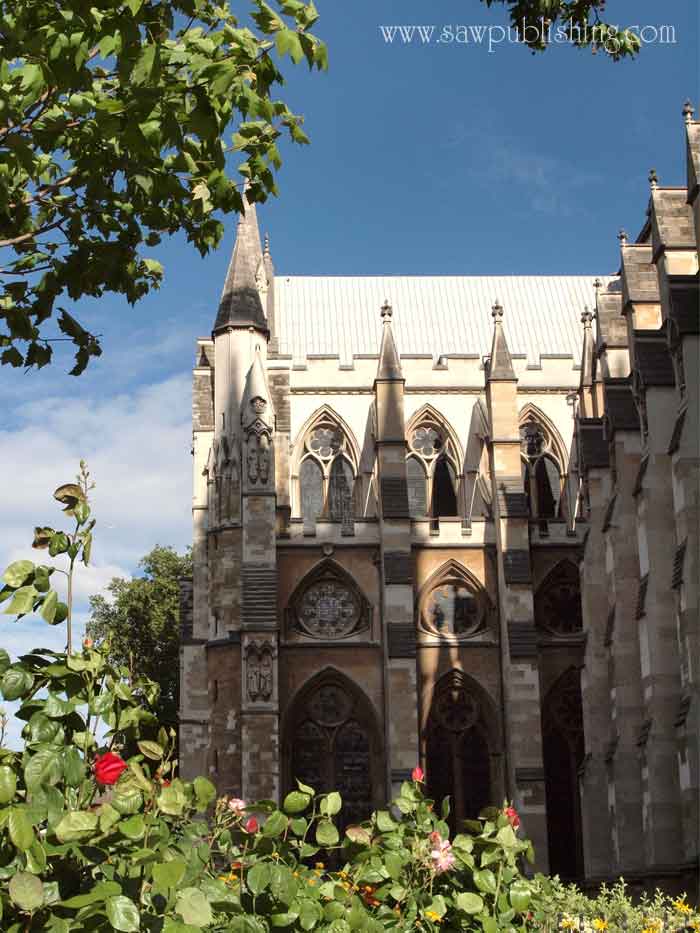 "The rich, sweet voices that rose high above the low tones of the organ, and again were all but drowned in the crash and the thunder which vibrated through the grand old building till the very roof seemed to echo to the sounds, thrilled him with delight and awe.  Davie had never dreamt there could be anything half so beautiful."
Neither had I.  We were blessed to visit Westminster Abbey as a family on a vacation in England a number of years ago.  The Abbey itself, so grand and majestic, instilled a sense of awe.  The organ music swelled and grew until it almost seemed a living entity filling the building; sometimes coming from one side, sometimes from another, loud as thunder indeed, or soft as a whisper.
I love pipe organ music and have had many opportunities to hear it in various churches around the country.  Imagine a young, uneducated street urchin, not even able to understand the workings of the great instrument, stumbling upon the majesty of Westminster Abbey in a desire to get inside out of the cold; hearing the choir voices which to him sound like angels themselves singing praises to God.  This is the world you will encounter when you pick up Little King Davie by Nellie Hellis, originally written in 1892 in the midst of the Victorian era and republished by Lamplighter Publishing.

Book Details 
Title: Little King Davie
Author: Nellie Hellis
Publisher: Lamplighter Publishing
Genre: Fiction
Number of Pages: 119
Theme: London life in the Victorian Era
Age Range: 6-11 *see the last paragraph of this review for a qualification
Links: Lamplighter Publishing
Summary of Little King Davie
Twelve year old Davie Scott carries more than a broom on his shoulder as he heads off each day to sweep a crossing in Harley Street, a wealthy neighbourhood in London, England.  The slight young crossing sweeper has a stout heart under his tiny, ill-fed frame.  The death of his step-father has meant an increase in responsibility for the young man-of-the-house, and Davie is more than eager to add his pennies to those of his mother in order to help provide for his younger sister and brother.
The only light in his dreary days, apart from the love of his good mother, is the wonderful music that pours forth from Westminster Abbey.  As his responsibilities increase he has fewer opportunities to seek the blessing of the Abbey choir.
After a long, cold day of sweeping mud, with only a few coppers to show for his work, the earnest lad takes a rest in the outer porch of a nearby church and is blessed to hear the musical cadence of a passionate preacher's voice.  The truths he learns during his visit are so startling to him that he risks life and limb to run through a busy intersection in his desire to catch a moment's conversation with the preacher when the sermon is over.  A tragic accident changes the life of Davie forever, and earns him the title of "Little King Davie."

SAW Rating System
Good Qualities – 4/5
Great Qualities – 4/5
Items of Note
Romance and morality—No issues
Disturbing content—a child is hit by a carriage (not graphic, but vivid), a child discusses the possibility of his own death in an emotionally charged passage that might disturb younger readers
Language—No issues
Alcohol and drug use—man referred to as a drunkard
Spiritual content—Hymns, prayer, preaching, Scripture verses, and the gospel message are all woven through the entire book
Family roles and Behavior—The step-father was an alcoholic and did not fulfil any of his God-given responsibilities to his family
Mature subject matter—A drunken man dies following an accident, it is mentioned that two children are "laid to rest" in the cemetery (again, nothing graphic, just stated)
While this is a book recommended for children 6-11 on the Lamplighter site, I would categorize it as appropriate for 10+ if independently read as the language is quite sophisticated and would pose as insurmountable to a younger child.
Read aloud as a family, Little King Davie would be suitable for 6 and up and will even be enjoyed by teens and adults.  This charming story seems to be geared to children at first glance, but the truths explored are ones that we all need to ponder as we join Davie in seeking to be "faithful in the least" – Luke 16:10.