The Running Rooster—Book Review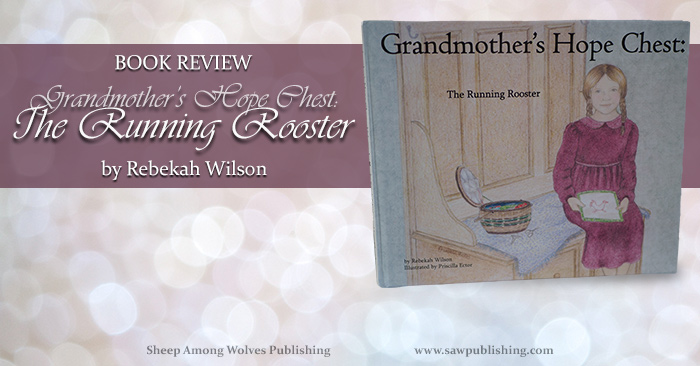 Do you remember the first hand-sewing project you ever did? If memory serves, my first project was a very ungainly doll who never received her final touches—including hair! Unless, of course, you count the buttons I sewed onto a project for the local fair. I think that one may have been earlier!
The Running Rooster, the first book in the Grandmother's Hope Chest series, is an instructional work, woven into the fabric of a fictional story, and aiming to teach young girls their first stitches. I believe we still have the running rooster potholder that my younger sister made following the directions from this book!
Rebekah Wilson has crafted a unique and pleasurable instructional book for girls—and their moms—to learn the basics of sewing, one stitch at a time.
Book Details
Title: Grandmother's Hope Chest: The Running Rooster
Author: Rebekah Wilson
Publisher: Hope Chest Legacy Inc.
Genre: Children's instructional
Number of Pages: 52
Theme: Learning to Sew
Age Range: 3-8
Summary
When Lucie's Grandmother comes to live with her family, Lucie discovers a fascinating wooden box with a history older than Grandmother herself. But more exciting even than the box and the memories it contains, Grandmother is willing to teach Lucie to sew!
Written in the form of a story, with instructions interspersed throughout the fabric of the narrative, the author's simple directions will guide young sewers and their moms through the basics of learning to hand sew—even if mom has no previous experience!
SAW Rating System
We have recently altered our reviewing system using the model of our poetry grading worksheet. For an explanation of the new system, see our introductory post.
Total Score—76/100
Great Qualities—39/50
Knowledgeability—8/10
Coverage of Topic—8/10
Quality of Writing—8/10
Impact of the book—7/10
Originality—8/10
Good Qualities—37/50
Innocence regarding evil—8/10
Active promotion of good—7/10
Level of spiritual challenge—7/10
Healthy view of life—8/10
Honouring God—7/10
Items of Note
Romance and morality
No issues.
Disturbing content
No issues.
Language
No issues.
Alcohol and drug use (includes tobacco)
No issues.
Spiritual content
This book is written from a conservative evangelical perspective but would be quite appropriate for a wide range of audiences. War and the military are portrayed as acceptable but do not form any major element in the story.
Family roles and behavior
No issues.
Mature subject matter
No issues.
The Running Rooster—A Unique Children's Book
Sometimes it can be challenging to teach children new skills—especially if the "want to" just doesn't seem to be there. Learning to do housework or handwork can sometimes strike a child as far less interesting than playing.
That's why books like The Running Rooster provide a valuable opportunity. Disguised beneath the framework of a story, the instructions for sewing a useful and decorative potholder become something enjoyable instead of a chore.
I guess we can all be like that sometimes—call a thing "work" and we just don't want to do it. Tell us a story that shows the meaning and value of it, and then it feels like a meaningful and enjoyable recreation.
Getting children to enjoy work is really all in how we frame it. And I, for one, would like to teach in a way that gets children excited—and allows them to realize the joy and fulfillment of making something with their own hands.
Interested in teaching your children other valuable life skills? See our review of Rudiments of Music: