Rudiments of Music—Book Review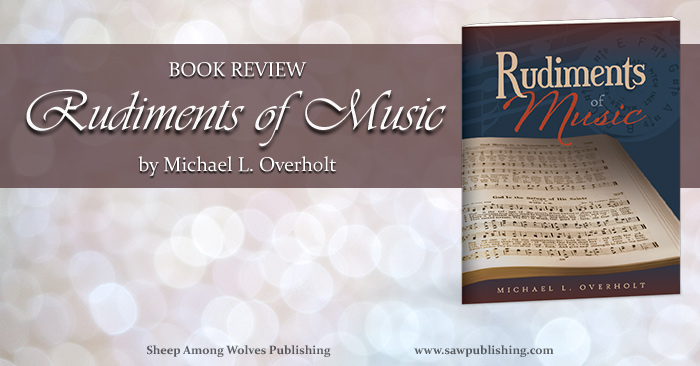 Have you ever bought a book, only to discover it wasn't really about the topic you thought? Rudiments of Music by Michael L. Overholt was that type of experience for me!
When I first got Rudiments of Music, I was looking for a book that would teach sight-singing with shaped notes. I already had a fair grasp of the concept of written music, from childhood piano lessons, but 4-part acapella singing was a new (and slightly intimidating!) experience. I had flipped through Rudiments of Music in a bookstore, saw that it contained shaped-note exercises, and promptly added it to my birthday wish-list.
I blissfully ignored the literal meaning of the title, and continued to regard Rudiments of Music as primarily a sight-singing text for a very long time! However, as I have come to realize, this book is actually something much broader. It is an introduction to general music rudiments, presented through—and directed towards—acapella congregational singing.
Book Details
Title: Rudiments of Music
Author: Michael L. Overholt
Publisher: Christian Light
Genre: Music Education
Number of Pages: 54
Theme: Music rudiments (shaped note emphasis)
Age Range: Adult/General Audience
Source: Christian Light, (Teacher's Guide)
Summary
"Making sense of written music, like reading any language, is a skill to be learned." In this eight-part introduction to music rudiments, Michael L. Overholt introduces students to the various components of pitch, rhythm, and musical markings that combine to produce this detailed language of written music. With frequent examples from well-known hymns, and a clear focus on training singers for the glory of God, this is a distinctly Christ-centred approach to musical education.
The material covered as been carefully selected with a view to providing what is most necessary for regular congregational singing. A lot of concepts are packed into this compact course, while details that are more theoretical than practical have for the most part been omitted. I feel that a confident teacher, with a good grasp on the material covered—or else some previous music knowledge on the part of the pupil—would be useful in order to avoid confusion at some points.
A 42-page teacher's guide is also available, and I would recommend that all students have access to the exercises included in it as they are very helpful for re-enforcing the material presented in each lesson.
SAW Rating System
Total Score—76/100
Great Qualities—35/50
Knowledgeability—8/10
Coverage of Topic—7/10
Quality of Writing—7/10
Impact of the book—6/10
Originality—7/10
Good Qualities—41/50
Innocence regarding evil—9/10
Active promotion of good—8/10
Level of spiritual challenge—7/10
Healthy view of life—9/10
Honouring God—8/10
Items of Note
Romance and morality
No issues.
Disturbing content
No issues.
Language
No issues.
Alcohol and drug use (includes tobacco)
No issues.
Spiritual content
Written from a conservative Anabaptist (Mennonite) perspective. Acapella singing is taken as the norm for congregational worship, and multi-part singing is portrayed as symbolic of unity. This is still a book that could easily be used in a broader context by those who wish to teach sight-singing based on the shaped note system.
The "new song" of the believer is stated to be "the joy of God's salvation."
The word "channel" is used in the sense of allowing oneself to be an instrument of God.
In a quote from John Wesley, the unconverted are referenced as "singing the songs of Satan."
Family roles and behavior
No issues.
Mature subject matter
No issues.
Further Notes
The introduction to Rudiments of Music suggests students have access to The Church Hymnal for supplementary exercises. The Rudiments of Music: Teacher's Guide frequently references hymns out of this book. The Church Hymnal would certainly be a valuable asset to this course, but a confident teacher would have little difficulty in replacing these examples with others from any shaped-note hymnal or music source they might have access to.
It is presumed that the teacher is familiar with the use of a pitch pipe for starting the exercises, although a person familiar with the piano could use that instead.
Reading Rudiments of Music
For those of you who are curious, I actually did find Rudiments of Music very valuable in learning to sing from written music. The shaped-note scale (suspicious though it appears to most musicians on first exposure), is a very valuable tool for allowing students to visualize what is happening when a scale is transposed from one key to another.
The pitch exercises in the teacher's guide were, in my opinion, the most worthwhile part of the whole course. They will do an amazing job of carrying you forward by "baby-steps" until you are amazed at how well you can actually sing!
Looking for other books with a strong Christian emphasis and message? See our review of Shaking Hands with Mr. Parkinson: