The Art of Gouache—Book Review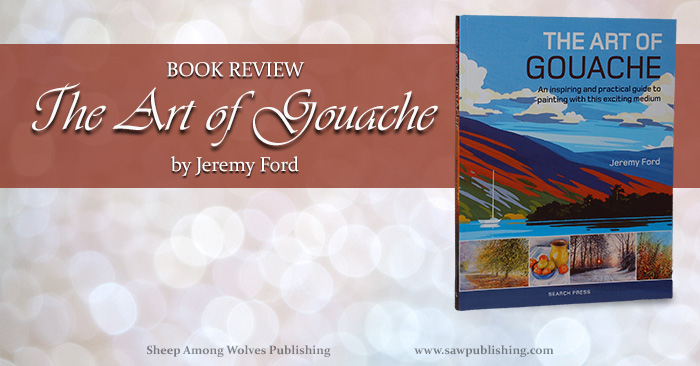 What on earth is gouache? I'll have to admit, before I came across Jeremy Ford's book, The Art of Gouache, your guess would have been as good as mine.
Is it a vegetable? Or a mood? Or a form of far-Eastern meditation?
As a matter of fact, gouache is nothing more nor less than a type of paint—one that has been known and used by artists for centuries, and yet experiences very little publicity in our day and age. When I received The Art of Gouache (and a box of paints) for Christmas last year, my perspective on painting was about to undergo a revolution.
Book Details
Title: The Art of Gouache: An inspiring and practical guide to painting with this exciting medium
Author: Jeremy Ford
Publisher: Search Press
Genre: Art Technique/Gouache Painting
Number of Pages: 144
Theme: How to create gouache paintings
Age Range: Adult/General Audience
Source: Search Press
Summary
Gouache paints are versatile. Incredibly versatile. They can imitate effects from dreamy watercolours, through vivid acrylics, to a richness and depth that mirrors oils. In this beautifully illustrated handbook, artist and teacher Jeremy Ford introduces readers to the unique possibilities of what he describes as "the ideal paint."
Including technique demonstrations, troubleshooting advice, composition hints, and detailed step-by-step projects, The Art of Gouache is exactly what it calls itself: "An inspiring and practical guide to painting with this exciting medium."
In terms of teaching the use of gouache itself (or even painting in general) this is a book that requires no previous artistic training. Two brief sections, "Perspective" and "Framing and Mounting," presuppose a bit of familiarity with the concepts they discuss. Artistic supplies are mentioned by their technical or brand names.
SAW Rating System
We have recently altered our reviewing system using the model of our poetry grading worksheet. For an explanation of the new system, see our introductory post.
Total Score—66/100
Great Qualities—34/50
Knowledgeability—8/10
Coverage of Topic—8/10
Quality of Writing—4/10
Impact of the book—8/10
Originality—6/10
Good Qualities—32/50
Innocence regarding evil—9/10
Active promotion of good—6/10
Level of spiritual challenge—4/10
Healthy view of life—8/10
Honouring God—5/10
Items of Note
Romance and morality
No issues.
Disturbing content
No issues.
Language
No issues.
Alcohol and drug use (includes tobacco)
No issues.
Spiritual content
The text of this book does not bring forward any particular religious viewpoint. The work is dedicated, however, to "Our great Creator who has made all things possible, for us to marvel at, wonder, and enjoy." I would say the illustrations do a good job of reflecting this conviction.
Family roles and behavior
No issues.
Mature subject matter
There is a silhouette-type outline of the human body, to illustrate proportion. It contains no details below the neck, and I would have to say that it is the most tasteful example I have ever come across.
Mastering The Art of Gouache
Okay, I'm not quite so conceited as to suggest that I (or anyone else) has mastered the art of gouache painting in a single year! I have, however, had a wonderful introduction to the possibilities—and the joy—that gouache offers as an artistic medium.
If you enjoy art projects, but are feeling hesitant about your own ability to succeed with paint, The Art of Gouache is a book you need to read! If you're already comfortable with another type of paint, but would like to be able to work in a wider range of styles, The Art of Gouache is a book you need to read as well!
It is one of my two top-favourite art books of all time.
For a look the other, see our review: