Daughters of Eve, Daughters of God—Book Review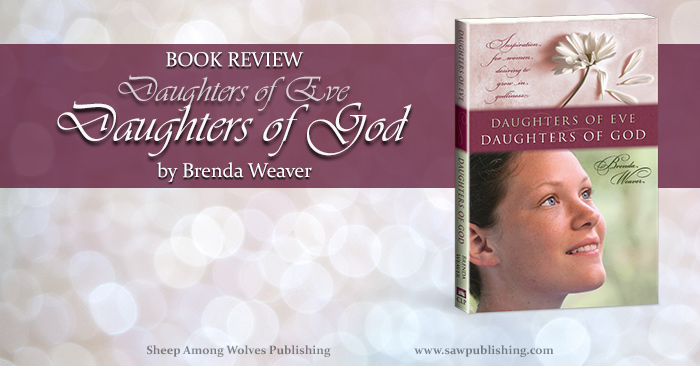 Daughterhood.
Does the word make you tingle all over with delight?
A year ago, a dear friend encouraged me to dive into God as my Father. Since then I have been on a beautiful, transforming, and heartrendingly glorious journey of finding God as my Father, and accepting my daughterhood in Him.
For many years the cover of Daughters of Eve, Daughters of God beckoned to me out of catalogues. But I misread the book description, and somehow, I didn't think this book was for me. A few months ago, I summoned up the courage to read a sample of this book, and promptly checked it out of my church library.
"Why focus on being a daughter? It reminds us we belong. It causes us to ask other important questions: If I belong to Him, then how should I live? What is my purpose as a daughter of God? Will what I am about to do bring glory to my Father? Am I sincere in living for Him?"
Book Details
Title: Daughters of Eve, Daughters of God
Author: Brenda Weaver
Publisher: Christian Light
Genre: Women's Inspirational
Number of Pages: 232
Theme: Womanhood as Daughters of the King
Age Range: 18+
Source: Christian Light, Amazon
Summary
What is Daughterhood? How does being a daughter of God effect and transform our lives? How does that interact with the fact that we are still daughters of Eve?
In this challenging call to women, Brenda Weaver dives into the answers of these questions, and gives us a living picture of what being a daughter of God truly looks like.
SAW Rating System
We have recently altered our reviewing system using the model of our poetry grading worksheet. For an explanation of the new system, see our introductory post. 
Total Score—78/100
Great Qualities—38/50
Knowledgeability—7/10
Coverage of Topic—8/10
Quality of Writing—7/10
Impact of the book—9/10
Originality—7/10
Good Qualities—40/50
Innocence regarding evil—7/10
Active promotion of good—8/10
Level of spiritual challenge—8/10
Healthy view of life—8/10
Honouring God—9/10
Items of Note
Romance and morality
No issues.
Disturbing content
Boy is mentioned as having watched rebels torture and kill his parents, no details are given.
"Rejection. Damaging criticism. Abuse." are mentioned as struggles faced.
Language
No issues.
Alcohol and drug use (includes tobacco)
A child needed surgery and frequent hospitalizations because of their mother's drug use while expecting.
Spiritual content
No issues.
Family roles and behavior
Broken homes are discussed. The author's father walked out on their family and three other scenarios where this happened are mentioned.
A man breaks off his engagement.
Mature subject matter
Women's hormones are briefly discussed.
Daughters of Eve, Daughters of God—A Call to Christian Women
As I read this book I was challenged to dive deeper into my daughterhood. Challenged to live victoriously as a daughter of God, while struggling through the trials of a daughter of Eve. Whatever you may be facing in your life, I invite you drink deep of the encouraging message Brenda Weaver presents out of her own struggles and joys as a daughter of Eve and a daughter of God:
"Do not refuse the gifts God has given you. Years may pass before we recognize our severest trials as gifts, but God's grace is abundant. His glory will be evident when we allow the stones to be rolled away from caves of grief and emptiness. The circumstances and experiences of life are tools in God's hand to move us forward on our journeys as daughters of God. Sometimes He chastises. Sometimes He challenges. Always He shows us His cherishing love."
For another encouraging story in your Christian walk, check out: