Against the Odds—Book Review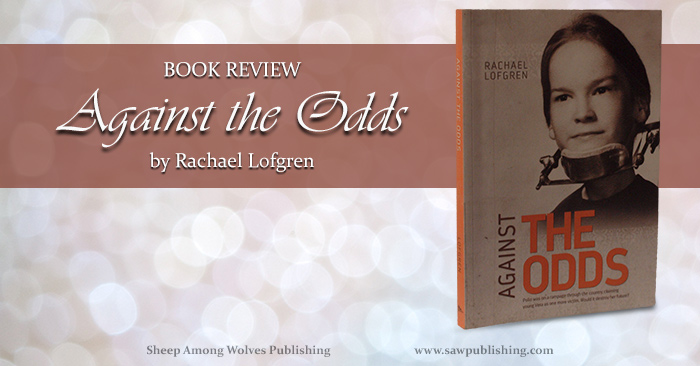 How do you respond when your physical limitations stand in the way of your dreams? When you seem to be cut off by your limitations from the life you long to live?
I have wrestled with these questions on a very personal level. Sometimes, I still do.
I think that's why I found Vera Overholt's story, Against the Odds, so compelling. Faced with seemingly insurmountable limitations—far greater than anything I have met with in life—she chose not to quit. She chose to live purposefully and usefully in spite of the obstacles, and serve God to the best of her ability.
Reading through the book I kept stopping to write down quotes I wanted to remember. For this review, yes, but even more for my own life. If Vera could choose not to succumb to a victim mentality but to push on to heights no one imagined possible, then can't I do the same thing?
"You will be stronger for the odds you have to overcome." Vera told a young student, as she challenged him not to dwell on self-pity. Stronger for overcoming. Stronger because of the odds—not in spite of them.
I found myself challenged again and again, throughout this engaging and moving story of a young girl determined to live fully—against the odds. Vera's determination, humour and acceptance of her situation are inspiring to all of us, in whatever battles we may be fighting.
Book Details
Title: Against the Odds
Author: Rachael Lofgren
Publisher: TGS International
Genre: Medical
Number of Pages: 200
Theme: Overcoming disabilities
Age Range: Youth and Adult
Summary
Vera had every reason not to keep fighting. When the polio epidemic swept through in 1952, Vera's young life was forever changed. Facing severe paralysis for almost her entire lifetime, it would have been easy to think her dreams were shattered, and she was doomed to a useless and empty life. But Vera wasn't going to give into self-pity. With determination, a good sense of humour, and a lot of spunk, she rose up against the odds, and lived more fully and purposefully than anyone could have imagined.
Against the Odds is the challenging true story of a polio victim who refused to be defined by her condition. You will be both moved and delighted by this humorous yet earnest narrative of overcoming limitations and serving God to the best of our abilities.
SAW Rating System
We have recently altered our reviewing system using the model of our poetry grading worksheet. For an explanation of the new system, see our introductory post.
Total Score—77/100
Great Qualities—37/50
Plot development—7/10
Character development—8/10
Command of language—8/10
Impact of the book—8/10
Originality—6/10
Good Qualities—40/50
Innocence regarding evil—8/10
Active promotion of good—8/10
Level of spiritual challenge—7/10
Healthy view of life—9/10
Honouring God—8/10
Items of Note
Romance and morality
There are some brief instances of romance and attraction in the story—nothing significant. Vera addresses the issue of boy/girl relationships in her classroom in a very appropriate way. Her disability occasions slight instances of contact that might otherwise be inappropriate. There is a close but apparently non-romantic friendship with a man in later life.
Disturbing content
Medical details relating to Vera's illness, an accident, and scattered other incidents are described in detail that might be gross or unpleasant to some, but not all, readers.
During an overseas trip, an apparently intoxicated man threatens a Christian youth group at gunpoint.
Language
No issues.
Alcohol and drug use (includes tobacco)
A "slightly inebriated" doctor mishandles a complicated birth, resulting in a child's cerebral palsy. Empty wine bottles are received from an acquaintance and repurposed.
Spiritual content
This book is written from a Mennonite perspective, but would be very applicable to a wide range of Christian backgrounds.
Family roles and behavior
Vera's incredible spirit and determination at times cause her to make risky attempts or disobey orders. These instances are never really addressed, but do not constitute a significant portion of the book.
Mature subject matter
No issues.
Against the Odds—Will You Take the Challenge?
Most of us will never experience the limitations Vera did. Most of us will never be called to overcome as much as she overcame. But each and every one of us faces obstacles that seem insurmountable. Moments when we just don't know whether to give up or keep trying.
In those moments, where do we turn for direction? Do we throw our hands up and surrender to the odds that are against us, feeling that really—with the limitations we've been given—nobody can expect us to do otherwise? Or do we remember that the One who gave the limitations, gives the grace to overcome them, too, if we are willing to ask?
For myself, I would like to be able to stand up like Vera and say, "I have made a choice. That choice is to live with purpose despite the limitations God has allowed me to have."
Are you willing to take that challenge?
Looking for another book that will change your life? Take a look at our review of The Heir of Redclyffe: