The Bandit of Ashley Downs – Book Review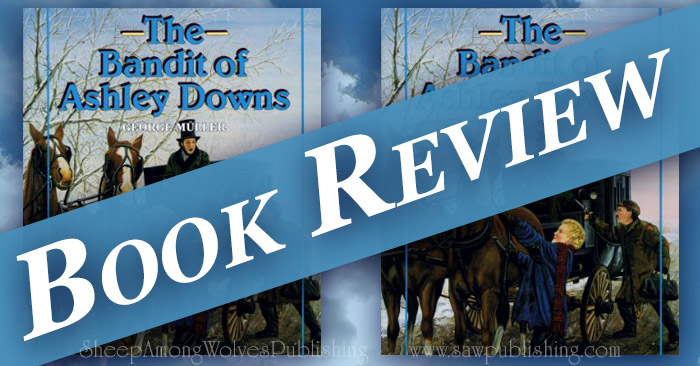 I have always been intrigued by the life of George Müller.  I have often wondered if my faith would have been as strong as his had I been in his shoes.  In his lifetime, Müller cared for more than 10,000 orphans through his five orphanages at Ashley Down, Bristol, England.  He raised the funds to do so solely through prayer, never soliciting human help, but relying on the generosity and providence of God.  He was NEVER disappointed.  In his 73 years as a Christian, he received more than one million British pounds for the work of the Lord, but never took a salary himself, trusting in donations to provide for his personal needs.
I have read many books on the life of George Müller.  Some were rather dry and fact based, others were exciting and interesting.  All succeeded in portraying his life as one of faith and prayer and obedience to God.  I was interested in finding a book for children which would tell George's story in a way that would encourage them to follow his example.  When The Bandit of Ashley Downs arrived in my email box as a free offer from Trailblazer Books, I downloaded it immediately to my e-reader and began reading.
I quickly read chapters one, two and three.  The story was well-written, exciting and engaging, capturing the reader's attention with the exploits of a twelve-year-old street urchin named Curly Roddy.  I continued through chapters four, five and six.  While the authors did a superb job of keeping my interest I must confess that I was more than a little disappointed.  There were two issues that were troubling my mind.
The sub-title, "Introducing George Müller", gave the impression that the book was about that gentleman.  While a brief mention is made to him and his orphanages, it is not until chapter seven that Mr. Müller is introduced.  He is represented accurately, but has such a small role in the plot that his character can have but little influence on the reader.
This alone would not have been enough to influence my review of The Bandit of Ashley Downs.  In fact, I was expecting that the authors would use the remainder of the book to turn the main character around and demonstrate the influence of George Müller on Curly Roddy's young life.
I won't ruin the story for you in case you decide to read it yourself, but let me just say that the plot of the story is such that Curly continues to demonstrate his less than repentant behaviour through to the final chapter.
I wrote a post recently about the Robin Hood Dilemma, in which I exhorted the reader to be cautious about books that spend too much time dwelling on the unregenerate life of the main character, and taking only a few brief pages to record his conviction, repentance and renewal.  Unfortunately, that is what I encountered in The Bandit of Ashley Downs.
As this was the first Trailblazer story I have read, I am not sure if this is the style of all of their books, or if it was a lone event.  I plan to review another volume from their series in the future in the hopes that it takes a different approach.  Meanwhile I will continue my search for a book for children that gives them the same hope and confidence in God that I have received in reading so much about George Müller's life.
Book Details
Title: The Bandit of Ashley Downs: Introducing George Müller
Author: Dave & Neta Jackson (A Trailblazer Book)
Publisher: Bethany House Publishers (Digital Edition by Castle Rock Creative)
Genre: Historical Fiction/Biography
Number of Pages: 136
Theme: Listed as "Introducing George Muller"
Age Range: Recommended for 8-12 years but mature subject matter is inappropriate for this age range
Summary of The Bandit of Ashley Downs
Twelve-year-old Curly Roddy, a street urchin in London, earns his keep as lookout for a small-time criminal who skims a little from every shipment that he receives as warehouse watchman.  On the side, Curly occupies himself as pickpocket and petty thief, until an opportunity arises to gain a great deal of money through highway robbery.
The coach that is targeted carries a large donation intended for the use of George Müller at his orphan houses on Ashley Down.  Curly has no idea how the results of his actions will bring him face to face with the director of the establishment and change the way he views life ever after.
SAW Rating System
Good Qualities – 2/5
Great Qualities – 4/5
*see our post on Book Reviews for a complete description of our rating system
Items of note
Romance and morality—No romance
Disturbing content—The main character, or hero of the story is also a thief who continues his ungodly behaviour until the last chapter of the book.  This creates a dilemma for the reader, creating a desire to applaud him when he succeeds in his illegal activities.
Language—One reference to someone who "swore harshly"; the actual words were not mentioned.
Alcohol and drug use—The main character performs in pubs to earn money and after a successful robbery his comrades get drunk.
Spiritual content—Church scene including hymns, prayer and sermon.  George Müller prays and his prayer is answered.
Family Roles and Behavior—Drunken father beats wife and children and kills himself through his drink.
Mature subject matter— Curly plans and/or participates in pickpocketing, fighting, picking a lock, stealing, breaking and entering a building, highway robbery, and evasion of police.  He works for a man that is a petty thief who steals from his employers, uses a gun for protection, and beats Curly.  Curly knows where the money is hidden from the robbery and goes back to get it for himself.
As I mentioned above, The Bandit of Ashley Downs is a well-written, thrilling and captivating story.  It will grab the attention of your child and keep them riveted until the end.  This is the type of book we would normally recommend for its great qualities.
The problem is that Curly is a strong, independent, likeable hero who also happens to be a thief.  He comes up with many ingenious, illegal activities that he succeeds at.  Because of this, I cannot with all good conscience recommend this book.  I would not want my eight-to-twelve-year-old modelling himself after such a hero as Curly Roddy is.
The subtitle states that this book is an introduction to George Müller.  It does in fact accurately reflect the character of George Müller but limits it to such a small portion of the story that I felt it was misleading as a subtitle. Two-and-a-half chapters are devoted to the influence that Mr. Müller has on Curly.  Unfortunately, Curly does not begin to show any great change until the end of the book.
The true story of George Müller's life is exciting and captivating.  His example is worth following.  Children would profit from this example and his faithfulness to God.  If you know of any works depicting the life of George Müller for a younger audience, please leave me a message in the comments section.  I would be happy to review them.
For further reading about George Müller, I recommend you look at the following articles:
https://www.mullers.org/timeline
This post may have been shared with the linkups
listed here
.
You might also like: