Whatsoever With Thy Might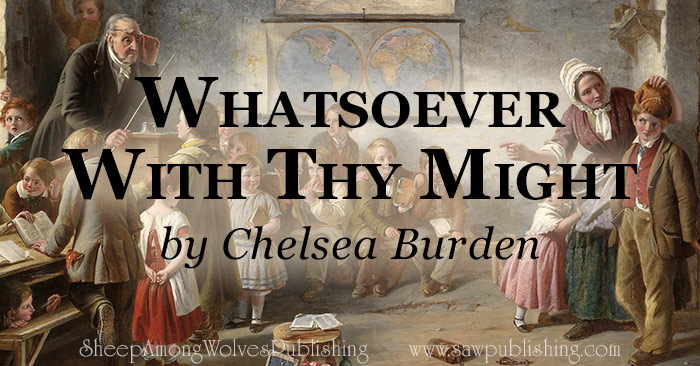 Are you looking for some inspiration to get your kids excited about back-to-school?  Or maybe they are excited already, and everything they do has to have a back-to-school theme?  Sometimes taking that enthusiasm and keeping it all through the year can be the tricky part.  But after all, that's what we are called to do in everything.  The first half of Ecclesiastes 9:10 says, "Whatsoever thy hand findeth to do, do it with thy might . . ."  This poem was based on that idea, and written as a school motto, though it really applies to anything.  At this time of year we can all use some encouragement to put our might into starting the new school-year, or whatever project our hand "findeth to do."
Whatsoever With Thy Might
by Chelsea Burden
With thy might and with thy strength, O soul,
Thy task prepare;
"Whatsoever"—heaven is thy goal,
Thy treasure there.
For "whatsoe'er" thy task may be,
If thou shalt do it faithfully,
The crown is laid on high for thee
That victors wear.
With thy might! whatever be thy task,
Though great or small;
Rich or poor our God the same doth ask—
His might, his all.
Of him the same who toils unknown
As him who sits upon a throne;
The selfsame path to each is shown
Whate'er befall.
Whether much is given thee or not,
Still do thy best;
God hath foreordained thy way, thy lot;
Leave Him the rest.
If thou hast done thy best with few
Then God shall give thee more to do;
Take heart! thy strength and might renew
To pass the test.
Uncomplaining and unflinching aim
To do thy part;
Humble chores and noble quests the same,
With all thy heart.
It matters not what task it be;
Do all for Him Who died for thee;
"Whate'er" thy hand and heart shall see,
With vigour start.
"Whatsoever with thy might" indeed!
Not more, not less;
What a great commandment for our creed!
What happiness!
For here man's earthly duty lies:
In fear of God, whose laws we prize,
And joy shall spring from dark disguise,
For God shall bless!
© Chelsea Burden and www.sawpublishing.com, 2016. Unauthorized use and/or duplication of this material without express and written permission this site's author and/or owner is strictly prohibited.
To learn more about the poetry on Sheep Among Wolves see the post below: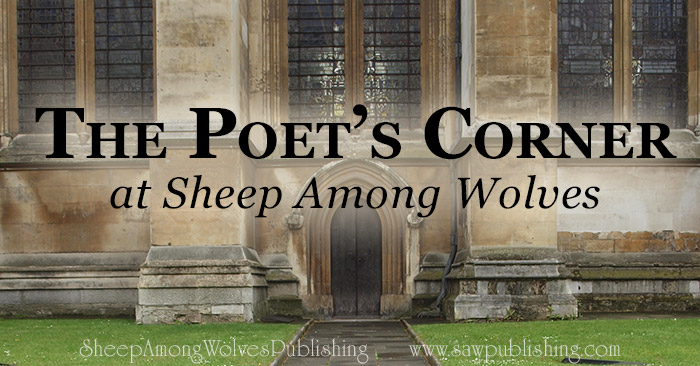 You might also like:
This post may have been shared with the following linkups: The Art of Homemaking Mondays, Monday's Musings, The Modest Mom, Titus 2 Tuesday, Tuesdays With A Twist, Homemaking Wednesdays, Wise Woman Linkup, Coffee and Conversation.