Larry's Little Lamb—Book Review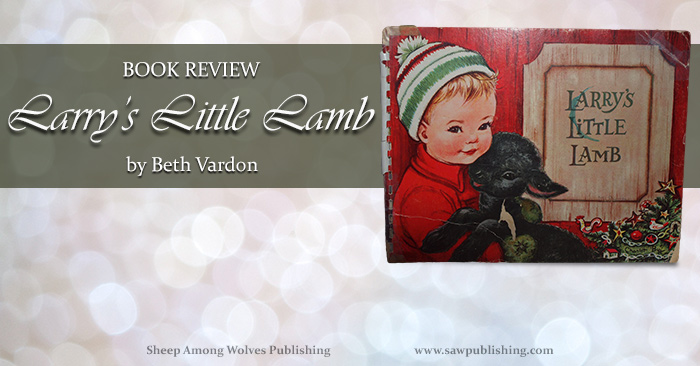 Is anyone looking forward to Christmas yet? Or is it just me?
In case you can't tell, I love Christmas. And one of the things I love most about Christmas is—traditions. Traditions are how I celebrate—the axis around which circle all the beautiful truths and experiences of a holiday like Christmas.
Larry's Little Lamb is one of our oldest Christmas traditions. It's right up there with the music we've always played and the decorations we've always put up. With the advent wreath and the nativity scene and all the other little touches that are our Christmas traditions rather than the standard fixtures of the holiday the world over.
It's such a tradition, that I joked about not even reading it for this review. After all, if you can recite the entire book from memory, what's the point of hauling out the Christmas bins and finding it way down at the bottom, beneath decades of Christmas memories?
But then—I couldn't really argue with a chance to read it again, and enjoy the adorable illustrations that make even the adults look something like the Gerber baby!
Larry's Little Lamb is an endearing children's story, told in rhyme, about a little boy and his mischievous pet lamb who is always getting into trouble. I have loved it ever since I can remember. The only unfortunate thing is that it is currently out-of-print, but it is still possible to purchase it used, and I dream of a day when it is back in circulation!
Book Details
Title: Larry's Little Lamb
Author: Beth Vardon, illustrated, Charlot Byi
Publisher: Regal Stationary Co. Limited
Genre: Children's Picture Books
Number of Pages: 22
Theme: Christmas
Age Range: 3-8
Source: Abe Books
Summary
Larry is eagerly looking forward to the "happiest time of the year" and especially to the upcoming school Christmas pageant. But his plans are jeopardized by his mischievous little lamb, who is continually getting into trouble. Will Larry and his lamb be able to redeem their character and make good on their second chance?
Larry's Little Lamb is a charming children's story with captivating illustrations and a theme of Christmas spirit that will warm your heart. Though intended primarily for a younger audience, adults and children alike will enjoy this cozy vintage Christmas book.
We have recently altered our reviewing system using the model of our poetry grading worksheet. For an explanation of the new system, see our introductory post.
SAW Rating System
Total Score—72/100
Great Qualities—39/50
Plot development—8/10
Character development—8/10
Command of language—8/10
Impact of the book—7/10
Originality—8/10
Good Qualities—36/50
Innocence regarding evil—9/10
Active promotion of good—7/10
Level of spiritual challenge—5/10
Healthy view of life—9/10
Honouring God—6/10
Items of Note
Romance and morality
No issues.
Disturbing content
An irate woman threatens to "wring the neck" of a mischievous pet lamb if he does further damage.
Language
No issues.
Alcohol and drug use (includes tobacco)
In the illustrations, a father is depicted as smoking a pipe.
Spiritual content
This book is written from a nominally Christian perspective. There is no deep Christian moral, but the Christmas story features in a school pageant.
Family roles and behavior
No issues.
Mature subject matter
No issues.
Larry's Little Lamb – A Christmas Tradition
One of my favourite Christmas photos from my childhood depicts my dad in a large armchair on Christmas morning, and all of us kids gathered around in our pajamas reading Larry's Little Lamb. It's a cute picture to begin with, but the cutest part is that each and every one of us has our mouth open in a chorus of, "THAT LAMB!"—Probably our favourite line from the book!
The wonderful thing about great literature is that it makes for great traditions. Larry's Little Lamb is a book that I can say from experience is both a great book—and a great tradition.
Looking for other ways to form great traditions? Take a look at our post, Our Christmas Legacy: Good and Great Hymns: