Bessie in the City—Book Review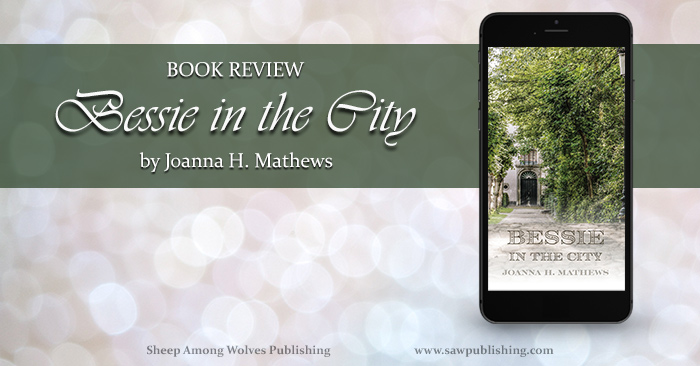 Some people say that the greatest test of a children's story is whether or not adults enjoy reading it. Bessie in the City by Joanna H. Mathews is certainly a book that supports this philosophy!
When I first came across Bessie in the City my reaction was that I wished I had owned a copy as a ten-year-old. At that age, I would have read it over and over again, fifteen or twenty times. That was what I did with books at that age. As an adult, I have still read it three or four times—which (according to the opening premise) is an equally compelling testimonial.
If you are drawn to the charm of writers like Margaret Sidney and Louisa May Alcott, but are also looking for a story with a directly spiritual emphasis, Bessie in the City is a book you will love.
Book Details
Title: Bessie in the City
Author: Joanna H. Mathews
Publisher: Robert Carter and Brothers
Genre: Vintage children's fiction
Number of Pages: 395
Theme: Generosity
Age Range: 6-12 (see notes below)
Source: Project Gutenberg
Summary
When their beloved Sunday-school teacher decides to move west as a home missionary, Maggie and Bessie Bradford are wild to send a special gift to the "little log-cabin children" of the American frontier. But will the sisters be able to earn the huge sum of five dollars to buy the precious library books in time?
Despite many faults and foibles, (as you will see from the items of note!) this just might be my all-time favourite Christian Victorian children's story. Maggie and Bessie are wonderfully well-drawn and loveable characters. Joanna Mathews has brought them to life with a keen sense of humour and a touching sense of the innocent faith of a child.
Bessie in the City is technically the second book in the "Bessie" series. Bessie at the Seaside is the first book, but I don't like it quite as much—there are several less-positive themes in the first book, and in my opinion the author's whole writing style improved with the second. Bessie in the City contains a few allusions to previous events, but not enough to really form a barrier to reading it independently.
SAW Rating System
We have recently altered our reviewing system using the model of our poetry grading worksheet. For an explanation of the new system, see our introductory post. 
Total Score—74
Great Qualities—35/50
Plot development—7/10
Character development—8/10
Command of language—8/10
Impact of the book—7/10
Originality—5/10
Good Qualities—39/50
Innocence regarding evil—7/10
Active promotion of good—8/10
Level of spiritual challenge—7/10
Healthy view of life—8/10
Honouring God—9/10
Items of Note
Romance and morality
No issues.
Disturbing content
A retired colonel plays a part in the story. His connection to the military is not seen as inconsistent with a Christian life. Mention is made of his having been "shot in a battle, so his foot had to be cut off."
The concept of people or animals dying is mentioned in a number of places, never with offensive detail. The concept of murderers being hung is briefly referenced. Child is afraid that aunt has been killed after a negative experience at the dentist. No one of significance to the story actually does die.
An allegory is told, in which some of the incidents might be disturbing to sensitive children. These include travellers being forever lost, a child rescuing a bird with a broken wing that had been mistreated and stoned, and several mentions of blood.  Death is represented as an angel carrying the pilgrim away to his Father's house, but still causing grief to his companions.
Angry cook almost throws knife-block (i.e., a block used for sharpening, NOT the knife itself!) at children.
Heroine gets lost after forgetting her mother's instructions and chasing her dog down the street. She has not had specific training on what to do if she is lost and speaks to several strangers during the course of her adventures (as well as in later chapters). Nursemaid mentions abducted children being beaten and frightened so that they did not dare to tell where they belonged. The concept that policemen are safe people to trust when you are lost is prominently illustrated.
Dog is stolen by street boys, he is believed to be entirely lost, but returns home safely at last. His mistreatment is alluded to in general terms, and there is mention of his mouth bleeding and the hair rubbed from his neck in his efforts to escape from his rope.
Poor child is represented with "features all pinched with cold and hunger."
Language
The word "heathen" is used in such a way as to give the impression that it pertains solely to the unconverted inhabitants of India.
A number of words are used with a slightly different connotation than they have today such as: "pet" as a term of endearment, "petting" as making much of someone, "stupid" as boring, "mean" as stingy or dishonourable, "gay" as happy, "plagues" as annoyances, "intimate" as inseparable friends, "savagely" as angrily, "abused" as minorly mistreated, and "cunning" as adorable.
"Midget" is used as a nickname for Margaret.
The phrase "Ask me no questions and I'll tell you no lies" is presumed to be familiar to the reader.
The expression "ignoramuses" is used, although frowned on by heroines.
The expression "little devils" is used in the heroines' hearing. They are excessively shocked and consider it swearing, although the adults are amused at the extent of their horror.
The phrase "Miss Nancy" is used in reference to a disagreeable boy.
The expressions "deaf, dumb, and blind" and "hump backed" are used, but not derogatorily. A mocking child calls this latter character "old hipperty hop," and this is clearly portrayed as unkind.
The expression "thank God" is used to add force to a statement—based on the author's other works, I would not say that any irreverence was intended.
The narrative contains two expressions which would be racial slurs in today's world. The individuals referred to are also represented as speaking with a dialect. I do not feel that the author intended the stigmatism which would be implied by these incidents in a modern writer and they could be easily omitted in reading this story aloud.
Alcohol and drug use (includes tobacco)
No issues.
Spiritual content
The story is written from an Evangelical perspective, but the content would be appropriate to a wide range of spiritual backgrounds. Children are portrayed as sincerely following Christ at an early age, but child evangelism does not play a role in the story.
The phrase "make believe" is used to denote exaggeration or deception.
The concept of righteous justice sometimes boarders on personal indignation.
Temptation is described as an "evil spirit."
A Christmas tree and Santa Claus are both included in the celebration of Christmas. Santa Claus is clearly portrayed as a fictitious individual, but the concept of pretending he exists is seen as inoffensive. The legend of Santa Claus, and the fact that his is portrayed as a "child angel" in some cultures, is discussed. In this particular family, the stocking presents are more jokes than anything else. Teasing one another in this way is carried a little further than might be considered kind in some families.
Family roles and behavior
Several times throughout the story, sister declares that things that are an inconvenience (such as the multiplication-table) were invented on purpose to annoy her and/or wishes for retribution on the person responsible.
Title of "grandpapa" is given to a family friend—this leads to a little confusion in the course of the story, as there appear to be three sets of grandparents.
Friends and relations kiss each other in greeting or from affection more freely than is commonly practiced today—this custom is unconnected with romance.
A visiting family is depicted as having a blindly affectionate and rather affected mother, and a deceitful, badly-behaved son, who eventually steels the heroine's money and lies about it. He is caught, and does not evince any real remorse. The other children display both anger and shock at his conduct.
Nurse is teased by schoolboys, who she is nonetheless very fond of. She is also described as "old and fat."
Mature subject matter
Due to the difference in safety precautions between the 1860's and today, as well as the author's enjoyment of children's precocious comments and naïve mistakes, I would suggest that this is a book best suited to children who are mature enough not to copy all the incidents described.
Reading Bessie in the City
The heroines of Bessie in the City are little girls. For that reason, I have noted the many issues which might be problematic to readers in the 6+ age-range. In my opinion, Bessie is a heroine who can be enjoyed by a much wider audience than she was originally created for. She is a darling little girl, with a darling little story that deserves far great publicity than in has enjoyed for over a century.
If you are looking for other loveable vintage stories, see our review: