Love, Mary Elisabeth—Book Review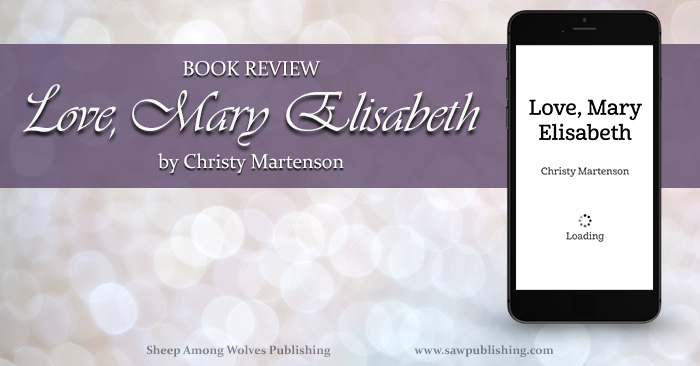 Do you consider yourself to be an adventurous person? Does the idea of jumping off a bridge into a river from a height of fifteen feet thrill you, or make you a little dizzy? I recall as a young child watching my cousins jump from a barn rafter into a pile of hay. It looked like so much fun back then. Not so much now!
Imagine a young girl encountering country life for the first time at the turn of the 20th century. The challenges of no running water, no electricity, no indoor plumbing contrast with the thrills of jumping off a bridge into the river on a hot summer day, herding cows in a thunderstorm, catching a squealing pig, and riding bareback for the first time.
Love, Mary Elisabeth is the chronicle of the many adventures and trials that Mary Elisabeth goes through in the year she spends at her uncle and aunt's farm in rural Washington. Written as a series of letters to her parents, the story explores her thoughts and feelings as she tries to navigate an unfamiliar world.
Book Details
Title: Love, Mary Elisabeth
Author: Christy Martenson
Publisher: Christine K. Martenson
Genre: Children's Historical Fiction
Number of Pages: 231
Theme: Letters from a child on a Washington farm.
Age Range: 10-13
Source: Amazon
Summary
Eleven-year-old Mary Elisabeth finds her world turned upside down as she leaves the familiar city life of Seattle, Washington to join her relatives in rural Barstow. A long train ride takes her far from her hardworking father who must toil long hours in a shipyard to scrape together enough money to provide medical care for his beloved wife. A diagnosis of tuberculosis means many months in a sanitorium for her mother and no way to communicate but through letters. Will they ever have a real family life again?
This delightful tale, told through the eyes of Mary Elisabeth, is filled with humour and adventure.  The events that take place are based on real stories from the author's own father. Details of country life are cleverly woven into each letter leaving the reader with a good sense of rural Washington in 1924.
SAW Rating System
We have recently altered our reviewing system using the model of our poetry grading worksheet. For an explanation of the new system, see our introductory post.
Total Score—64/100
Great Qualities—33/50
Plot development —6/10
Character development —7/10
Command of language —7/10
Impact of the book—6/10
Originality—7/10
Good Qualities—31/50
Innocence regarding evil—6/10
Active promotion of good—7/10
Level of spiritual challenge—5/10
Healthy view of life—8/10
Honouring God—5/10
Items of Note
Romance and morality
Schoolgirls remark "isn't he handsome" but the heroine isn't sure whether they are talking about a person or his horse.
Disturbing content
A rattlesnake is killed with a garden hoe, not graphically.
Language
Use of the words "backside", "nincompoop" and "stupid".
Alcohol and drug use (includes tobacco)
No issues.
Spiritual content
God and prayer are mentioned, but the book does not have a strong spiritual theme.
Family roles and behavior
Grandmother is portrayed as stern and unkind in her interactions with children. This is later explained by hardships in her past.
Student at school depicted as problem child in multiple incidents including the throwing of rotten eggs, name calling, and a shoving match on the playground.
A mock "hold up" takes place as a method of inviting friends to go for a horseback ride.
Mature subject matter
Realities of farm life—cow pies, fertilizing the garden with manure, the presence of a shotgun, etc.
There is a forest fire and the fire fighters hide in a mine shaft to escape the danger.
Reading Love, Mary Elisabeth
I thoroughly enjoyed reading this book. The letter style was somewhat unique with the aunt chiming in on occasion to give an adult's perspective. Mary Elisabeth herself was a likeable character and the rest of the characters were realistic and added nicely to the story. The pencil illustrations contributed immensely to the feel that the whole tale was written by an 11-year old.
This would make a wonderful supplement to a history study of the 1920's. The book is easy to read, chapters are short, but the content is rich. Many details are covered in a relaxed narrative way so as to allow the reader to gain in knowledge with little awareness of doing so. While the main character is a girl, her cousin is a boy and several other characters balance the book for family reading. The perfect addition to a homeschool library!
Looking for another story to supplement your homeschool curriculum? See our review of A Pioneer Thanksgiving: