God is Good Series – Book Review
Does your child struggle to pronounce each word in your reading lesson? Is he impatiently skipping words in his hurry to get to the end of the sentence? Does she sound out the same simple word every time it appears in a paragraph? Are you frustrated with the limited number of exercises available in your curriculum?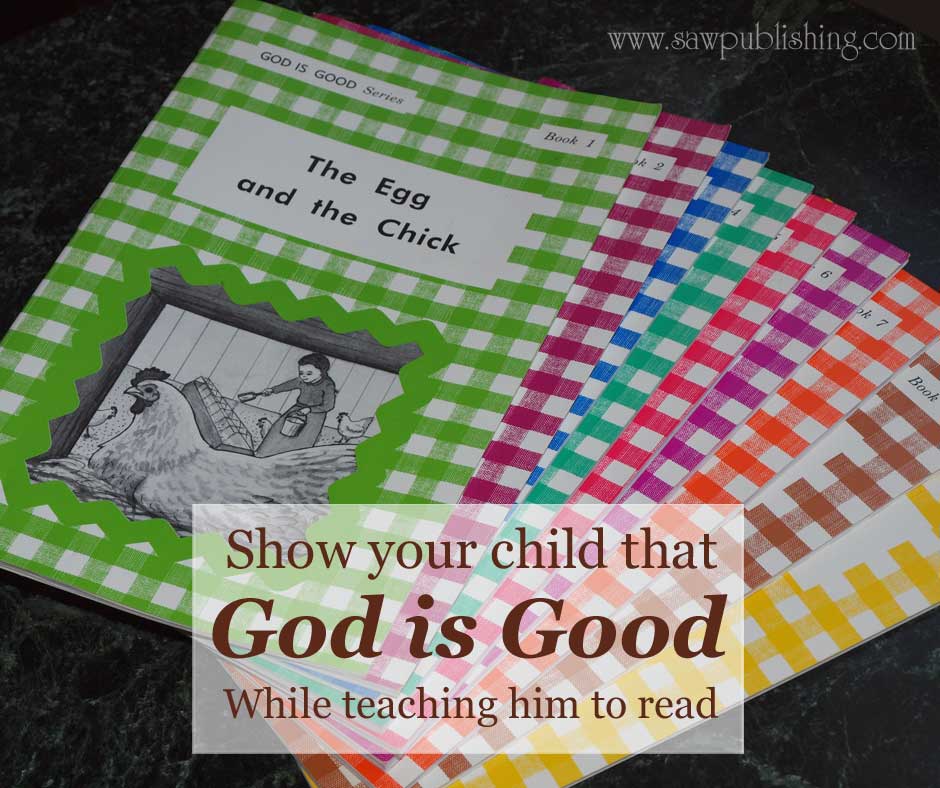 The learning-to-read stage is a shifting, sometimes unpredictable stage of our children's development. Some children take off quickly, needing only a minimum amount of guidance while others labour on for weeks, sometimes months and barely make any headway.  The child who struggles to read will probably need more reading practice than is provided in most reading programs.
When my children were little, I used a secular reading program that was very basic and did not provide nearly enough passages for my early readers to learn on. I desperately bought whatever I could find at the local teachers supply store. After hours of "Bill can sit" and "Bess did run" I found a used reader from a Christian homeschool company at a garage sale. I was thrilled with the new stories and especially with the scriptural ideals.
By the time my youngest child came along, I had found several Christian curriculum companies and I gladly added to our resources in this area. One gem that I found was a series entitled "God Is Good"; a set of nine books all under 35 pages in length and each reflecting the idea that God is Good.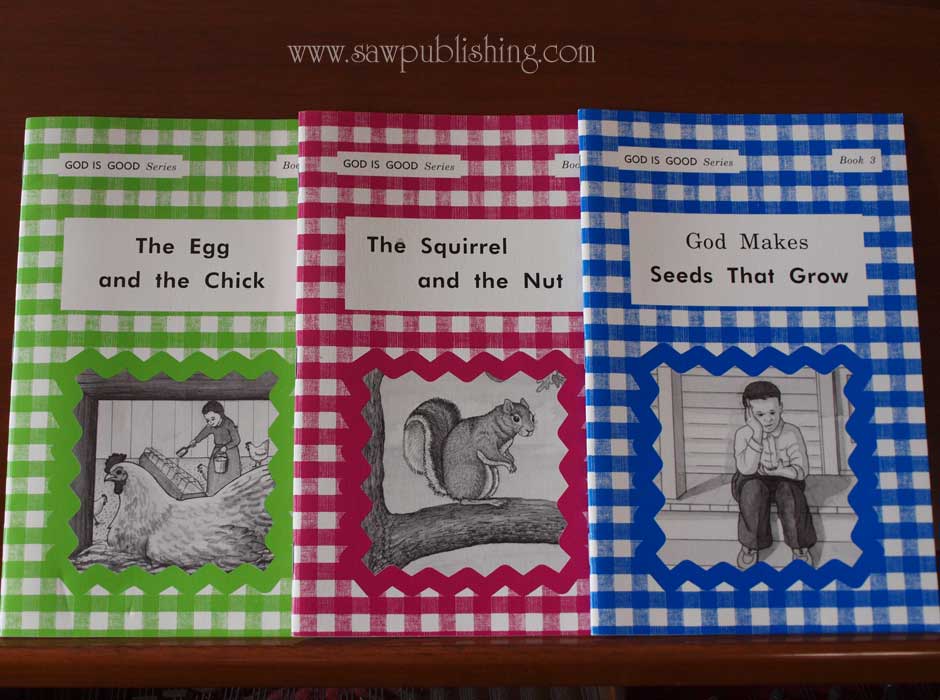 Book Details
Title: God is Good Series
Author: Mrs. James Swartzentruber
Publisher: Rod and Staff Publishers, Inc.
Genre: Fiction
Number of Pages: Each booklet has between 20 and 35 pages
Theme: Nature and home life
Age Range: Beginning Reader
Links: https://www.milestonebooks.com/item/1-2250/ *I have no affiliation with Milestone Books, just letting you know where to find the God Is Good Series
Summary
From Jane's experience with a broody hen, to David's attempt to plant candy corn, the characters in these wonderful booklets are continually experiencing God's goodness in their everyday lives. The topics include animal life, gardening, farm work, as well as attitude issues such as being thankful and accepting the way God made us. Each story is crafted to teach about God's creation as well as providing reading practice. Delightful pencil drawings illustrate each page, giving context and visual cues that will help new readers to have a successful reading experience.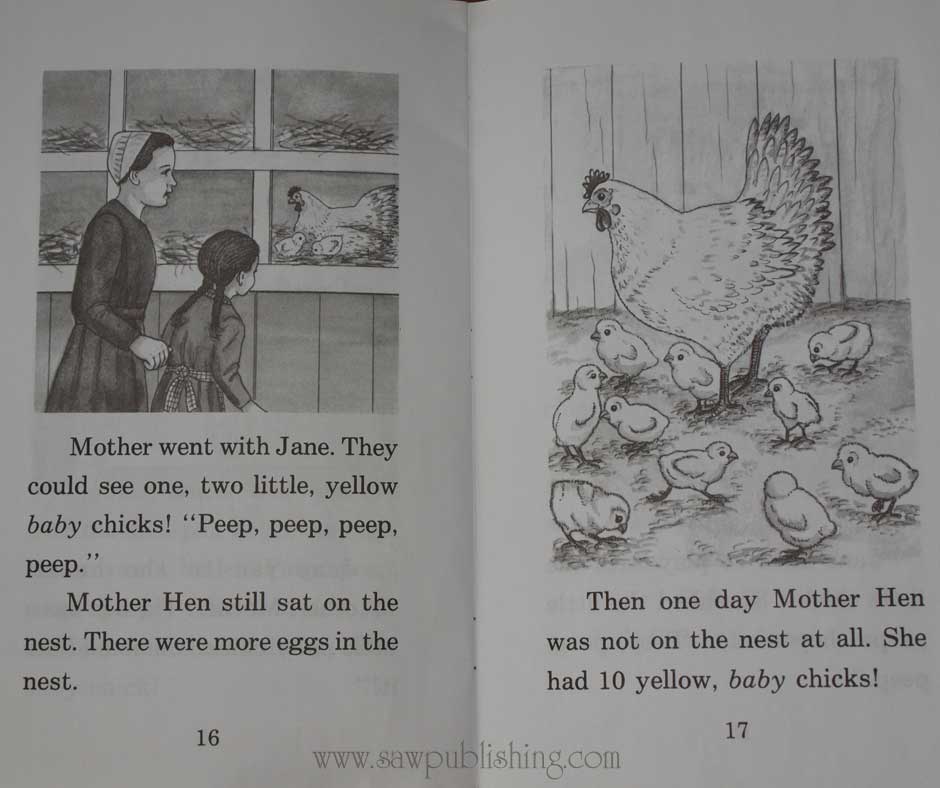 The books are designed to be used along with the grade one Bible Nurture and Reader Series from Rod and Staff Publishers. A placement chart in the front of the booklets indicates where each one fits in relation to these reading and phonics units. Most of the vocabulary words that are used have been introduced in the reader series, or can be figured out based on the skills taught in that series. The few words with which the student might be unfamiliar are printed in italics or denoted with an illustration (no more than  six new words per book). There is a key in the back of each booklet with the phonetic spelling of each of these italicized words.
For those who are not using the Rod and Staff curriculum for your reading program, these books will still be a valuable resource to have on hand.  If you look on the Milestone Books website, they have a table of contents outlining what concepts are covered in which unit. (Scroll all the way to the bottom to see it) You can then compare that to the curriculum you are using to see how to work each booklet into your studies.
Just a note, there are three incidents that you might want to be aware of based on your child's inclinations or sensitivities. In book 4 Father explains that sometimes dogs and foxes eat baby bunnies. In book 5 Mark and Lee put grease on their legs from Father's grease gun. In book 6 Neal tries to remove his freckles with sandpaper. We all know of some little ones that might be encouraged to try similar feats themselves, so use your own discretion with these last two books.
SAW Rating System
Good Qualities – 4/5
Great Qualities – 4/5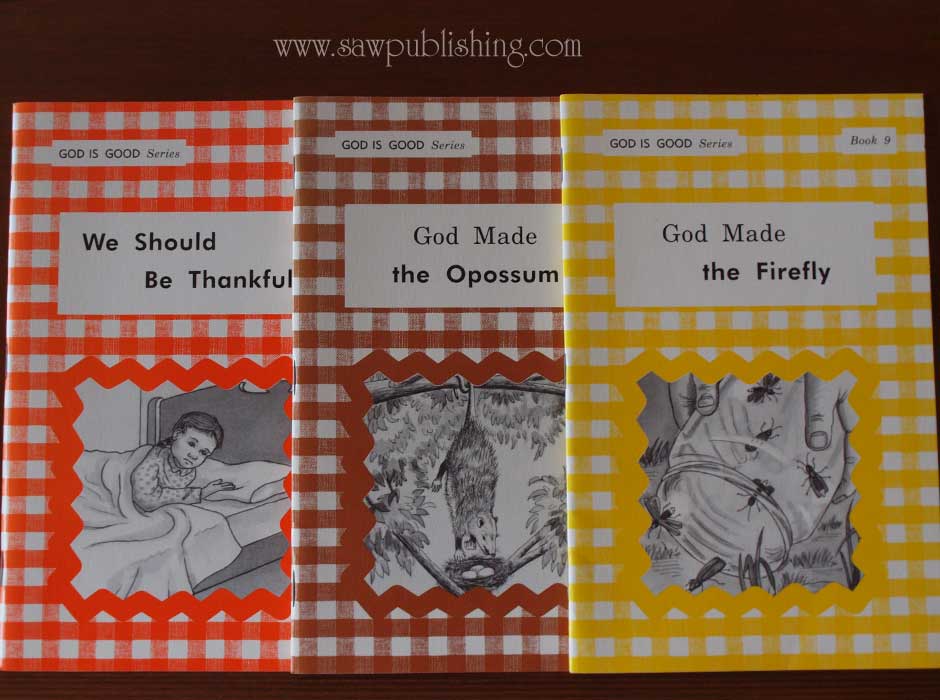 I encourage you to investigate this set if you are in that stage of home schooling which includes beginning readers. The stories are delightful and will bring a smile to your face and your child's as you learn the habits of the opossum, the longevity of the oak tree, and the wonderful way that God has created our bodies to work.