Timeless Tips at Your Fingertips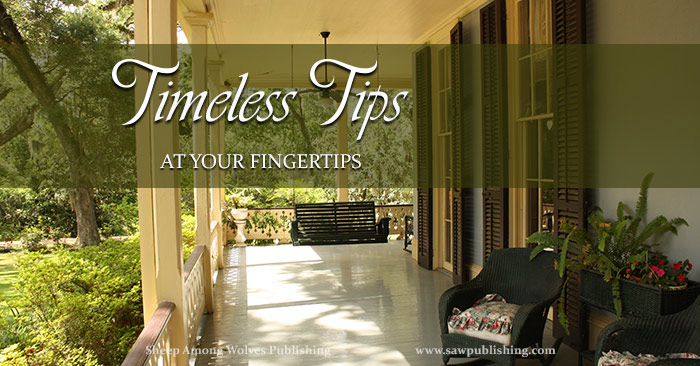 In the spring of 2016, SAW Publishing began posting Timeless Tips from Homemakers of the Past. This series was an effort to highlighting useful and thought-provoking tidbits from the generations of homemakers who have gone before us.
It was eventually followed by Timeless Tips from Educators of the Past—a companion series drawing from the material of vintage educational writers.
After almost five years, (and enough content to produce a moderate-length novella—if only it had been fiction!) we are pleased to be able to offer you:
The Complete Timeless Tips Directory
Below, you will find links to our complete Timeless Tips series—both Homemakers and Educators. Obviously, as Homemakers has the longer history, it also contains the most posts!
I have arranged this index alphabetically. Yes, it highlights just how many posts began with the words "how to"—but at least order is better than chaos!
Timeless Tips from Homemakers of the Past
Are Organized Records Just Too Overwhelming?
Are You Looking for Safe Stain Removers?
Can You Teach a Love for Cooking?
Finding Blessing by Using what You Have
Homemade Cure for Mosquito Bites
How Can We Teach Our Daughters to be Godly, Virtuous Women?
How to Choose Toys that will Change Your Child's Life
How to Create the Perfect Sewing Box
How to Include Children in Thanksgiving Preparations
How to Make Cranberry Sauce Part of Your History Course
How to Memorize When You Don't Have Time
How to Sew on a Button with the Help of a Pin
How to Thread a Needle with Yarn
How to Use 100-Year-Old Stain Removers
Where Do You Find a Homemaking Role Model?
26 Ways to Serve Plain Old Vegetables
Timeless Tips from Educators of the Past
Do You Know What They're Reading?
Fifty Hands-On Projects for Early Teens
Homeschooling Isn't a New Idea!
How to Replace Geography Quizzes with Geography Games
How to Teach Composition through Classic Stories
How to Teach English for Real Life
How to Teach Your Students to Think
Learning by Doing: Engaging Students in Home Ec
Exploring Our Heritage of Timeless Tips
We are blessed to be the recipients of 2000 years of Christian teaching—and almost 600 years of printed resources—and over 200 years of books directed specifically to keepers at home. (If you're interested in debating how many years of educational heritage we've got—I'd be happy to enter into that conversation, too!)
That heritage wasn't meant to languish on dusty library shelves! We are blessed to have these resources—let's be blessed by using them.
I would love to hear your answers to a couple of questions on this topic:
1) Would you be interested in seeing more Timeless Tips posts, and if so, on what subjects.
2) Would you be interested in seeing the Timeless Tips series compiled into an ebook/print volume?
To get started exploring our Timeless Tips collection, see the original intro post: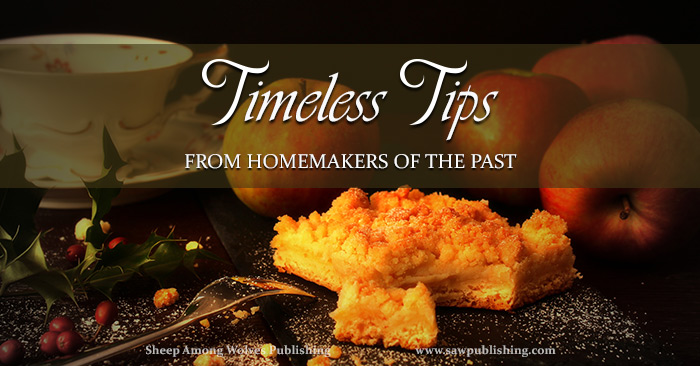 You might also enjoy: