Hymns of American History – The United States in the Late 1800's (1850-1900)
In my last post, I remarked upon the dramatic changes which America saw in the first half of the 19th century.  As we take up our thread again at the year 1850, we commence upon an era which rivals, if it does not surpass, the one which preceded it.  It is perhaps unnecessary to attempt to decide which half of the century was more momentous.  If the first half saw the world change from stage coaches to railroads, the second saw it come from railroads to motor cars.  Of course, trains were still very new in 1850, and automobiles were more of a curiosity than a way of life in 1900.  But the development of western transportation gives a good parallel to the changes which were occurring in America in the 19th century.
Duchâtel, a French politician in the 1840's, had declared that "Events, like travelers, now go by steam."  By the end of the century, they might be said to go by electricity.  America was leaving behind her identity as a new nation, and rising instead into a country of international significance.
Our hymn today was written by Fanny Crosby, and published in 1875.
To God be the Glory
To God be the glory, great things He has done;
So loved He the world that He gave us His Son,
Who yielded His life an atonement for sin,
And opened the life gate that all may go in.
Refrain
Praise the Lord, praise the Lord,
Let the earth hear His voice!
Praise the Lord, praise the Lord,
Let the people rejoice!
O come to the Father,
through Jesus the Son,
And give Him the glory,
great things He has done.
O perfect redemption, the purchase of blood,
To every believer the promise of God;
The vilest offender who truly believes,
That moment from Jesus a pardon receives.
Refrain
Great things He has taught us, great things He has done,
And great our rejoicing through Jesus the Son;
But purer, and higher, and greater will be
Our wonder, our transport, when Jesus we see.
Refrain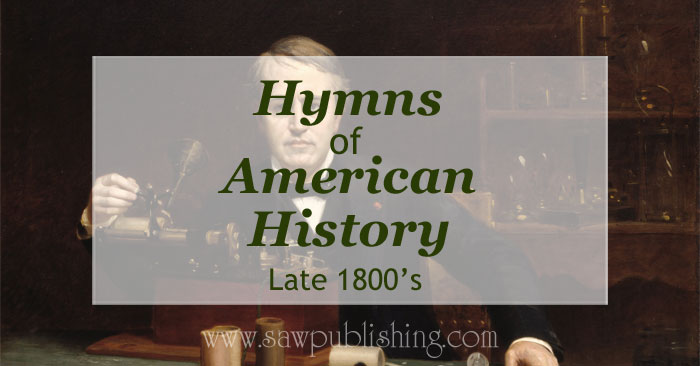 Here are a few other hymns which date from the second half of the 1800's:
Crown Him with Many Crowns by Matthew Bridges (1800-1894) and Godfrey Thring (1823-1903)
Rejoice, Ye Pure in Heart by Edward H. Plumptre (1821-1891)
The King of Love My Shepherd Is by Henry W. Baker (1821-1877)
Immortal, Invisible by William Chalmers Smith (1824-1908)
Unto the Hills Around by John Campbell (1845-1914).
And, as always, please feel free to share your favorite hymns from this period in the comments section below.