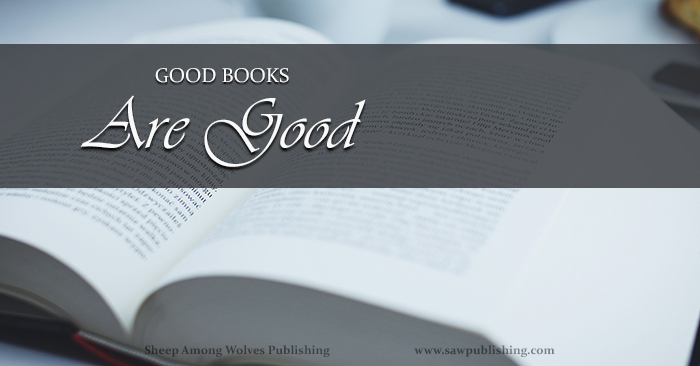 Good books are good. Fairly self-evident, isn't it?
"That was a good snack," your daughter says, as she tosses a junk-food wrapper into the trash.
"This is a good deal," you decide, reaching for a second package of two-for-one socks.
"This is a really good book!" the librarian assures you.
Good? Like the junk food? Like the two-for-one socks? Can good have more than one definition? If it can, is it possible that a book can be good without being GOOD? SAW Publishing's mission hinges on our definition of good and great books. It's a unique and precisely-defined definition that has become the hallmark of our company.
Good Books vs. Great Books
There are two main categories of merit when in comes to evaluating literature. These two categories can be briefly summed up as literary excellence and moral or spiritual excellence.
When SAW Publishing talks about a great book, we are referring to its literary qualities. When we discuss a good book we are referring to its spiritual qualities.
But even within these broad categories, there is a need for some more specific definitions. Spiritual excellence can be defined in many different ways by many different people. One reader may declare that a graphic martyr account was one of the best books ever written, because of its profound impact on their spiritual journey. Another reader may feel the same story was one of the worst reading choices they ever made, after being haunted for weeks by the detailed portrayal of despotic evil that came alongside the Christian example.
At SAW Publishing, our definition of a good book comes in two parts:
1) Good Books Are Wise Unto That Which is Good
This idea comes directly from Romans 16:19:
"For your obedience is come abroad unto all men. I am glad therefore on your behalf: but yet I would have you wise unto that which is good . . ."
Good books expand our knowledge of good. They challenge us. They encourage us. They help us grow in a positive spiritual direction. Good books are not neutral. They actively propel us forwards in the Christian life.
2) Good Books Are Simple Concerning Evil
Good books increase our knowledge of good. But Romans 16:19 doesn't end with this exhortation. It carries on:
"I would have you wise unto that which is good, and simple concerning evil."
This forms the second half of SAW Publishing's definition of good books. They are not only writings that increase our knowledge of good—they are also books that keep us innocent with regard to evil. Exactly how this looks will vary from genre to genre, and from age bracket to age bracket. But a truly good book—when read by its target audience—does not expand the reader's knowledge of evil.
Good Books Are . . . GOOD!
At the end of the day, a good book is something more than a tasty bite of junk food, or a two-for-one deal. In Matthew 10:16 Jesus says:
"Behold, I send you forth as sheep in the midst of wolves: be ye therefore wise as serpents, and harmless as doves."
That's exactly how SAW Publishing defines a good book.
Let's keep on living as faithful sheep, in the midst of the wolves around us. Let's keep reading books that are both harmless and wise. Let's keep reading books that are good.
Are you wondering how SAW Publishing defines our second category—literary excellence? See last year's post: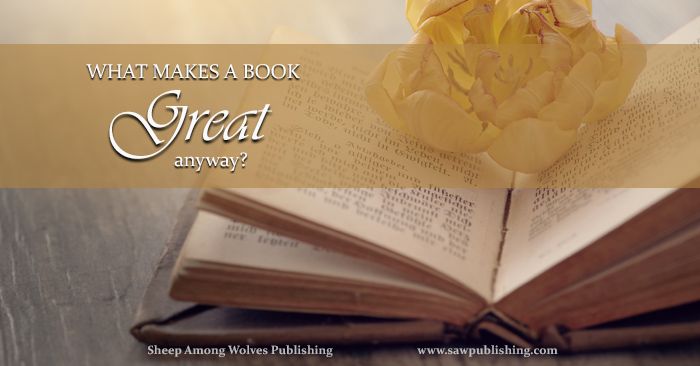 You might also enjoy: