Are You Looking for a FREE Christian High School Poetry Course?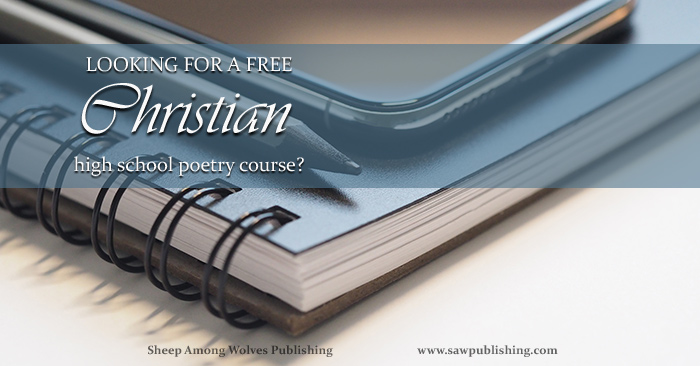 As a child, I always took my ideas from the things I read—both poetry and prose. Long before I really investigated the social, political and religious questions I met through literature, I had a strong opinion on them—the opinion of the first author who presented the topic to me! The views of my favourite characters in my favourite books were my views too. I clearly remember instances of this when I was under ten years old.
Was I reading these books for the opinions they presented? No! I was reading them because I enjoyed the story or the poem, and, since I admired the literary value, I adopted the moral views.
This phenomenon applies both to prose and poetry. What we admire for one attribute, we often allow to influence us in other ways. There are many books and poems of great literary value, which are dangerous food for our children to be feeding on.
Would you like a poetry course for your high school students that would allow them to study and admire literary value in poetry, while at the same time training them in views and opinions which will lead them nearer to God?
Sheep Among Wolves' 10 Weeks to Writing Good and Great Poetry Course aims at just that!
Good and Great: The Standard for Christian Poetry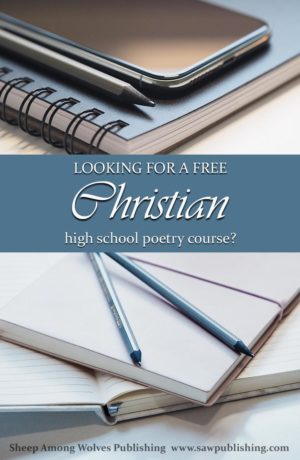 Christian poetry courses have often been quite lax when it comes to the standard of content permitted in example and study poems. Poems containing doubtful and even unchristian ideas and sentiments have been allowed to stand as examples of poetic devices and structures. Of course, these views are not being promoted by the courses, but it is still possible for them to have dangerous and harmful influences on the student. At Sheep Among Wolves Publishing, we believe in promoting literature that is both good and great. Good literature is literature that is "wise unto that which is good, and simple concerning evil." (Romans 16:19) Great literature is literature which is well-written in terms of its content, vocabulary and literary skill.
The goal of providing a poetry course that is good as well as great was one of two major reasons which led to the creation of this course.
Learning by Doing
The second major reason for creating this course, was the fact that there are very few poetry courses which focus on teaching students to write as well as appreciate great poems.
There is a huge need for good and great poets in our day, and this makes it important for us to encourage and train those who have talent in this area. This is something that I feel very strongly about. I want to help and educate a new generation of "good and great poets."
Our 10 Weeks to Writing Good and Great Poetry Course, puts an emphasis on teaching students to write poems for themselves. Each lesson includes an assignment directed at developing their ability to write good and great poetry through implementing each of the techniques and elements we cover in the lessons.
What Does 10 Weeks to Writing Good and Great Poetry Look Like?
The lessons in the course focus both on educating the students' understanding of poetry, and teaching them to implement what they learn. Each lesson is sent weekly by email and includes:
a lesson text covering a structural, conceptual or theme-based aspect of poetry
excerpts from good and great hymns illustrating the devices and techniques being covered
an assignment directed at teaching students to implement what they learn
an example of the lesson assignment to give students a model for their own assignments
In the course of the 10 weeks, students are introduced to:
the difference between poetry and rhyme
the concept of "powerful ideas" as the foundation of poems
the importance of first lines in poetry
the value of building a poem from the perspective of a clear aim or point to be made
ways of collecting and retaining poem ideas until writing them
the nature and effects of metre in influencing the expression of ideas
rhyming words, and how to use different rhyming devices effectively
how to suit length to theme, audience and style
formal and informal language, and the uses and effects of each
different poem themes and what they look like
how to write powerful concluding lines
By the end of the course, students will have a solid foundation for writing good and great poems on their own!
10 Weeks to Writing Good and Great Poetry: A FREE Christian High School Poetry Course
When I look back on my childhood and teen years, I can say without a doubt that the books I read went a long way to forming who I am today. It's a little bit scary for me to think what would have been the outcome, had I not been influenced by writers who taught me to love good literature as well as great literature.
It's important that we have both goodness and greatness in the poems and books that we expose our children to.
By studying great poems that are also good poems, we give our children a better chance to become not only great poets, but good poets—and good people—too.
To start receiving 10 Weeks to Good and Great Poetry, fill out the sign-up sheet below.
Click on the link below for more information as well as hints on incorporating the course into your English program.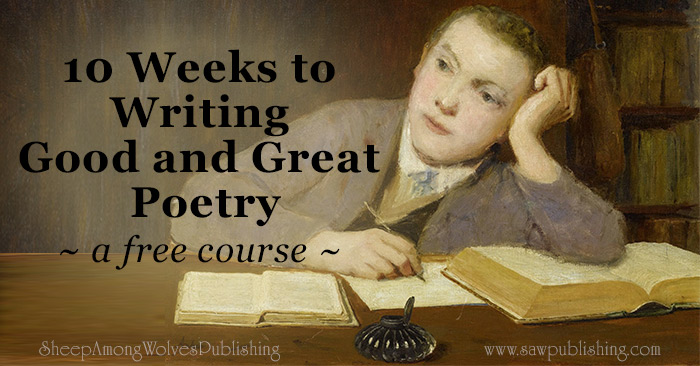 You might also enjoy: