What Makes A Book Good, Anyway?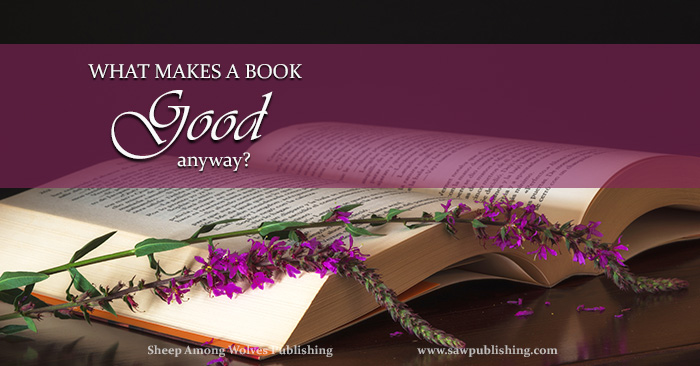 I often hear people using the term "good book."
"This is a really good book," a friend might say, gesturing to a thick volume of church history.
"I think you'd like that story," my sister tells me when I ask after the novel she just finished, "it's really good."
Or perhaps the minister remarks on Sunday that he just finished reading a good book that challenged him to higher levels in his Christian life.
A good book—just what does that mean, anyway? What makes a good book? How do I know if a book is good? How can I seek out good books and fill my library with them?
Today's post takes a look at our very specific definition of "good," and the impact which this has on the books we read.
The Good and Great Standard
Our hallmark at Sheep Among Wolves is the concept of Good and Great Books—a phrase born out of the need for describing a class of literature on which we place a heavy emphasis.
We hold ourselves to a high standard when it comes to both the moral and the literary quality of the books we promote. In order to capture the essence of this twin standard, we have come to use the words "good" and "great" in a very precise way.
So, exactly what do we mean at SAW Publishing, when we say that a book is good?
Simple Concerning Evil
What we read has a profound influence on what we think, by introducing, directing or reinforcing the ideas we allow to be in our minds. As Christians, we are responsible for the impact which our literature has on our minds and hearts.
Romans 16:19 says:

"I would have you wise unto that which is good, and simple concerning evil."
Many books which have otherwise desirable qualities, introduce the reader unnecessarily to wrongdoing and sin. In our eyes, a book needs to be simple concerning evil, if we are going to call it good.
Wise Unto That Which Is Good
But Romans 16:19 doesn't just talk about innocence regarding evil—it also enjoins wisdom when it comes to things that are good! Sheep Among Wolves Publishing takes its name from Matthew 10:16, where Jesus says to His disciples:
"Behold, I send you forth as sheep in the midst of wolves: be ye therefore wise as serpents, and harmless as doves."
We are to be wise concerning good, as well as harmless concerning evil. There are many examples of literature, such as how-to books, technical manuals, and even some biographies and books of travels, that may be free from offensive content, but still do not draw the reader any closer to the Lord. While these books are not harmful in moderation, we believe a book needs to have a positive, not merely a neutral, spiritual impact to be truly good.
So What Makes A Book Good?
While we often use the word "good" in a casual sense simply to express that we liked something we found in a given book, it is important that our standard of goodness rests on the truth. We need to seek out books that are "wise unto that which is good, and simple concerning evil" if we truly would be reading "good books."
The things that we read today are impacting who we will be tomorrow, and I know that I want to be a person who knows and appreciates more and more of that which is good, while turning further and further away from that which is evil.
This definition of goodness is one of the things that we're passionate about at Sheep Among Wolves—one of the major reasons for our existence in the first place. We want to promote books that are good from a spiritual perspective.
Let's take a stand for good books, so that we, and our children, can become the people that God wants us to be.
For more information on our standard of good and great books, see the link below.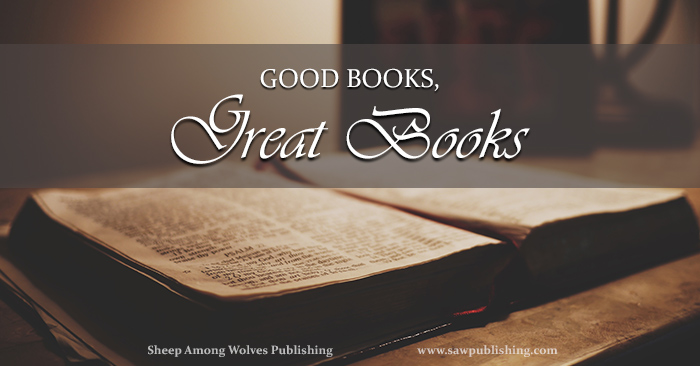 You might also enjoy: