My Reading Goals in Retrospect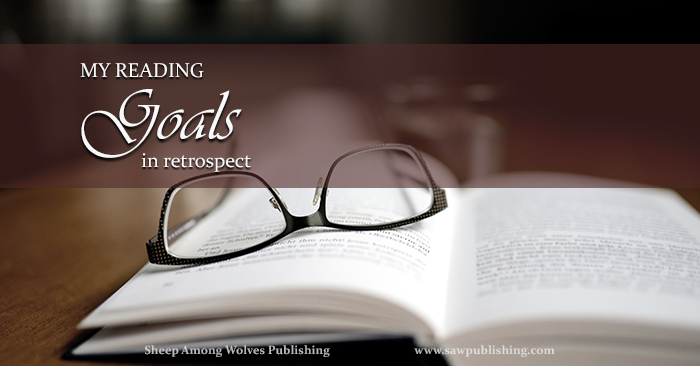 My reading goals in retrospect.
Do you like to hear the end of a story?
I don't mean a storybook story—I take it for granted, if the story is well-written, most people expect to hear the end of it. That's just part of the bargain with reading.
But do you like to hear the end of real-life stories?
So often we read articles which were written before the story was really done. We hear about people's problems. We hear about their "lightbulb moment." We hear the plan they put in place to overcome the obstacles in their path. We hear how they took the first few steps of the journey. And when a story like this has touched us, or amused us, or sparked our curiosity, we sometimes find ourselves wondering "what happened in the end."
So for those of you who shared in my reading goals at the beginning of 2019, here's a recap of how they went this year.
Goal One: Choose Books That Are Good!
My first goal this year was to choose books that were spiritually good. Thinking back over this past year, (okay, let's be a bit more honest than that—scrolling backwards through my e-reader index, because my memory wasn't that strong!) I feel like I did keep this criterion in mind when I was choosing the books I read this year.
For the most part, the fiction I read, and the "advice" books I read, were Christian books, where the Christian life played a significant role in the narrative. There were some books on that list where the "good" qualities had to do battle with some "bad" ones—some books I probably won't read a second time through—but on the whole I do feel like the idea of positive, active spiritual development has become part of what I am looking for when I'm choosing leisure reading material: and that's exactly how I want it to be!
One area I feel like I can be aware of for the coming year is non-religious non-fiction: how-to manuals, and homemaking books, and certain kinds of history, etc. These can tend to be close to neutral from a moral sense. They're not harmful, they're just not spiritually helpful, either. Which is fine, as long as they don't consume too large a chunk of my life!
Goal Two: Choose Books That Are Great!
My second reading goal for 2019 was to read books that were great from a literary perspective.
My answer for great books this year came heavily from the public domain, specifically from online archives. I'm not saying that is the ultimate solution. At the end of the day, we would like to see a significant output of great literature in our own age—but as the world stands right now, and while I am trying to stay true to goal #1, contemporary books are not always an achievable solution. (That's a remark I would be delighted to hear challenged in the comments section if your experience differs from mine!)
Obviously, just because a book was written a hundred years ago, doesn't guarantee that it is going to be great. What a digitally archived public domain text does guarantee is that the book in question was at least successful enough to endure for a century or more on a library shelf (usually a library shelf in an extensive university collection). Practically speaking, you can be fairly confident of tolerably good English form and stimulating vocabulary. Beyond that, you have to take your chances in the public domain, as well as elsewhere.
Goal Three: Finish the Books That are Worthwhile, Don't Finish the Ones that Aren't!
This is the goal that has probably given me the most difficult moments this year: the goal to finish the books, and only the books, that are worthwhile.
Nobody likes to stop an interesting story, even when it proves to be spiritually damaging. Most people don't enjoy plodding through the slow middle-pages of a worthwhile (but just a trifle long!) biography, either.
Yes, I have closed books this year without finishing them. Yes, I have persevered (or am in the process of persevering) through books that it did me good to read, even when they got heavy. Yes, I thought about this goal—oddly enough, thought about it more frequently that I really consciously thought about the other two. Maybe that's because goal #3 is what really tests my commitment to goals #1 and #2. If I really believe in good and great books, then what I start reading, and what I stop reading, and what I keep reading are going to be affected by it.
My Reading Goals for 2020
When I was looking at the images for this post, a family member walked by, read the title, and said, "Oh, that's a good idea. How did you do with those goals?"
Hopefully this post has given you a brief sketch of the answer. But my final answer probably comes from the statement that my reading goals for 2020 are going to stay pretty much the same as they were for 2019.
I still believe in the power of good books. I still believe in the power of great ones. And I still want to finish the books—and only the books—which are really worthwhile to read.
Those are my reading goals for 2020. What are yours?
Have you ever wondered whether good and great books are even out there? Take a look at our previous post: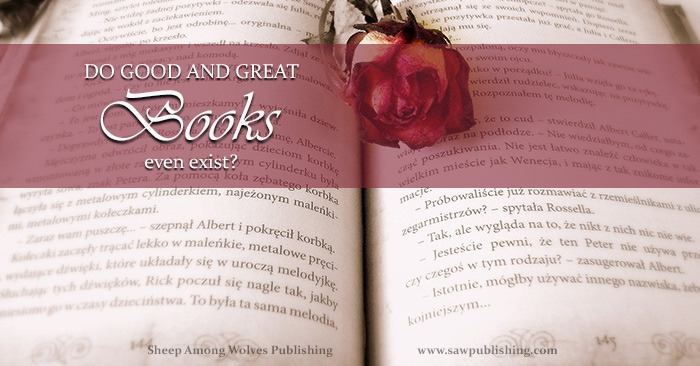 You might also enjoy: