Five Fall Favorites Reflections—and Coming Soon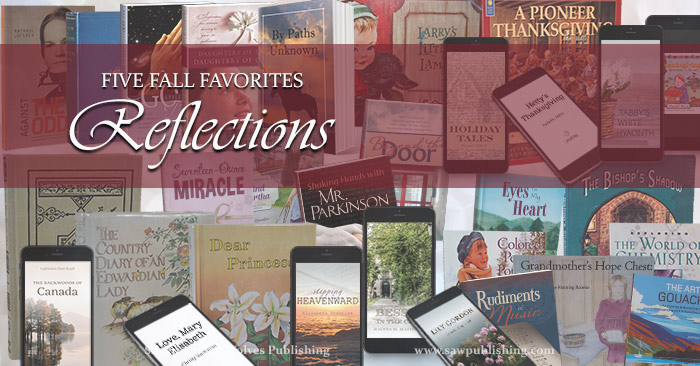 Good morning everybody! And Happy Canadian Thanksgiving! (Yes, it's on a Monday in Canada—why not?) Today my thankfulness list includes some bullet-point blessings from the Five Fall Favorites blog party last week—as well as a coming-soon announcement that is probably the biggest highlight of my year!
Five Favorites from the Five Fall Favorites
Alright, since five seems to be the special number right now, here are five of my favorite things about the Five Fall Favorites experience:
1) The opportunity to search out books in categories that I tend to overlook.
2) The opportunity to re-read books I've enjoyed in the past, but haven't picked up in years.
3) Test driving the 100-point grading system with a large sample size—which probably deserves a post of its own sometime because I learned both pros and cons through that experience!
4) Connecting with, and being encouraged by, different readers.
5) Reading other people's top five lists. I enjoyed coming across books I already know and love—and I also enjoyed adding new titles to my need-to-check-this-one-out list.
I will frankly admit, getting ready for the FFF party was way crazier than I expected it to be! Detailed reviews of thirty books—not to mention, incidentally, reading several thousand pages—is a time commitment! But it's also been an incredible experience and I'm carrying away lots of good things!
Coming Soon: Book Release!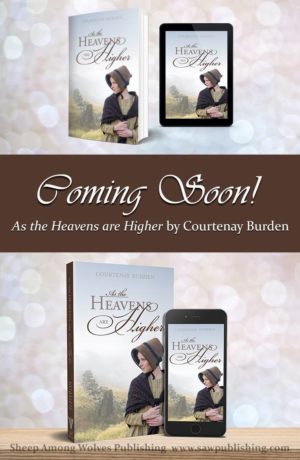 And now for the most exciting piece of news! Lord willing, Sheep Among Wolves Publishing will be releasing our first full-length novel sometime this fall.
It has been a long process—there were times when I wondered if it would ever get done—but I am grateful for the refinement which all those delays allowed to take place. And now we are actually within a few weeks of releasing both the print and e-versions!
As the Heavens Are Higher is historical fiction for early teens, set in Victorian England. If you are like most people I talk to, then you are probably about to ask the question, "What's the story about?" And I, taking a deep breath and pretending I don't get stage-fright, am about to answer with something that equates to the following synopsis:
As the Heavens Are Higher
by Courtenay Burden
"For as the heavens are higher than the earth, so are my ways higher than your ways, and my thoughts than your thoughts." – Isaiah 55:9
Adelaide Westall had always believed that God's ways were higher than earthly ways. She had just always imagined that God's plan and her plan would have some similarities. A family of penniless orphans facing a hopeless future in a factory city—a heartbroken noblewoman shut up inside a forbidding fortress of grief and reserve—and a mysterious painting of a calm-faced pilgrim were all destined to challenge Adelaide's faith in unexpected ways. Only God could orchestrate a plan high enough to reach them all.
Set amongst the rolling hills of the English border country, this story of Victorian life is a poignant reminder that we serve a God who brings light out of darkness, who works good out of evil, whose ways are higher than our ways—as the heavens are higher than the earth.
They Really Are Higher
2020 has not been an easy year for me. On a national level, on a social level, on a personal level, I have faced a lot of unexpected roadblocks—many of which are beyond my power to resolve. As I've thought about Thanksgiving in the past few weeks I have been tempted to wish "being grateful" could wait a little longer—until some of my mountains have shrunk a little, and the blessings look a bit bigger by comparison.
But the truth of the matter is, we need Thanksgiving right now. We HAVE been blessed—richly blessed. In the words of a nameless old saint, we have "all this, and Jesus too!"
His ways are higher than our ways, as the heavens are higher than the earth. That's my testimony this Thanksgiving! I pray that it may be yours as well.
Are you looking for ways to get your little ones involved in Thanksgiving preparations? See our post: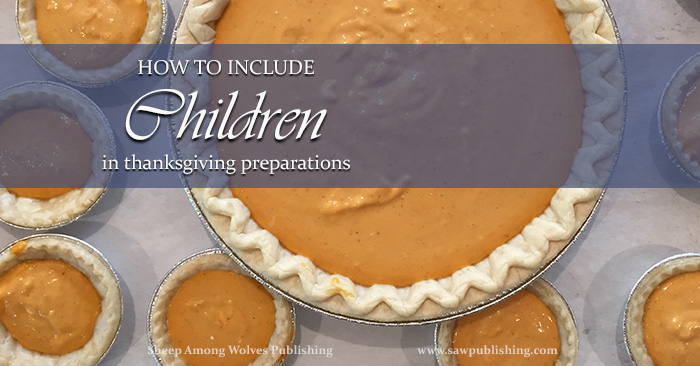 You might also enjoy: