Thankful for the Legacy of Books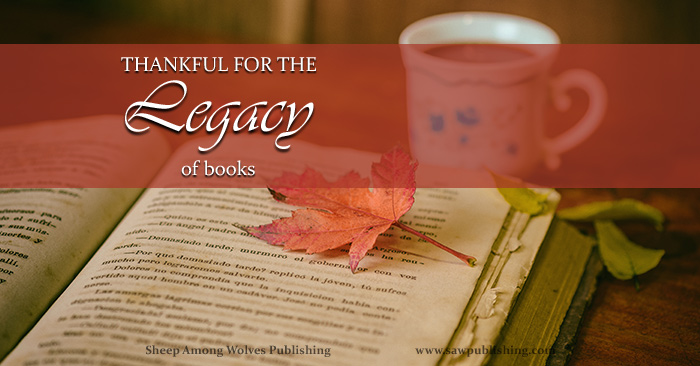 Do we value the legacy of books—the wealth of Christian reading material to which we have access today? Just how high does it rank on our list of blessings?
We can all picture the Thanksgiving dinner scene. The table groaning beneath its weight of mouth-watering dishes. The family bowing their heads, while the smell of roast turkey wafts down from the top of the board. The solemn tones giving thanks for the bountiful spread, and for a few of the gifts which have been showered down on us in the past year . . .
. . . family
. . . friends
. . . health
. . . safety
. . . freedom
. . . prosperity
. . . the legacy of books?
The legacy of books? Really?
Have you ever actually heard that mentioned in a Thanksgiving prayer?
Why not?
You're going to say that the legacy of books isn't that important. I mean, it is important, but it's not THAT important. It doesn't rank up there with family, or health, or anything like that. I know what you mean. When I started thinking about the legacy of literature, I kind of felt like it didn't quite belong on that list, either. But's lets actually examine the things we've put on there.
Freedom? Safety? Prosperity?
There are thousands, maybe millions of Christians the world over who gladly risk all three for the possession of Christian books. Actually, if we're brutally honest, they risk family, and friends, and health, and any other valuable thing they own for it, too. For the Bible, yes. But for other Christian reading material as well.
Do we in North America see the legacy of books as that kind of a blessing? Without undervaluing any of the gifts we listed above, I would venture to suggest that the legacy of godly literature deserves a place of honour when we come to think about our reasons for gratitude.
So, here are a few reasons why I'm thankful for the legacy of books this Thanksgiving.
The Legacy of Books Makes Us Better People
What we read has a profound influence on our life. It has so profound an influence, that it feels like an understatement to even describe it that way.
We recognize this when we talk about the dangers of ungodly literature, but the flip side of that coin is the incredible power for good which a godly book really holds. Think back across your spiritual journey up to this point. Now wipe out every step that was impacted by Christ-centred literature. Where would you be without the legacy of books?
Truly, we are the heirs of a legacy that cannot be measured on this side of Heaven.
The Legacy of Books Reaches Where People Don't
Books have an amazing way of slipping through doors which are closed to human passage. As Thomas Brooks observes:
"Books may preach when the author cannot; when the author may not; when the author dares not; yes, and what is more, when the author is not."
This is very literally true in many closed countries; under heavy surveillance; in prisons; etc., etc. It is true of times when our hearts and minds would be closed to godly advice if it came in a more personal form. It is also true of times when we need, and would gladly accept, the advice of a person who cannot be with us—separated perhaps by space, or perhaps even by time. The writings of a godly author endure long after that author has left this earth.
The Legacy of Books Needs Everyone
I don't know if I can totally capture the essence of this final point, but I think there is something valuable and precious in the fact that you can't create this legacy of books all by yourself.
Yes, you can write a book all on your own. (Whether you can get it edited, proofed, published, and sold, is another question, of course.) But the truth of the matter is, this great legacy of literature is the work of many, many faithful servants of the Kingdom of God. It takes all of them. It takes all the struggles and cares, and triumphs and joys, and lives and deaths, of thousands upon thousands of Christians, across twenty centuries of time.
The legacy of books is not something one person, or one nation, or one generation, can make for themselves, or for others. It's a gift. And that's what makes a legacy such a priceless treasure.
Thankful for the Legacy of Books
There are still a few things that rank higher on my thankfulness list than books do. My Saviour, His people, and the dear family He has given me are the three treasures that come to mind.
But I want to challenge you this Thanksgiving to examine critically just how priceless the legacy of books really is. Because our amazing access to godly literature is one of those overwhelming blessings that we take for granted every day.
Why do you value the legacy of good and great books? I would love to hear your answer in the comments section below.
The legacy of books isn't the only legacy we've been left from the pens of past writers. Take a look at our previous post: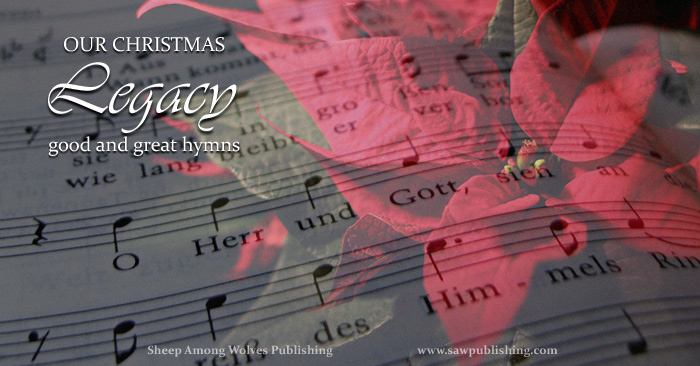 You might also enjoy: