Are You Reading Age-Appropriate Books?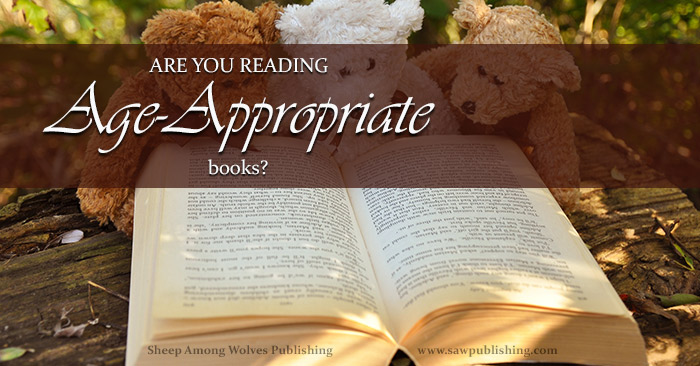 As a child, I used to get laughed at for trying to sound grown-up. One of the phrases I considered effective was "age-appropriate." I applied it to literature. To Beatrix Potter in particular. Beatrix Potter in my opinion (or in the opinion of some adult I was quoting??) was not age-appropriate for little girls of three. (My sister was three.) It was age-appropriate for big girls of five. (I was five.)
It was not until some years later that I really comprehended the humour of all this.
My grandmother has a beautiful collection of Beatrix Potter books, but I am afraid I have never been able to wholly divest myself of my early impressions—because I still feel like they are "age-appropriate" to a more mature audience than the little children for whom they were originally written.
Does Age-Appropriate Really Matter?
Occasionally in a novel (or maybe in real life, too!) you meet with a character who was raised with free access to a large grown-up library. It is usually portrayed as having a good effect on their mental and emotional development. These "bookish" characters tend to have a more mature outlook, a stronger imagination, and greater depth of character than those who spend their time romping outdoors or internalizing nothing but fairy tales and "McGuffey's Eclectic."
I have to admit, I identify with these bookworm characters. I think they are justly portrayed as being more mature, imaginative, and multi-faceted as a direct result of the wide range of literature they have devoured. On the flip side of the question, would it also be fair to portray a certain amount of mental, emotional, or spiritual trauma as an equally direct result of reading these same books?
If both of these statements are true, then what are we to make of the dilemma in which they place us?
Age-Appropriate Language vs. Age-Appropriate Content
I think the most effective way of facing this problem—regardless of which "age" category each of us fits into—is to draw a distinction between age-appropriate language and age-appropriate content.
Most bookworms develop language-comprehension-skills that are significantly ahead of their actual age. As this process continues, increasingly complex language becomes age-appropriate. Age-appropriate language may very fittingly expand as fast as the reader's comprehension can keep pace. Age-appropriate content, on the other hand, is a little more fixed—or perhaps we had better say, it is as unique as the individual, but it does NOT expand at a rate that is tied to language comprehension.
In my opinion, readers who already love books derive very little harm from reading books with language that is far beyond anything "appropriate" to their age—as long as the content is still age-appropriate.
Age-Appropriate vs. NEVER-Appropriate
The whole reason I began thinking about this topic this week, is that I happen to be reading a children's book right now—a pretty widely-read classic—that gives an irresistibly humorous picture of two very spoiled young people. To an adult (who we hope isn't tempted to behave like a spoiled child!) this aspect of the story is perfectly age-appropriate—and funny! To a child, depending on circumstances, it might be an unhelpful example.
And this is why I want to draw a distinct line between books that are not appropriate for some audiences, and books that are NEVER appropriate for any audiences. I really believe there are plenty of books in both of these classes.
The finally test, after all, is the impact a story is having on your own soul. Don't forbid yourself harmless reading because it wouldn't be age-appropriate for someone else. Don't excuse yourself for reading harmful books by saying "you're an adult" (or a teenager, or a five-year-old, or whatever "mature" means in your life right now!) Have the courage to choose the books that are age-appropriate for you!
Christians Need More Age-Appropriate Books!
Oh, who decided that a blog post is supposed to be short! I feel like we've barely scratched the surface on this topic.
Is reading too far below your language-level just as wasteful as reading too far above it? Is reading below your content-level just as unhelpful as exposing yourself to things you aren't ready for? Is your own soul the only thing you need to consider in choosing a book? What about the people who see you reading it? Or the family member who picks it up once it's in your house?
One thing I am pretty thoroughly convinced of. Christians need more age-appropriate books for every age. We need a generation who is passionate about good and great books!
Do you want to hear the most controversial opinion SAW Publishing ever voiced on this subject? See our previous post: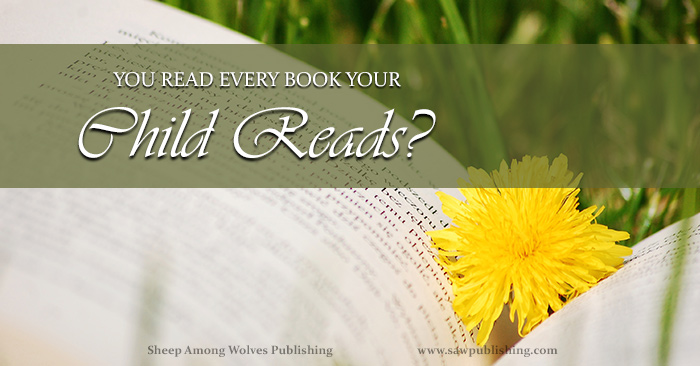 You might also enjoy: