Building Good and Great Homeschools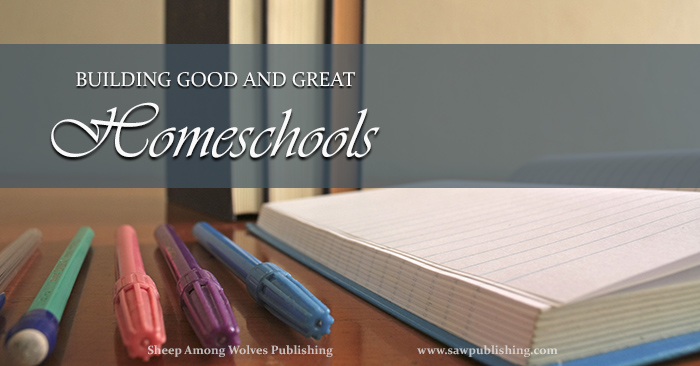 Do you want to build a good and great homeschool, but aren't quite sure where to start?
Statistics reveal that there are over two million homeschooled students in the United States alone. Sometimes it feels like there are at least two million curriculum choices as well!
How can you ever decide which program(s) to use?
SAW Publishing's Good and Great criteria was originally developed for evaluating novels and storybooks, but it is just as valuable when it comes to choosing a homeschooling curriculum.
Good and Great Curricula
Despite the mindboggling array of homeschooling philosophies, curricula, and resources, all homeschooling parents have one overarching goal in mind. They want to give their children the very best.
Then how do we end up with multi-millions of choices?
Most of it probably boils down to the question of how you define "best." At Sheep Among Wolves we see the best books as being those which are both good and great—books that combine a positive spiritual impact with a high literary standard. These twin cornerstones become the standard for selecting the best in homeschooling curricula.
Is It A Good Curriculum?
Many—dare we suggest, most—homeschooling parents have chosen to educate their children themselves in order to protect them from secular/erroneous teaching and influences in traditional school settings.
It is important to remember that the choices you make about a curriculum are just as important—maybe more important—than your initial decision to homeschool.
A good curriculum will limit a student's exposure to evil, while influencing them positively for eternity. It will be "wise unto that which is good, and simple concerning evil." (Romans 16:19) It is the kind of curriculum which will draw a student continually closer to God.
Is It A Great Curriculum?
If you have two fourth-grade science options, and both appear to be equally good from a spiritual perspective, which one should you choose? Setting aside the question of price (which is a perfectly valid criterion as well!), most teachers will select in favour of the course that does the best job of teaching the student.
When it comes to literary greatness, schoolbooks are a wide field. "Great" embraces so much more than just a "well-written" text. It's a topic that reaches out as broadly as the actual information conveyed, and yet narrows to as fine a point as technical diagrams or page formatting.
A few characteristics of a great curriculum would be:
– information that is presented clearly and succinctly
– a teaching style that engages the student's interest and attention
– vocabulary and sentence structure that are appropriate to, but still stretching of, the student's current level
– assignments that effectively re-enforce subject matter
– content that is presented in a way to stimulate long-term retention
This is list is obviously far from exhaustive. Anything and everything which contributes to teaching a student more easily, more comprehensively, or more lastingly, can be categorized as an element of greatness. I would appreciate hearing what other characteristics you value in outstanding homeschooling material.
The greater a curriculum, the more the student will learn, the more easily he will learn, and the better he will retain what he has learned, once he has learned it!
A Good and Great Curriculum Builds Good and Great Homeschools
The curriculum we choose for our students will have a profound impact on the quality of our homeschools. Our homeschools, in their turn, will have a profound impact on the people our children become.
Choosing a worthwhile curriculum becomes of paramount importance when we realize just how far-reaching it's effects can be.
Make the effort to choose curricula which is good—and great.
Are you looking for some direction/encouragement in your quest to educate your children at home? Take a look at our review of Jennifer Bly's excellent book My Kitchen, My Classroom.
You might also enjoy: