5 Simple Steps to Include Preschoolers in Your Homeschool Day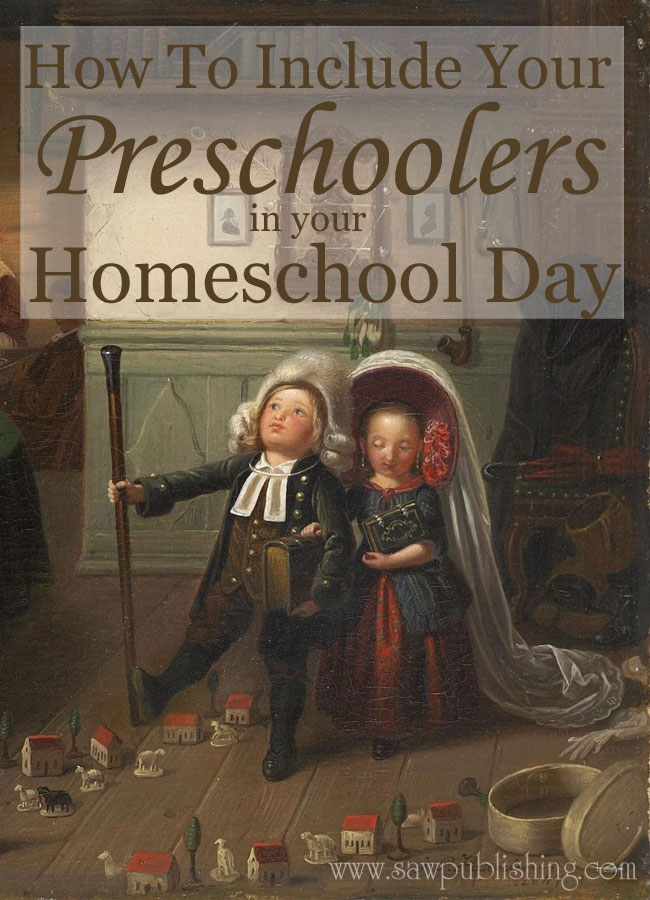 As homeschoolers, it is often a challenge to keep those little ones busy while we are teaching the older ones.  It is important to keep in mind that we must not neglect the parenting of our younger children in our desire to be good teachers.  Don't let your littles get lost in the homeschool frenzy!
1. Include Preschool Children in Your Homeschool Routine.
We start off our day with a short gathering together in our living room.  We read a passage from the Bible, sing a hymn and one of us prays for our day.  Then we briefly cover any "housekeeping" issues such as any changes in our schedule.
Include all of your children in this part of your day.
Invite everyone to come for school.  And direct your preschoolers to their routines just as you direct your school age children. Have some colouring, or cut and paste activities if appropriate, as their "school work." Keep a bin of magnetic letters and let them match those you have already placed on the fridge, or on a cookie sheet. A high chair works well to keep a small child confined for a short period of time.
2. Plan Out Their Schedule as Well as Your Own.
Never leave your younger children's activities up to chance.  If you are not naturally inclined to routines and schedules you might find this part to be restricting, but it is actually very freeing to know that everyone is occupied and taken care of.  And of course, there is always flexibility within routine.
Alternate activity with quieter times.  Save your most engaging items for the time when you need to be most focused on your homeschooling.  Schedule your baby's nap for the time when your toddler is quietly occupied and your 4 year old is doing cutting and pasting activities.  You can then do spelling or math with an older child.
Put an older child in charge of the baby or toddler while you teach a difficult subject.
3. Spend a Few Minutes With Your Preschoolers at the Start of School Activities.
As your other children are getting their supplies and getting settled, take a few minutes to settle your preschoolers with their first activity.  Interact with them for a few minutes to get them interested and then carry on with your other responsibilities.  I suggest keeping them in the same room with you.  This prevents mischief.  It will take some coordinating to keep everyone on task, but with time it will all come together.
4. Give Everyone Responsibilities.
Everyone enjoys feeling needed.  Especially young ones.  Let them be in charge of giving out the pencils, collecting the hymn books, or serving snack on a pretty tray.  You will be surprised just how much they can handle and how long it can take them to complete a small task.
5. Prepare Books and Toys Specifically for For Homeschool Time.
This was key to the success of our homeschool.  I laugh now at the days when my youngest was a two year old crawling across the table to get to the pencil crayons every day.  I spent more time saying no to the toddler than teaching the other children.
Then I decided to make up a set of bins to occupy my little one while we did the most difficult subjects of the day.  I made one bin for each day of the week and they were not available at any other time.  The items in the bin were chosen to hold the attention of a toddler for at least 40 minutes.  At the end of the session I would put the bin away.  This made the bin more valuable and ensured that there was interest the next week when I brought it out.
We had a bin of felt items and a felt board; a bin full of rice with measuring spoons, funnels, and cups; a bin with play dough; one with Lite Brite; and the final one with a building toy.  Adjust your bins to your child's age and dexterity.
It is a good idea to have a number of books available that are not accessible at any other time.  Young children will be content for a surprising amount of time with new books.  Choose those with bright colors and a myriad of details for non-readers.
Following these 5 simple ideas will go a long way to keeping everyone happy—even Mom!