Anything: Short Story Collection Release Tour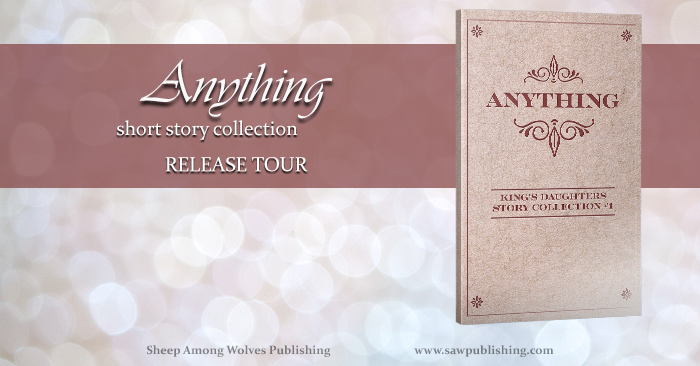 I am very excited this morning to be introducing you to a new publication I am privileged to be part of. Anything is a collection of short pieces by thirteen ladies from the King's Daughters' Writing Camp. And it just happens to be officially launched—today!
Anything: A King's Daughters' Writing Camp Collection
He was willing to do anything.
Talk about anything, they said.
She hadn't ever done anything.
You can do anything.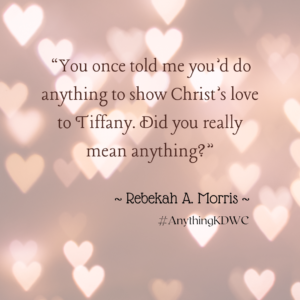 In this heartwarming collection, thirteen Christian authors weave tales both historical and contemporary in a variety of imaginative settings. Anything features characters stretched to their limits: a pencil and a crayon who are best friends, a Tea-Dragon with a mischievous and mysterious habit, a terminally ill child with a lovely wish. In these pages, you'll discover an eccentric gentleman who never stops reading, a foster boy who makes up in appetite what he lacks in conversational skills, and a single mother with a fault-finding mother-in-law and five rambunctious children who haven't learned respect for a living room.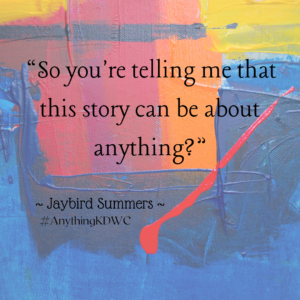 Watch as a couple sacrificially prays for a lost and dying sister-in-law, a young lady tearfully talks her best friend through a coma, a courageous brother offers to lay down himself for others, a camera-shy teenager faces her greatest fear, and a music camp applicant struggles mightily with writing an interesting bio. Warmth, hope, and encouragement pervade the pages, echoing the theme of "anything" from a refreshing variety of angles both insightful and entertaining, spiritually profound and eternally valuable. These short pieces will delight and encourage the whole family.
Anything: The Story Behind the Name
Anything is a bit of an odd title. Especially for a collection of short stories and poems. So how did this collection get it's name?
During the autumn 2020 King's Daughters' Writing Camp, several campers were posting recommended reading lists. Instead of listing all the works of their favourite authors, they typed, "Anything by . . ."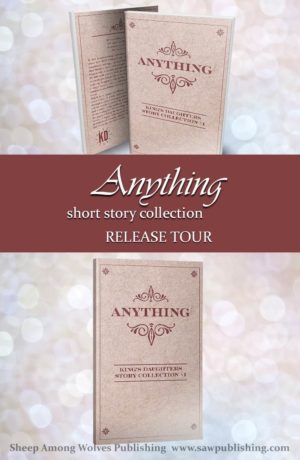 A number of others campers came along (including at least one of the authors mentioned!) and stood there scratching their heads trying to remember a book titled Anything.
#AnythingKDWC
After the group finished laughing, (okay, let's be honest, more like partway through the group finishing laughing) the idea for an Anything challenge was born. Campers could write a story or other piece with any plot/setting they liked, as long as it had the word "anything" for a theme. The Anything collection is the outcome of that challenge.
Who Are the King's Daughters?
The King's Daughters Writing Camp (KDWC) was created by a group of writers who wanted a safe place for Christian ladies of all ages to connect with and encourage each other in their writing journeys without worrying about the offensive or unbiblical messages promoted by secular writing organizations.
The thirteen King's Daughters who have contributed to the published version of the Anything collection are: Rebekah Morris, Angie Thompson, Jaybird Summers, Jae Fisher, Tiffany Michele, Brianna Burden, Chelsea Burden, Hannah Foster, Sarah Susanna Rhomberg, Erika Mathews, Andrea Renee Cox, Mary Polyakov, and myself.
They have been an amazing group of ladies to work with, and I am so excited that I have been able to be a part of their Anything collection, as well as the wonderful, upbuilding KDWC community!
How to Order Your Copy of Anything
As mentioned above, the Anything collection is officially released today!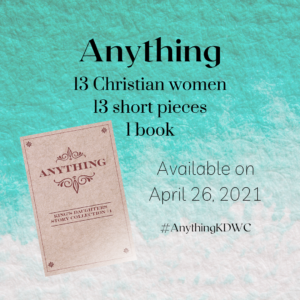 It is available in both print and e-copies from a variety of sources. Just click through below to order it from your preferred site:
If you are looking to get to know a few of the Anything authors (as well as several other wonderful book-bloggers) a little better, see last fall's blog party:

You might also enjoy: