Word of the Week Lesson #1 – Kindle
SAW Publishing's Word of the Week (WOW) program is a vocabulary supplement built around hymns and Bible verses.  Each lesson contains a Webster's 1828 Dictionary definition, Scripture reference, and examples that encourage students to use new vocabulary in daily life.  To find out more about the program, see our post entitled Boost Your Student's Vocabulary with our FREE Word of the Week. To receive the FREE Word Of The Week lessons weekly, sign up for the WOW email below.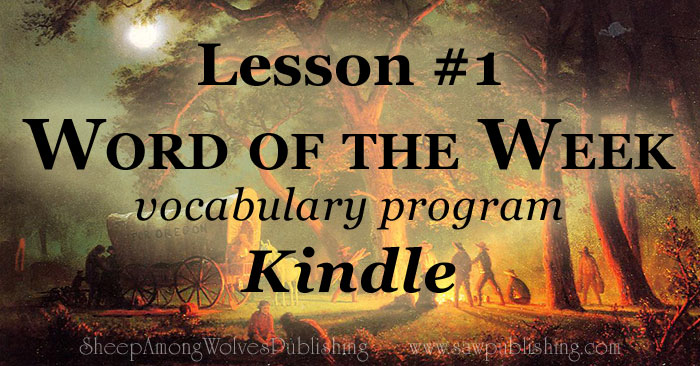 Word of the Week Lesson #1
**Click here for a downloadable PDF of the full lesson.
kindle
Short Definition
KIN'DLE, verb transitive
to set on fire; to inflame
Webster's 1828 Full Definition
KIN'DLE, verb transitive
[Latin accendo; from the root of candeo, caneo, to be light or white, to shine.]
1. To set on fire; to cause to burn with flame; to light; as, to kindle a fire.
2. To inflame, as the passions; to exasperate; to rouse; to provoke; to excite to action; to heat; to fire; to animate; as, to kindle anger or wrath; to kindle resentment; to kindle the flame of love, or love into a flame.
So is a contentious woman [sic] [man]to kindle strife. Proverbs 26:21.
3. To bring forth.
KIN'DLE, verb intransitive
1. To take fire; to begin to burn with flame. Fuel and fire well laid, will kindle without a bellows.
2. To begin to rage, or be violently excited; to be roused or exasperated.
It shall kindle in the thickets of the forest. Isaiah 9:18.
All definitions are taken from the Webster's 1828 Dictionary from Archive.org Volume 1 and Volume 2 and can also be found on Webster's 1828 Dictionary online
Memory Verses
"As coals are to burning coals, and wood to fire; so is a contentious man to kindle strife."  ~ Proverbs 26:21 (KJV)
"When thou passest through the waters, I will be with thee; and through the rivers, they shall not overflow thee: when thou walkest through the fire, thou shalt not be burned; neither shall the flame kindle upon thee." ~ Isaiah 43:2 (KJV)
All scripture references are taken from the King James Bible.
Hymn
"The faith His Word hath caused to shine
Will kindle love in thee;
More wouldst thou know of things divine,
Deeper thy love must be;
True faith not only gives thee light,
But strength to love and do the right."
– Christian F. Gellert (1715–1769); Trans. Catherine Winkworth, (1827–1878), Who Keepeth Not God's Word
All hymn texts are taken from Cyber Hymnal 
Examples From Daily Life
"If you fan the flame gently, it will grow bigger, and kindle the log," Mr. Gravesend explained to his children, as he bent over the fire pit.
"Learning to build a fire is good," Philip remarked, piling sticks beside his father. "It kindles enthusiasm for camping."
"Only don't let the flames get too high, or our little fire will kindle great dismay in the hearts of the Park Rangers," Robyn added with a laugh.
Printable Image With Short Definition and Memory Verse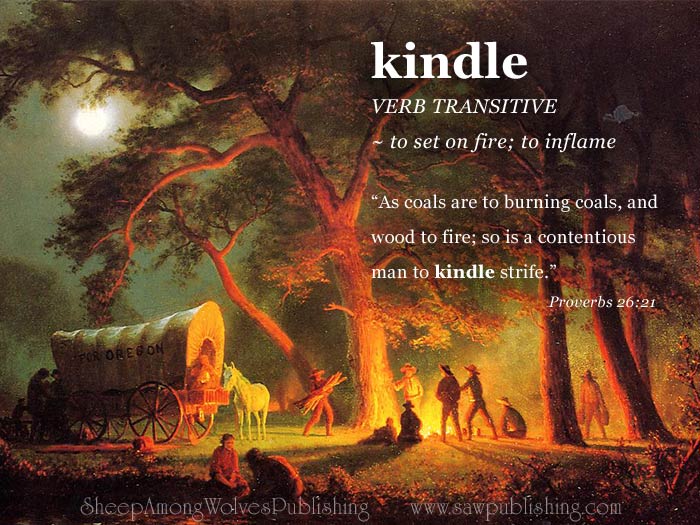 Bonus Question
Mr. Gravesend knew that it was easier to start a fire with small pieces of wood than with large ones.  Once the fire was burning, he could add the bigger pieces as he needed them.  The kind of wood he used first has a special name, that comes from the same root as our Word of the Week.  Can you guess what it is?  The answer will appear at the bottom of next week's WOW lesson.
How To Sign Up
Each week's WOW lesson will be available on the Sheep Among Wolves blog on Friday morning.
If you would prefer to receive the lessons by email, you can sign up below to have each new lesson delivered on the Monday before it's posted.  This gives you time to print out the sheet, and have it ready for the next week, as well as making sure you don't miss any posts.  Email signup will include a high resolution copy of the image for those who wish to print it out in poster form.  Concerned that you have missed the first email?  Don't worry, all emails contain links to previous lessons.  No matter when you sign up, you will receive access to all the Words of the Week.
For more information on the WOW program see our post from last week: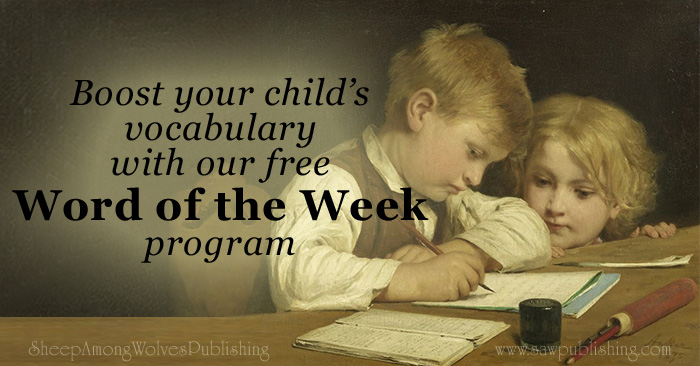 You might also like: