Learning From Little King Davie – Homeschool Activity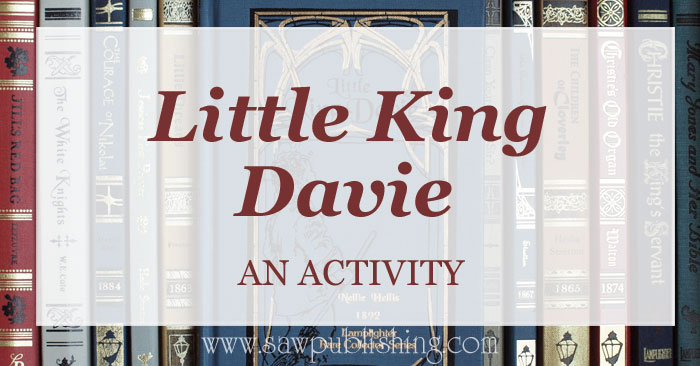 Are you looking for a way to use the story of Little King Davie as part of your homeschool activities?
Little Davie Scott used his talent of singing to comfort and encourage those around him.  Our activity today is a challenge to learn from Little King Davie's example, and follow in the footsteps of the biblical King David, as we use our songs for God's glory.  If you haven't made the acquaintance of Little King Davie, don't miss our review of this enjoyable story by Nellie Hellis available from Lamplighter Publishing.
Step 1: Read Colossians 3:23-24
And whatsoever ye do, do it heartily, as to the Lord, and not unto men; Knowing that of the Lord ye shall receive the reward of the inheritance: for ye serve the Lord Christ.
Discuss how this verse applies to Little King Davie.
Why did Davie begin singing in the hospital?
Why did he go on singing?
Do you think that Davie's singing brought glory to himself or to God?
What did the patients talk about when Davie finished singing "Abide With Me"?
Discuss how we can apply this verse to our own lives.
How should we use the talents God has given us?
What will we be thinking about if we are trying to glorify ourselves?
What will we be thinking about if we are trying to glorify God?
Step 2: Choose a Hymn to Learn
Our activity today is to be like Little King Davie in our own homes.  Choose a hymn that brings glory to God, and comfort or encouragement to other people.
Abide With Me, by Henry Francis Lyte (1793-1847) is the hymn which Davie sang in the story.   It is an excellent choice for today's project.  This is also a great opportunity to tie your hymn into history or social studies.  For a short list of hymns from different eras, please see our Hymns of American History Page.
Tips for Finding Tunes
The Cyber Hymnal has sheet music and recordings for all of the tunes in their collection.  The easiest way to access them is to go to the lyrics page for your chosen hymn, and click on the icons beside the tune name.
If you are daunted at the thought of learning new music, you can opt to choose the tune of a hymn you already know, and look it up under "Tunes by Name."  Often a well-known tune has more than one hymn to go with it.  Most standard hymnals include the tune name of each hymn, often in small letters underneath the title.
Cyber Hymnal includes tune names on each of their hymn pages, but unfortunately they do not have links from the hymn page to their tune index.  The best way to find the tune you want, is to look on the page of a hymn you already know, and note the tune name.  Then go to the "Tunes by Name" page, (accessible from the home page).  The tunes are arranged alphabetically, and you can click on a link to view the words.
The tune St. Anne is a good example of multiple lyrics.  It is best known to the words Our God, Our Help In Ages Past, but it is also associated with thirteen other hymns, each of which has a link under "Tunes by Name."
Step 3: Learn Your Chosen Hymn
Spend some time learning the words and tune of your chosen hymn.  For younger children, one or two verses might be a realistic goal, while older children can probably learn the whole song.
Singing the hymn every day during school or devotions can be a great way to learn a new hymn.
Encourage children to think about the words as they sing them.  A great hymn is a treasure-chest of thought-provoking material.
Step 4: Use Your Hymn to Encourage Others
Little King Davie was able to be a blessing, even when he was sick in the hospital, because he used his gift of singing to help those around him.  Discuss how you can use the hymn you have learned to encourage and cheer others along your path.
Can you sing to a baby sibling to keep them occupied while Mom makes dinner?
Can you visit an elderly relation, and brighten them with your song?
Can you sing cheerfully as you do your chores to help you do them heartily as unto the Lord?
Encourage your children to look for ways that they can bring glory to God.  Little King Davie was a blessing because he was not performing, or thinking about praise for himself.  He was simply sharing what he had with others who were in distress.
Learning From Little King Davie
The story of Little King Davie is a motivation to all of us to use our talents for the glory of
 …Him that loved us, and washed us from our sins in his own blood,  And hath made us kings and priests unto God and his Father; to him be glory and dominion for ever and ever. Amen.  (Revelation 1:5b-6)
We would love to hear what hymn you chose.  Please leave us a comment in the section below.