Word of the Week Lesson #36 – UPHOLD
SAW Publishing's Word of the Week (WOW) program is a vocabulary supplement built around hymns and Bible verses.  Each lesson contains a Webster's 1828 Dictionary definition, Scripture reference, and examples that encourage students to use new vocabulary in daily life.  To find out more about the program, see our post entitled Boost Your Student's Vocabulary with our FREE Word of the Week. To receive the FREE Word of the Week lesson the Monday before it is posted, sign up for the WOW email below.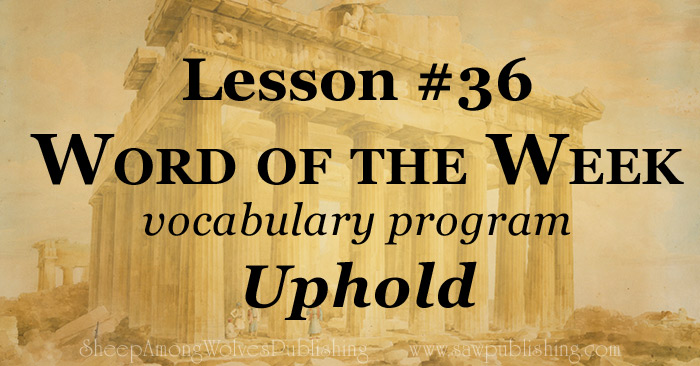 Word of the Week Lesson #36
**Click here for a downloadable PDF of the full lesson.
uphold
Short Definition
Abridged from Webster's 1828 Dictionary
UPHŌLD, verb transitive
to lift on high; to sustain; to keep from falling
Webster's 1828 Full Definition
UPHŌLD, verb transitive, preterit tense and participle passive – upheld.  [Upholden is obsolete.]
1. To lift on high; to elevate.  Dryden.
2. To support; to sustain; to keep from falling or slipping.
Honor shall uphold the humble in spirit.  Proverbs 29:23
3. To keep from declension.  Atterbury.
4. To support in any state.  Raleigh.
5. To continue; to maintain.  Hooker.
6. To keep from being lost.
Faulconbridge,
In spite of spite, alone upholds the day.  Shakespeare.
7. To continue without failing.  Holder.
8. To continue in being.  Hakewill.
All definitions are taken from the Webster's 1828 Dictionary from Archive.org Volume 1 and Volume 2 and can also be found on Webster's 1828 Dictionary online
Memory Verse
"Fear thou not; for I am with thee: be not dismayed; for I am thy God: I will strengthen thee; yea, I will help thee; yea, I will uphold thee with the right hand of my righteousness."  ~ Isaiah 41:10 (KJV)
All scripture references are taken from the King James Bible
Hymn
"God be with you till we meet again;
By His counsels guide, uphold you,
With His sheep securely fold you;
God be with you till we meet again.
God be with you till we meet again;
When life's perils thick confound you;
Put His arms unfailing round you;
God be with you till we meet again."
– Jeremiah E. Rankin (1828–1904), God Be With You Till We Meet Again
All hymn texts are taken from Cyber Hymnal
Examples From Daily Life
"It's a turtle!" Philip and Robyn exclaimed at the same time.
"Did it come out of the lake?" Robyn added, looking at the water a little nervously.  It wasn't that she minded turtles on dry land, but it was uncomfortable to think that one might have been right beside her in the lake.
"Yes, it did," the staff worker said.  "We have had an unusually large population of turtles for the last couple of years.  Normally, it is against the conservation area's regulations to remove wildlife from its natural habitat.  But since there are too many turtles for a healthy environment we are able to sell some, and still uphold our standards."
"Xavier is going to be very excited," said Philip.  "He always upholds the turtle as his favorite animal."
"Well, I hope your brother enjoys his gift for many years to come," the staff worker replied, checking the time as he spoke.  His eyebrows flew up in surprise.  "I'd better be heading back to the office.  It's past my lunch break already.  Here," he added, holding out the glass tank to the children.  "Which of you would like to carry the turtle?"
"You may carry it, Robyn," Philip offered kindly.
"No, thank you," said Robyn, looking down at her wet clothes.  "I'm going to remember the lesson I learned earlier.  It's a lot better to be safe than sorry.  There is quite a bit of water in that tank – and I am quite wet enough for today!"
"Well, I'm willing to uphold that wise resolution," said Philip, grasping the tank carefully in both hands.  "And I expect the turtle is, too.  He's probably had more than his share of excitement!"
Philip and Robyn both laughed as they followed their father back along the shore.
Printable Image with Short Definition and Memory Verse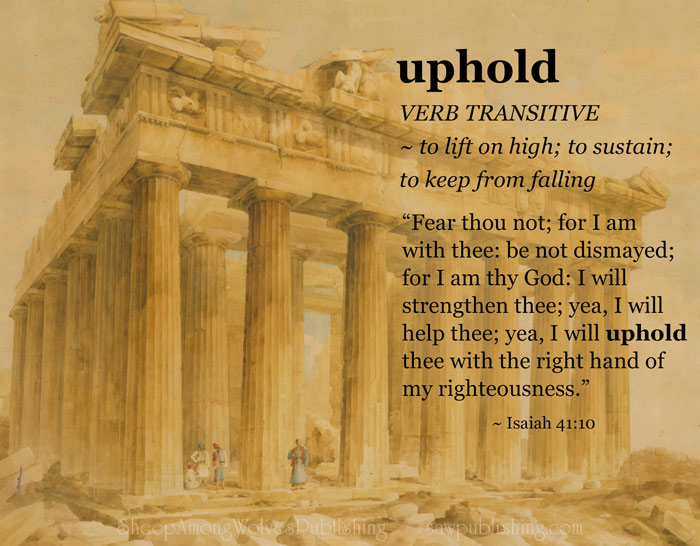 Bonus Activity
Philip and Robyn now had Xavier's birthday gift—but they still had to find a way to give it to Xavier.  Since the terrarium that held the turtle was a pretty hard present to wrap, Robyn suggested that they put it in the kitchen cupboard instead.  Philip would make a speech, wishing Xavier a happy birthday, and explaining where his present was hidden.  Then Xavier could open the cupboard, and discover what it was for himself.
While Philip was working on his speech, he had an idea.  He was going to try to use all 36 words from the WOW vocabulary program.
Can you write a speech that includes all of these words?
The 36 WOW words are:
kindle                          laden                         revive
steadfast                     grieve                        exceeding
increase                      endure                       verity
withstand                   depart                        diligence
assurance                   magnify                     exalted
begotten                     multitude                  presence
sufficient                    abound                      consider
yonder                        perplexed                  peculiar
yielded                        attend                        wrought
tribute                        accept                         sought
redeem                       raiment                      perpetual
lofty                            proclaim                     uphold
Philip's sample speech is included at the end of this lesson, but make sure you write your own speech before reading his!
Answer to Last Week's Bonus Activity 
In Luke 4:18,19 Jesus uses the word preach instead of proclaim.
Philip's Sample Speech for Xavier's Birthday
On Xavier's birthday, the whole family gathered in the kitchen to give him his present.  Xavier looked around curiously.  He couldn't see any box or bag, but maybe they had hidden it on purpose.
"Before we give you your gift," Mr. Gravesend said, "Philip is going to make a speech to explain a few things about it."
Philip climbed up on the kitchen step stool which he was using as a platform, and made a magnificent bow to his audience.  Then he consulted his paper.  He had decided earlier that it would be easier if he wrote the speech out in full, but he hadn't had time to memorize it.
"Happy Birthday, Xavier!" he began.  "This year, Dad discovered a unique gift, begotten of an unusual situation at Angle's Cove Conservation Area, which I think will kindle both surprise and excitement as soon as you hear about it."
Xavier wriggled with anticipation.
Philip went on.  "Our trip to pick up your present was laden with adventure, exceeding even our lofty expectations.  In fact, it sometimes seems like our life is one perpetual adventure!  Anyway, we were afraid the stains which this peculiar adventure wrought on Robyn's raiment might give you a clue where we had been."
Robyn giggled.
"We were glad to find, when we got home from our outing, that you had yielded to Mom's suggestion, and gone out to play in the backyard," Philip explained.  "We had sufficient time to smuggle the surprise into the basement, and change into other clothes before you came in."
"Was it in the basement?" Xavier asked.  "Now I know why you wouldn't let me go down there yesterday, when I was looking for my garden shovel!"
"Yes," said Philip, even though yes hadn't been part of his speech.  "That was why."  He consulted the paper again.  "I don't want to magnify our own diligence, but in all verity, it hasn't been easy to withstand temptation and be steadfast in keeping the secret since Saturday!  Every time we succeeded in putting it out of our minds, someone would mention lakes, or ponds, or—"
"Philip!" Robyn exclaimed in alarm.
"Or something else to revive our excitement," Philip finished with a laugh.  "Don't worry, Robyn, I have it all written out.  Well, somehow or other we did manage to endure, and I hope we haven't given it away!"
Xavier shook his head.  He couldn't possibly guess what a lake or a pond had to do with his birthday surprise.
"Anyway," Philip went on, "when we were getting your present ready this morning, our challenges seemed to increase.  We didn't want to grieve you by having to depart from our tradition of wrapping birthday gifts, but when we came to consider the multitude of difficulties which attend wrapping this kind of present, we were perplexed to find any way to redeem the situation.  At last Robyn found the solution we sought, and we have every assurance that it will work out perfectly."
Xavier looked around again, but he still couldn't discover the least clue.
"It gives me great pleasure to proclaim the presence of your birthday gift in yonder cupboard.  Please accept this birthday tribute, with the wish that the coming year may abound in blessings and uphold your most exalted hopes!"
"Can I open the cupboard?" Xavier exclaimed breathlessly.
"Yes," said Philip.
Xavier threw open the door.  For a moment, he only saw a square glass box.  Then something moved inside.
"It's a turtle!" Xavier shouted.  "It's a real, live turtle!"
For a few minutes the Gravesends' kitchen was a scene of the wildest confusion.  Xavier had so many questions to ask, and Philip and Robyn had so many things to explain, that it was almost impossible to hear anything they said!
But eventually the excitement calmed down.  Xavier and the little ones took the turtle up to the boys bedroom, where it was going to live.  Mom and the big girls went back to icing the birthday cake.  And Philip, Robyn, and Mr. Gravesend walked into the living room.
"You did a good job of your speech," Robyn said to Philip.
"Thank you," Philip replied.  "It was fun to write it, and I'm glad I got all the words in.  But Dad, I'm not sure that hard words are always better.  It's all very well for a speech, but some of my sentences would have sounded pretty ridiculous in everyday life."
"I think that was partially because you were trying to fit a lot of 'hard words' into a short space," said Mr. Gravesend.  "When a sentence abounds in unusual terms, it can have a perplexing effect."
Philip and Robyn both laughed.
"But you are right, that using difficult words is not the test of a good vocabulary," Mr. Gravesend added.  "The real point is to use the word which means exactly what you want to say.  Sometimes that will be a commonplace word, and sometimes it will be a more unusual one."
"We need to consider what the words mean, not how important they sound," said Robyn.
"It's like it says in Proverbs," Philip reflected.  "A man's pride shall bring him low: but honour shall uphold the humble in spirit.  (Proverbs 29:23)"
"And that is a rule for all of our lives," Robyn finished.  "Not just for our Word of the Week."
THE END.
How To Sign Up
Each week's WOW lesson will be available on the Sheep Among Wolves blog on Friday morning.
If you would prefer to receive the lessons by email, you can sign up below to have each new lesson delivered on the Monday before it's posted.  This gives you time to print out the sheet, and have it ready for the next week, as well as making sure you don't miss any posts.  Email signup will include a high resolution copy of the image for those who wish to print it out in poster form.  Concerned that you have missed the start of our program?  Don't worry, all emails contain links to previous lessons.  No matter when you sign up, you will receive access to all lessons from the Word of the Week program.