Word of the Week Lesson #35 – PROCLAIM
SAW Publishing's Word of the Week (WOW) program is a vocabulary supplement built around hymns and Bible verses.  Each lesson contains a Webster's 1828 Dictionary definition, Scripture reference, and examples that encourage students to use new vocabulary in daily life.  To find out more about the program, see our post entitled Boost Your Student's Vocabulary with our FREE Word of the Week.  To receive the FREE Word of the Week lesson the Monday before it is posted, sign up for the WOW email below.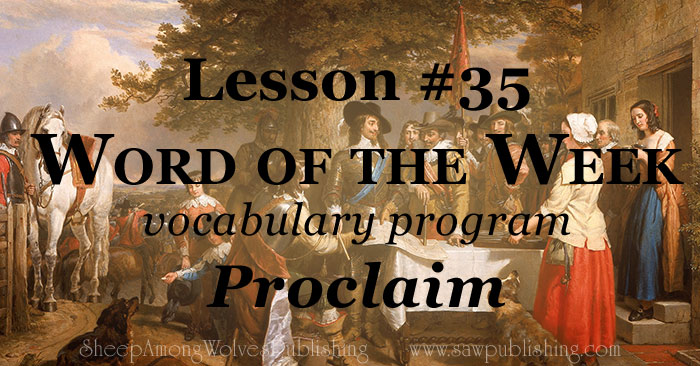 Word of the Week Lesson #35
**Click here for a downloadable PDF of the full lesson.
proclaim
Short Definition
Abridged from Webster's 1828 Dictionary
PROCLA'IM, verb transitive
to announce; to make publicly known; to declare with honor
Webster's 1828 Full Definition
PROCLA'IM, verb transitive
[L. proclamo; pro and clamo, to cry out.  See Claim.]
1. To promulgate; to announce; to publish; as, to proclaim a fast; to proclaim a feast. Leviticus 23:2, 1 Kings 21:9
He hath sent me to proclaim liberty to the captives.  Isaiah 61:1
2. To denounce; to give official notice of.
Heralds were formerly employed to proclaim war.
3. To declare with honor; as, to proclaim the name of the Lord, that is, to declare his perfections.  Exodus 33:19
4. To utter openly; to make public.  Some profligate wretches openly proclaim their atheism.
Most men will proclaim every one his own goodness.  Proverbs 20:6
5. To outlaw by public denunciation.
I heard myself proclaimed.  Shakespeare.
All definitions are taken from the Webster's 1828 Dictionary from Archive.org Volume 1 and Volume 2 and can also be found on Webster's 1828 Dictionary online
Memory Verses
"The Spirit of the Lord GOD is upon me; because the LORD hath anointed me to preach good tidings unto the meek; he hath sent me to bind up the brokenhearted, to proclaim liberty to the captives, and the opening of the prison to them that are bound;
To proclaim the acceptable year of the LORD . . ."  ~ Isaiah 61:1,2 (KJV)
"Most men will proclaim every one his own goodness: but a faithful man who can find?"  ~ Proverbs 20:6 (KJV)
All scripture references are taken from the King James Bible
Hymn
"O for a thousand tongues to sing
My great Redeemer's praise,
The glories of my God and king,
The triumphs of His grace!
My gracious master and my God,
Assist me to proclaim,
To spread through all the earth abroad
The honors of Thy name."
– Charles Wesley (1707–1788), O For a Thousand Tongues to Sing
All hymn texts are taken from Cyber Hymnal
Examples From Daily Life
"Here comes the staff worker," Philip announced.  "And he's got a big glass box—sort of like a fish tank—in his hands."
Robyn hastily scrambled out of the water.  "I'm afraid my clothes will proclaim that I fell in the lake," she explained sheepishly.  "But at least if I'm back on dry land, the staff worker will know it wasn't on purpose."
"I don't think he'd mind," Philip reassured her in a whisper, as the man came closer.  "His face proclaims him to be a good-natured kind of person."
The staff worker greeted Mr. Gravesend, and then he held out the glass container to Philip and Robyn.  "I am please to proclaim that your brother's birthday gift is safe in the tank!" he announced.
Philip and Robyn bent forward to see what was inside.
Printable Image With Short Definition and Memory Verse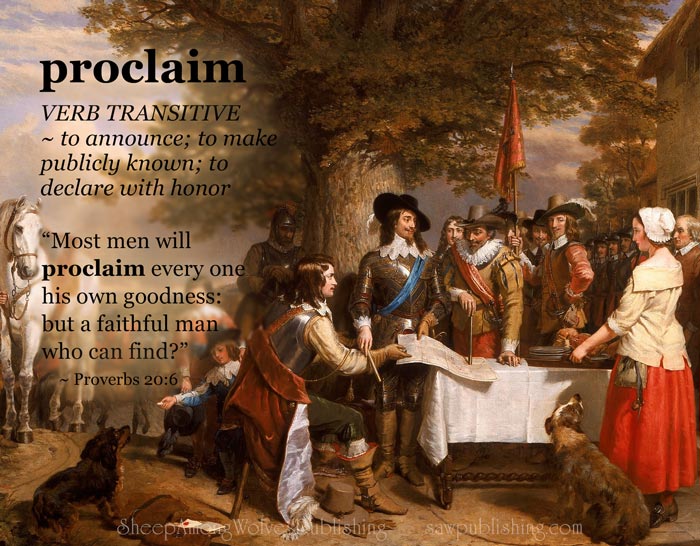 Bonus Activity
Today's memory verse is a prophecy about the Messiah.  Jesus quotes it in Luke 4:18,19.  Like many New Testament translations of Old Testament passages, the verses in Luke do not use exactly the same words as their source in Isaiah.  In this case, the New Testament passage throws an interesting light on our WOW word.  Luke 4:18,19 (in the KJV) does not include proclaim.
What word does it use instead?  Does this alternative help you understand proclaim a little better?  Or maybe proclaim gives you a new perspective on the mystery word!
The correct word from Luke 4:18,19 will appear at the bottom of next week's WOW lesson.
Answer to Last Week's Bonus Activities
1) The natural phenomena listed in the first verse of "I Sing the Mighty Power of God" were:
Mountains
Seas
Skies
Sun
Moon
Stars
2) The previous WOW word hidden in last week's memory verse was revive.
How To Sign Up
Each week's WOW lesson will be available on the Sheep Among Wolves blog on Friday morning.
If you would prefer to receive the lessons by email, you can sign up below to have each new lesson delivered on the Monday before it's posted.  This gives you time to print out the sheet, and have it ready for the next week, as well as making sure you don't miss any posts.  Email signup will include a high resolution copy of the image for those who wish to print it out in poster form.  Concerned that you have missed the start of our program?  Don't worry, all emails contain links to previous lessons.  No matter when you sign up, you will receive access to all lessons from the Word of the Week program.