Poetry: Do We Have a Double Standard?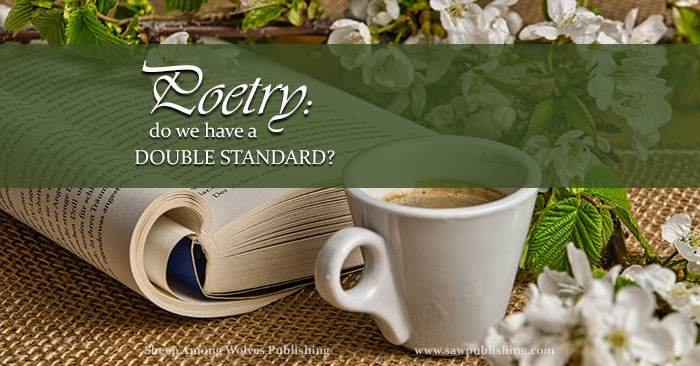 Do we have a double standard?
Have you ever heard anybody answer "Yes!" to that question? Especially a "Yes!" with a big, enthusiastic exclamation mark at the end?
Do we have a double standard when it comes to poetry? What if I give you a double answer? (Or maybe a twofold answer would be a better way of phrasing it.) Because taken from one standpoint, of course I am going to answer that question with an indignant "No!" But taken from another, I am willing to give you a resounding and unashamed "Yes! We have a double standard for poetry!"
What IS a Double Standard?
As those of you who are familiar with this blog have probably guessed, we are now going to play the definitions game. What is a double standard? It all hinges on the word double.
Double, as usually applied to this phrase, is defined by Noah Webster as "Deceitful; acting two parts, one openly, the other in secret."
Obviously, this type of double standard has serious ethical (not to say spiritual) implications. However, the word double can have other meanings.
If we take it in a more primary sense, double can be simply, "Two of a sort together . . . having one added to another . . . twofold."
It brings to my mind a passage in Ecclesiastes (perhaps slightly out of context) "Two are better than one . . . and a threefold cord is not quickly broken." (Ecclesiastes 4:9a, 12b) Could we say that a double standard—a twofold, extra-strong, not-easily-broken standard—could be a good thing when it comes to poetry?
Why We DON'T Have a Double Standard for Poetry
For some reason or other, poetry is an area of literature that seems particularly susceptible to a double (inconsistent) standard. We have a tendency to stretch the limits when it comes to reading poetry. Too often, the content of widely-accepted and acclaimed poetical classics is material that would shock us if it were put into plain, everyday prose.
This is a type of double standard that we need to be wary of.
From a literary perspective, of course we evaluate poetry in a slightly different way than we evaluate prose. This is a direct outcome of the fact that poetry is a different literary genre. Things which would make a good piece of prose may be unnecessary or detrimental to a poem—and vice versa. But from a spiritual perspective, evaluating prose by one moral standard and poetry by another is a serious matter. It places us on a slippery slope that sooner or later we are sure to regret.
Why We DO Have a Double Standard for Poetry
As we discussed earlier, there is more than one meaning to the word "double." And when it comes to the "twofold" definition, SAW Publishing is a vigorous champion of twin standards—the twin standards of literature that is good and great.
We believe that the best writing embodies both spiritual excellence (goodness) and literary excellence (greatness).
This "double" standard of good and great literature is the cornerstone of SAW Publishing's identity—and it is a standard that applies to poetry just as much as to prose.
Do YOU Have a Double Standard?
Are you willing to answer both "Yes!" and "No!" to the question of a double poetry standard?
I hope you have the conviction and the courage to stand alongside generations of faithful Christians—saying "No!" to the dangers of lax or inconsistent reading choices—and "Yes!" to the goal of pursuing literature that is both good and great!
For a more detailed look at the characteristics of our good and great standard as applied to poetry, see our previous post: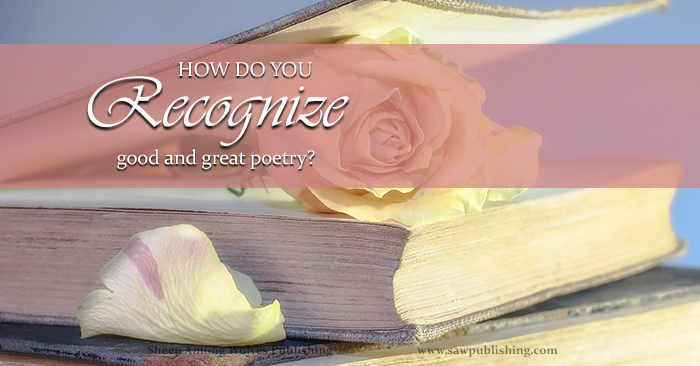 You might also enjoy: