Hymn-Based High School Poetry Course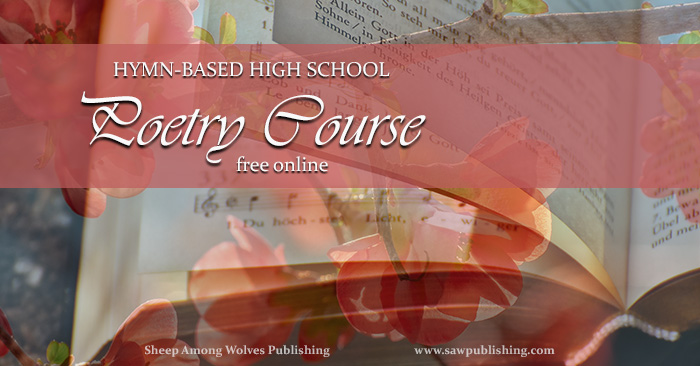 Are you looking for a high school poetry course that will make your student a better person as well as a better poet?
The literature a student is exposed to in high school will have a profound impact on their literature standards throughout life. The student is at an age where they are transitioning from a child to an adult, and the writing that is held up as a model is moulding their definition of praiseworthy adult reading material.
Shaping Your Student's Ideals
Teaching poetry through the high school grades can be a particularly difficult task. Secular literature contains an abundance of resources. Unfortunately, most of these works are great poems rather than good ones. They subconsciously send the powerful but erroneous message that literature does not need to be innocent or godly in order to be valuable and admired.
There is a profound need for educational resources that teach literature through Christ-centred ideals. Our 10 Weeks to Writing Good and Great Poetry by Chelsea Burden endeavours to fill this need by studying the works of some of the most outstanding Christian poets the world has ever known—the writers who have given us the texts of our classic hymns.
These skilled poets have left us an inspiring legacy of outstanding talents dedicated to the glory of God. Their poems are much more than a record of church music in past eras. In fact, they form one of the most valuable resources for teaching the foundations and techniques of poetry to students today.
Developing Your Student's Writing
The majority of literature courses, Christian or secular, devote the bulk of their teaching to literary evaluation. While the exercise of evaluating positive role models has its place, there is also a need for courses that teach aspiring writers how to write for themselves.
SAW Publishing's hymn-based high school poetry course focuses on the student as a developing poet. Each lesson revolves around practical concepts to help the pupil grow in their ability to write poetry that is valuable from both a literary and a spiritual perspective. Weekly writing assignments are included to give the student a chance to practice the techniques they are learning.
The church needs good and great poets today, just as it has needed them in the past. The 10 Weeks to Writing Good and Great Poetry course desires to equip Christian youth to fill that need.
What Does the Course Look Like?
10 Weeks to Writing Good and Great Poetry familiarizes students with the foundational rules and techniques of poetry through the study of the great hymns of past generations. Topics include:
– A comprehensive definition of poetry.
– Exploring the roles of rhyme and metre.
– Creating compelling opening and closing lines.
– Identifying a "thesis statement."
– Structural techniques for strengthening poetry.
– Linguistic techniques for strengthening poetry.
– How to make good poems great.
Each module comes with a complete lesson text and student assignment as well as a sample assignment answer by the author.
Download Your FREE High School Poetry Course
If you are looking for a high school poetry course that will equip your student to write powerful poems while challenging them to dedicate their talents to the glory of God, then 10 Weeks to Writing Good and Great Poetry is for you!
Sign up below to receive the full FREE course via email.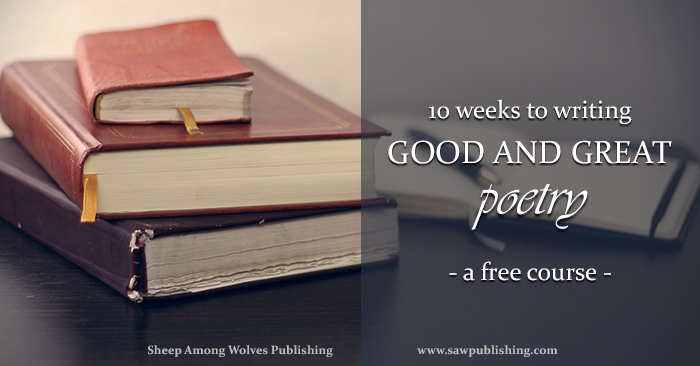 You might also enjoy: