The World Needs Good and Great Poets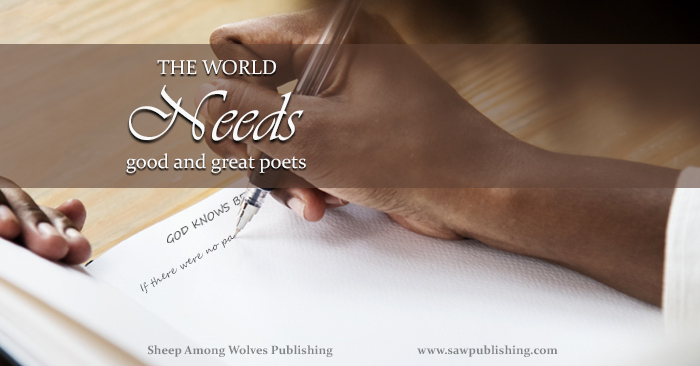 A number of years ago I bought one of my family members (an avid lover of good and great poems) two beautiful old volumes of classic poetry. They were the kind of books that make a bookworm absolutely drool—lovely antique covers, sentimentally yellow pages, and the names of two of the worlds greatest poetic geniuses stamped on the front. (I think, although I don't remember for certain, that at least one had the words "complete works" on the title page, too.)
Sadly, these two gorgeous volumes have spent most of their recent life just sitting on my relative's shelf. They were too old, and too beautiful, and too much like an heirloom to be easily thrown out, but the truth of the matter was, it didn't take all that long for my family member to discover that however celebrated the authors might be, their works contained plenty of content that was far from helpful to the Christian life.
We've discussed the concept of SAW Publishing's good and great standard as applied to poetry in a previous post. Today I want to delve a little deeper into this issue and ask the vital question:
Why Are Good and Great Poems So Hard to Find?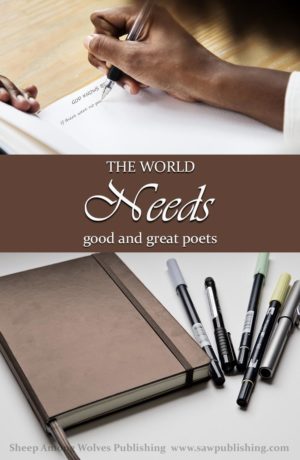 Difficult as it is to find good and great prose, there are times when it almost seems harder to find good and great poetry. Perhaps the difficulty is highlighted by the fact that most poems are significantly shorter than most novels. (Most! Take note of that most, if there be any heroic champions of the epic poem among my readers!)
The shorter the piece of literature you are reading, the most glaringly either faults or merits stand out, since they stand for a greater percentage of the entire content than in a longer work.
A lapse, either in goodness or in greatness, is much more profound, and much more serious, in a poem, simply because it contributes so much more to the sum total of the piece. And it must be admitted, that it is a difficult task to find poems that truly stand out as praiseworthy examples from a literary and a spiritual perspective, at the same time. We clearly have a shortage of good and great poems.
Good and Great POEMS Need Good and Great POETS
In my opinion, this dearth of good and great poems can be clearly traced to a dearth of good and great poets. There is an obvious cause-and-effect connection between the personal character of an author, and the moral and literary character of their work.
If POEMS are going to be . . .
innocent
worthwhile
thought-provoking
skillfully written
glorifying to God
They will need to be written by POETS who . . .
value innocence
strive after what is worthwhile
take time to provoke thought
put effort into skillful writing
are dedicated to glorifying God
Truly good and great poems are the product of truly good and great poets.
Raising Poets for God
As the other side of the same coin, poets who grow up in an atmosphere where good and great poems are sought out and appreciated are much more likely to become the good and great individuals who are capable of writing good and great poetry in their turn.
It stands to reason that homes which actively value good and great poetry are much more likely to produce God-honouring poets than are homes which do not.
While not every child is destined to become a poet, teaching an appreciation for good and great poetry will be valuable throughout their life.  By encouraging a child to recognize the importance of solid, Christ-centred poems, you are equipping that child to be a support to the growth of good and great poetry, regardless of whether or not they ever write it themselves.
The World Needs Good and Great Poets
Top-quality, worthwhile literature is always a valuable treasure. It's a treasure that depends not just on external circumstances, but on the very heart and soul of its author.
God is calling parents to the work of moulding good and great souls. Throw your heart into your children. Give them a love for what is good, and a love for what is great. Remember that you are equipping them to be the good and great Christians of tomorrow.
Are you looking for a selection of good and great poems to introduce into your homeschool? Take a look at our previous post: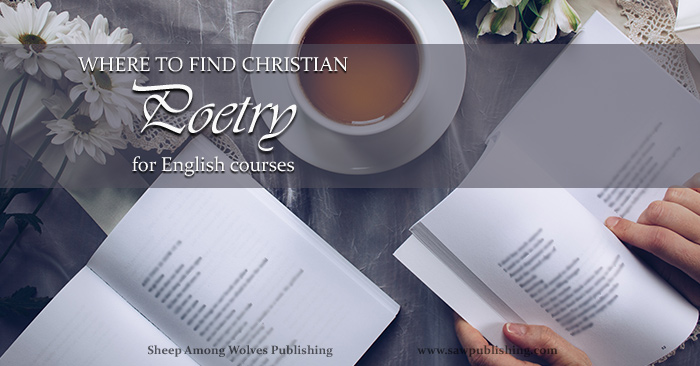 You might also enjoy: