How To Create The Perfect Sewing Box – Timeless Tip #6
Timeless Tips from Homemakers of the Past is an ongoing series highlighting useful and thought provoking tidbits from the generations of homemakers who have gone before us.  Our goal at Sheep Among Wolves is to provide a forum for Good and Great literature, and to help you in your quest for godly, high-quality resources.  It is our hope that these Timeless Tips will be an aid and encouragement to you as you strive to follow the example of Titus 2, and become a keeper of the home.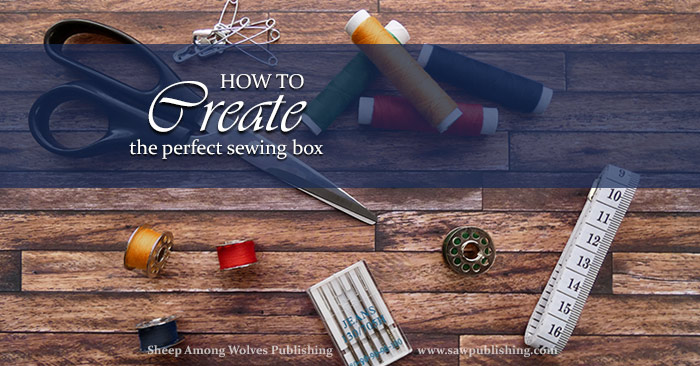 "I'd love to teach my daughter to sew, but I really never learned myself."
How many homeschooling mothers can echo this sentiment!  You want your daughter to grow up with an appreciation for homemaking skills, but you feel woefully inadequate to teach her how to sew.  It just looks so intimidating—what if you do something wrong, and ruin all the material, or break the sewing machine, and end up with a complete disaster?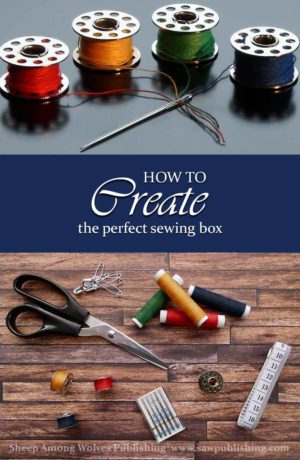 Learning to sew is actually not that difficult.  It takes time, and patience, and a willingness to practice.  But you can learn it.  You can learn it even if you have never taken a single stitch before.  In today's Timeless Tip, we'll take a look at how to gather  a box of sewing supplies, based on the guidelines in Hand Sewing Lessons: A Graded Course For Schools and For The Home, by Sarah Ewell Krolik.
How To Create a Sewing Box

Sewing boxes make great gifts for girls, (and maybe for ladies, too!)  A well-equipped sewing box is a wonderful way to start your daughter in the sewing world, and it's easy to create and fill one yourself.
The initial purchases are not expensive.  In fact, even if you don't sew at all, you probably have some of the materials already on hand.
Choosing the Box
Your options for a sewing box are incredibly wide.  Here's a few suggestions to get you started.
a shoebox
a plastic container
a basket with a lid
a tin box made specially for sewing supplies
a drawstring bag (pockets can be helpful to keep all the supplies from ending up in a pile at the bottom)
a cloth bag with a zipper
a fishing tackle box (yes, I really used this for many years!)
One piece of advice which I would give, is make sure the "box" can close.  An open basket looks lovely when it is first filled, but it's almost impossible to keep a sewing box completely tidy, and your house will have a more orderly appearance if your supplies are hidden from sight once they're put away.
Filling Your Sewing Box
The following list of Hand Sewing Basics is selected from Hand Sewing Lessons, and will set you up with everything you need to start sewing.  The "Other Useful Items" which come after it, are not essentials, but will come in handy to most young sewers.  They are taken from Miss Leslie's Lady's House-Book, and are worth consideration.
Hand Sewing Basics
Thread – A spool each of white, black, and navy blue.
Needles – One could write an entire post just about needles, but a mixed package will give you a useful range of sizes.
Pins – Thin, sharp pins make the smallest holes, and run the least risk of damaging the fabric.  They are more easily bent in machine sewing, but are well worth the trouble.
Safety pins – A selection of sizes in addition to the straight ones mentioned above, will be very useful, particularly if you can't find a bodkin (see below).
Thimble – It can be difficult to learn to sew with one finger encumbered by a little metal cap, but even if you don't wear it all the time, it comes in handy when pushing a needle through several layers of fabric.  Miss Leslie's Lady's House-Book recommends buying two thimbles, because one is easily lost!
Scissors – You will need a large pair of scissors for cutting fabric.  They should be kept only for sewing purposes, since cutting paper will dull them, and make it impossible to cut cloth smoothly.  A second, tiny pair of scissors for cutting thread can be useful, particularly if you do a fair bit of embroidery.  Make sure the smaller ones have some kind of case or end-protector to keep them from snipping other things in the sewing box.
Measures – A small (6 inch) ruler, or better yet, a seam gauge with a movable piece to mark distances, and a tape measure will keep you well covered.  A yardstick can be useful on occasion, but of course it can't go into a box!
Wax – Is used for coating thread to strengthen it, and to keep it from kinking.
Emery Bag – Sharpens needles and keeps them bright.  An emery bag that looks like a tiny strawberry is often sold attached to the tomato-shaped pin cushions.
Practice Cloth – An excellent suggestion in Hand Sewing Lessons is to buy cloth with dots ¼ inch apart for children to practice their first stitches on.  These dots act as a guide for the stitches, and help insure that they are all the same length.  As the author remarks, "By the time these stitches are taken, she will know what ¼ of an inch is, and this knowledge will help her to measure with her eyes and to baste with ¼ inch stitches."
Other Useful Items
Pincushion – Making a pincushion is a great project for beginner seamstresses, so buying one for the sewing box is optional.  If the pins you've bought come in a case of their own, the pincushion can wait until it's convenient to make one.
Bodkin – A bodkin is like an enlarged sewing needle, perhaps two to five inches long, with a very blunt end, and a large eyehole, like that on a needle.  It is used to thread elastic through casings, as well as to press open seams and corners.  If you do not include a bodkin in your sewing box, make sure you have a safety pin to take its place in threading elastic—an easy task if you have the right tools, and a dreadful one if you do not!
Buttons – Of course, you can buy buttons for specific projects as you need them, but an assorted pack can come in handy if you lose one off a garment, or need one unexpectedly.  In choosing a package, think about the kind of buttons you typically use on your clothing—fancy buttons can be fun in moderation, but the everyday ones will get the most use.
Teaching Your Daughter To Sew
If you didn't learn to sew as a child, that doesn't mean you can't teach sewing to your daughter.  In the words of Franklin D. Roosevelt, "We have nothing to fear, but fear itself."  My mother always says that she learned more as a teacher than as a student.
Don't let previous inexperience keep you from taking this wonderful opportunity.  Collect the basics for a sewing box, and then click on the image below to check out our article on how to sew on a button—it's a great place to start.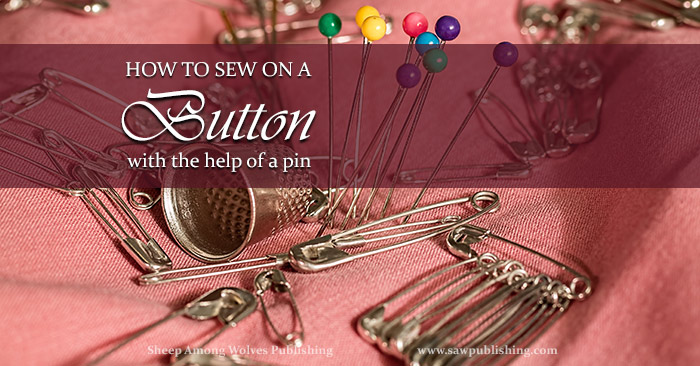 You might also enjoy:
Unless otherwise referenced, the quotations in this article were taken from Hand Sewing Lessons: A Graded Course For Schools and For The Home, by Sarah Ewell Krolik.
This post may have been shared with the following linkups: The Art of Homemaking Mondays, Monday's Musings, The Modest Mom, Titus 2 Tuesday, Tuesdays With A Twist, Homemaking Wednesdays, Wise Woman Linkup, Coffee and Conversation.