It is the Start and Yet the End – Chelsea Burden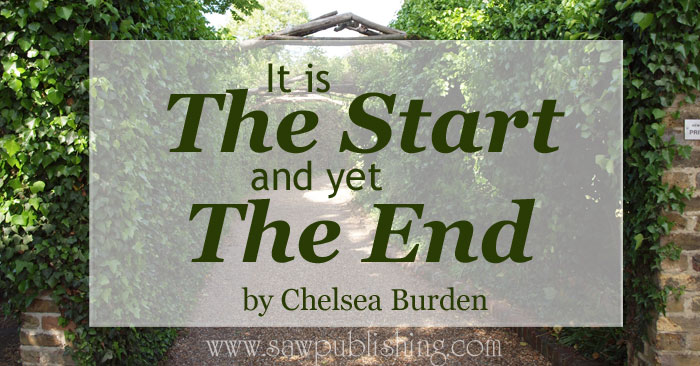 It is the start and yet the end,
Regret and joy combined;
For when I round my life-road's bend
I must leave here behind.
O! be the future e'er so bright,
And e'er so free from tears,
I've left behind my final sight
Of this day's hopes and fears.
The promise of the future shines
With untold wealth to me;
And yet I leave these pleasant lines
For what I cannot see.
This hour is fleeting fast away,
And setting hangs the sun;
And though 'twill rise another day,
'Twill be another one!
The scene will change, as when the light
Is dimmed and curtain drawn:
And be the next so fair a sight,
The first will still be gone.
I cannot bear to bid farewell;
To start upon my way;
For deep within me rings the knell:
"It will not be today!"
I leave so many mem'ries here,
So many conflicts won;
Not always joys, but doubly dear
Because their day is done.
Then bid I here my last goodbye,
My parting eulogy;
And hope that as the years shall fly
Sill brighter days I'll see.
For though I never more return,
Their mem'ry lingers on,
The only token we may earn,
Of days forever gone.
And almost, as in mem'ry's eye
These scenes again appear,
'Twill seem as though the years gone by
Have left me standing here!
© Chelsea Burden and www.sawpublishing.com, 2016. Unauthorized use and/or duplication of this material without express and written permission this site's author and/or owner is strictly prohibited.