The True Source of All Good
"One of the most precious influences of a godly education is the consent of the heart to take God's Word as the standard of good and evil and the desire to let it decide in every choice." (emphasis added) ~ Andrew Murray, How to Raise Children for Christ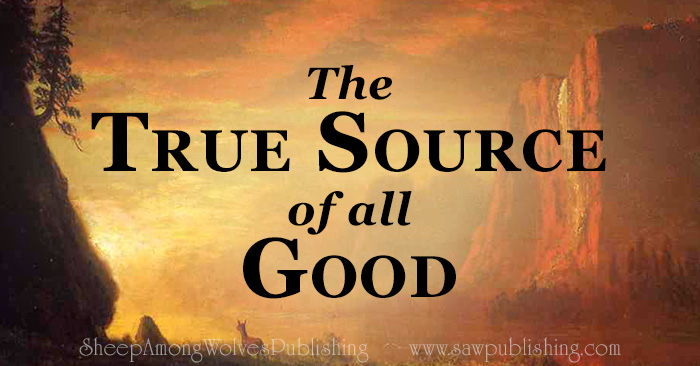 Wow!  That statement really made me stop and think.  Do I take God's Word as my standard of good and evil in every choice I make?  I would like to claim boldly that I do.  I fear I fall short of this standard too often for my conscience to allow me to make such a claim.
Relying on Our Conscience
For many years I did not even think about consulting the Bible before I read a book.  Or before I read a book to my children.  I figured that I had a pretty good idea about what was acceptable and that surely my conscience would prick me if I was reading something untoward.  I have realized since then that my conscience had been seared by the years of ungodly living that I had experienced before I became a Christian.
Andrew Murray clarified for me the difference between doing right and knowing right, when he said,
"Conscience, however, can only tell us to do the right; it cannot always teach what the right is.  The mind may be wrong in its views of good and evil, and faithfulness to conscience may even lead to choose the evil and refuse the good.  The inner light shines upon the path of what we think is right; it is only the light from above that shows what the right really is.  'Thy word is a lamp unto my feet, and a light unto my way.' (Psalm 119:105)"
As my children began to grow, I realized that their consciences were much more accurate than mine was.  They were raised on God's word and had never experienced many of the things that I had encountered as an unbeliever.
Consulting the Source of All Good
In a previous post entitled Five Guidelines for Choosing Good Books, I shared five characteristics that I use to evaluate reading choices for our family.  It is my desire today to expand on the first of these traits:
Good literature should be in agreement with God's word.
If you have been around Sheep Among Wolves for any amount of time you will be familiar with our focus on good and great literature.  Our definition of the two words does not fit neatly into traditional usage.  Most people use the word "good" to refer to a book that is entertaining, keeps our attention and brings some form of pleasure, whether that be emotional, spiritual or intellectual.  There is nothing wrong with seeking such a response in our reading material.
BUT . . .
Deuteronomy 6:18 teaches us that ". . . thou shalt do that which is right and good in the sight of the LORD: that it may be well with thee . . ."
What is Right and Good in the Sight of the Lord?
It is this definition of good that we seek to focus on here at Sheep Among Wolves in searching out good and great literature.  How do we know what is right and good in the sight of the Lord?
2 Timothy 2:15 points us in the right direction "Study to shew thyself approved unto God, a workman that needeth not to be ashamed, rightly dividing the word of truth."
Study what?
2 Timothy 3:16-17 clarifies that "All scripture is given by inspiration of God, and is profitable for doctrine, for reproof, for correction, for instruction in righteousness:  That the man of God may be perfect, throughly furnished unto all good works."
For what purpose?
"For the word of God is quick, and powerful, and sharper than any twoedged sword, piercing even to the dividing asunder of soul and spirit, and of the joints and marrow, and is a discerner of the thoughts and intents of the heart." ~ Hebrews 4:12
* emphases mine in all bible verses
Protect Yourself from Developing False Views
As we use the word of God to discern what content is good and appropriate in our reading material, we will protect ourselves from developing a false view of God, from building up a false hope of eternity, from becoming desensitized to sin, from causing a hardening of our hearts, and from accepting extra-biblical worldviews.
So, the next time you are evaluating a book for yourself or your children, ask yourself what the source of all good has to say on this topic.  And if you don't know, go searching for the answer.  You will blessed in the process.
"But he said, Yea rather, blessed are they that hear the word of God, and keep it." ~ Luke 11:28  
My prayer for you today is that God's Word would be a light unto you as you seek out godly literature and that you would be sanctified by His truth in order to do that which is right and good in the sight of the Lord.
"Sanctify them through thy truth: thy word is truth."  ~ John 17:17
This post may have been shared with the linkups listed here.
You might also like: